FSU Students Advocate for Social Work at LEAD 2017
---
FSU Students Advocate for Social Work at LEAD 2017
More than 100 FSU College of Social Work students participated in the National Association of Social Worker's Florida (NASW-FL) LEAD (Legislative, Education and Advocacy Day). Students attended the NASW-FL's rally at the Tallahassee Automotive Museum on April 3rd, listening to inspiring speakers and getting geared up for the legislative day the next morning.  Students showed up at Florida's Capitol on April 4th to attend hearings focused on ethics and the judiciary. A few students also got to hear some cases and some Florida students met with the legislator from their districts.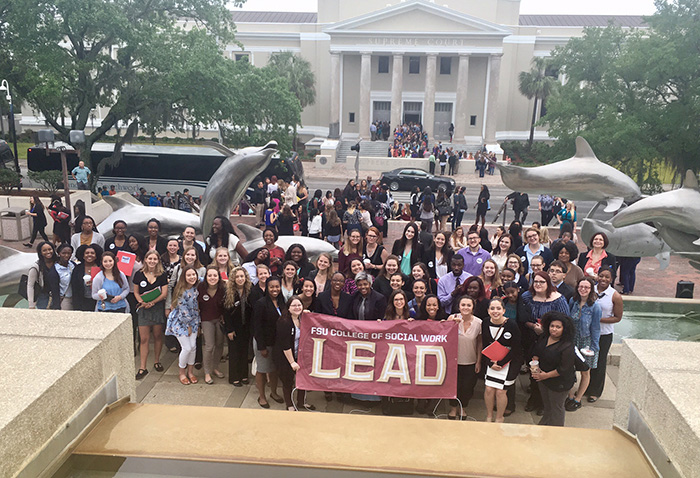 Faculty member Carol Campbell Edwards ran the training at FSU for social work students, familiarizing them with the legislative agenda for NASW and the bills that most greatly affected social workers and their clients. "We wanted to make sure they all left the training with a baseline knowledge about how an idea becomes a law," Carol stressed about the student legislative training. "Students learned the number of representatives in the Florida House and Senate, became aware of the NASW legislative agenda for Florida social workers this year and what bills are being targeted by NASW, but also learned how to gain more knowledge about any bills they may be interested in. 
For many students, this experience was their first introduction to the legislative process, and an important macro experience, according to Carol. She noted that students learn through this experience how state and local government can affect their ability to provide services to the populations they serve.  "Bills related to health care and services to children and families were of particular interest for our students," Carol said.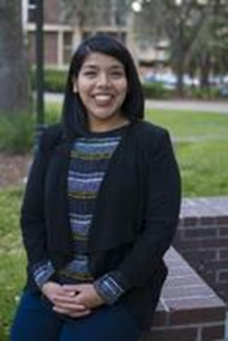 MSW student Tatiana Loayza, who is in the part-time clinical program participated in the Senate Judiciary hearing on Bill 1440 about the Arthur G. Dozier School for Boys on April 4th. "During this meeting, we were able to hear testimonies from survivors known as the White House Boys, who had to live through emotional, physical, and sexual abuse. There was not a single person in that room, who was not moved by these testimonies," Tatiana explained about the information heard during the hearing. "These men had no one advocating for them as children because everyone considered them 'bad boys.' It solidified the fact that advocating for children is one of the most important things a social worker can ever do."
This hearing and the overall experience was particularly impactful on Tatiana as her population she wishes to serve are immigrant and refugee families and children. She noted that with deportation on the rise, there is a tendency for people to forget the children of deported parents and that undocumented immigrant families can end up in detention centers where there are reports of cases of physical and sexual abuse. "I think it's important that we as future social workers continue to be active in legislative advocacy," Tatiana insisted. "It will only add to our learning experiences and teach us to advocate for the underrepresented populations we serve." She encourages all social work students to give legislative advocacy a try and to know that they provide a voice for someone who might not be able to advocate for themselves.
Tuesday, April 25, 2017 - 04:20 PM
Last updated:
Wed, 04/18/2018 - 11:10 AM