Alumna Advocates for Clients and Families with Memory and Brain Health Challenges
---
Alumna Advocates for Clients and Families with Memory and Brain Health Challenges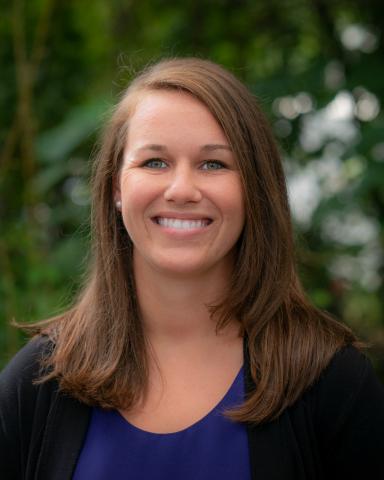 Victoria (Vicky) Rose's efforts to support clients and families dealing with dementia is not going unnoticed. As the coordinator for the Memory Disorder Clinic at Tallahassee Memorial Hospital (TMH), she plays a multitude of roles that seek to improve the health and wellness of individuals living with dementia, their caregivers and the community. She has served in this role since 2017, wearing different hats on different days.
"There are days that I spend my time talking with people living with dementia and their care partners about planning for the future and getting connected to community resources," Vicky said. "Other days, I spend time out in the community education folks on topics, including dementia and brain health."
She also noted that TMH's Memory Disorder Clinic is very active in community groups that tackle challenges faced by people living with dementia. The clinic also advocates for dementia patients at the state and federal level. Since the clinic's program is state-funded, she also spends time reporting deliverables required for a state contract.
Vicky's own experiences with caregiving give her empathy and dedication to easing the journey of her clients and their families. During her senior year in college at the University of South Florida, she recalls taking care of her father, who suffered from a brain tumor, and that would eventually take his life at the age of 77. She remembers the difficulty of navigating the health care system. This realization helped her decide the population she wanted to work with once she completed her bachelor's degree in social work.
"They are under a significant amount of stress and although we can help manage some of the negative behaviors associated with Alzheimer's or dementia, we are unable to 'fix' a person or make them who they used to be," she explained regarding a caregiver's role. "It's a 24/7 job taking care of a person living with dementia, particularly when they do not even know who you are."
Although a South Florida native (Naples, Florida), Vicky decided to come north to Tallahassee for her Master in Social Work degree. "The MSW program at FSU had a fabulous reputation and I always wanted to move to Tallahassee. I love the community feel," she recounted.
During her time in the MSW program at FSU, her best centered around the lasting relationships that she formed with her professors and classmates, including the bonds created in classes like Pam Graham MacDill's Loss and Bereavement course and courses with Dr. Tom Smith. And throughout the program, she kept her sights steadily on a career in aging studies.
She earned her Certificate in Gerontology/Aging Studies along with her MSW, taking courses that allowed her to explore working in the gerontological field. She also completed her field placement internship with Westminster Oaks in their Bertrand Health Center, which offers around the clock nursing services for seniors.
Her career seemed to be on track when Vicky found her first job in gerontology before completing her MSW in 2013. She became assistant director of Elder Care Service's Elder Day Stay, a local adult daycare center. A year later, she was promoted to director. By this time, her reputation as a dedicated advocate for seniors was well-established.
She joined the TMH Memory Care Clinic team in 2017, enjoying both the challenges and rewards of working with people dealing with memory issues. She especially enjoys being able to offer solutions that can improve the lives of people living with dementia and their caregivers along with being a listening ear.
Vicky also took on additional leadership roles outside the Memory Care Clinic. Including serving on the African-American Alzheimer's Caregiver Training and Support program's advisory board and as an Alzheimer's Association volunteer. She is also the vice president of the Parkinson's Outreach Association board of director, is a cheerleading coach with the Special Olympics and serves the FSU College of Social Work Office of Field Education as a Field Advisory Committee member.
As much as Vicky has embraced Tallahassee as her community, the feeling in the city has been mutual. With the recent and unexpected loss of her mother, she was amazed by the outpouring of support from local friends and community members. And recently, Vicky was noted as one of the 25 Women You Need to Know for 2020 by the Tallahassee Democrat. The program "honors women who lead in front or behind the scenes" like Vicky, which is well-deserved.
To learn more about the TMH Memory Disorder Clinic, call 850-431-5001 or visit TMH.ORG/Memory. For other resources related to Alzheimer's or dementia, visit the Alzheimer's Project at alzheimersproject.org.  
Monday, April 6, 2020 - 08:59 AM
Last updated:
Tue, 09/22/2020 - 12:39 PM