CSW Arts & Athletics Program
---
CSW Arts & Athletics Program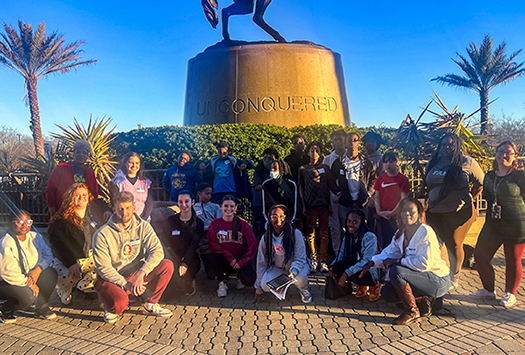 Built on the College of Social Work's commitment to community service, the CSW Arts & Athletics program is an initiative created by Dean Emeritus Nick Mazza to combine arts and athletics to promote positive youth development. Targeting youth ages 11-14, the program aims to enhance self-awareness, confidence, emotional literacy, and interpersonal relationship skills while cultivating a resilient mindset.
The program is an 8-week afterschool program, hosted on the Florida State University campus. Social work students within the FSU College of Social Work act as mentors, cultivating intentional relationships with participating youths from Leon County schools and facilitating positive youth development workshops aligned with the program's mission.
The program collaborates with various university and community partners to deliver an exciting experience for youth. University partners have included FSU Athletics, the Department of Sports Management, the Career Center, the Center for Leadership and Social Change, PeaceJam SouthEast, the Center for Academic Retention and Enhancement (CARE), University Housing, and many others. Community partners have included Capital City Youth Services, Capital City Music Therapy, Tallahassee Memorial Healthcare Animal Therapy, and Sarah Coakley Glass.
CORE VALUES: Courage, Compassion, Growth
Contact:
Dr. Shalay Jackson, DrPH, MSW, Assistant Teaching Professor (skjackson@fsu.edu)
 
Program News:
---
The pilot project was established in 2012 and made possible through the generosity of Guy and Delores Spearman. For more information or to support this program, contact Colette Podgorski at cpodgorski@foundation.fsu.edu or donate online to the "Social Work Community Outreach Fund."