Student Resources
Collectively, our current students represent the next generation of social workers who will tackle worldwide challenges and create positive social change within communities, and throughout nations. We take our role in your education seriously and remain fully committed to preparing you for a long and successful career.
Social Work Clubs and Organizations
Learn about ways to be more involved in social work through the CSW Ambassadors Program, FSU Association of Student Social Works, Social Work Doctoral Student Organization, the National Association of Social Workers, and Phi Alpha.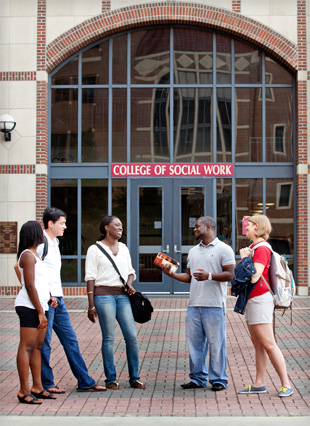 Student Affairs' website offers information for new students, about campus life at FSU, health and wellness, academics, cultural/identity/spirituality, and engagement/involvement and career planning.
 
The Center offers numerous volunteer experiences for students. Students can be linked with community agencies providing service opportunities that match each students' schedule and interests. The Center also offers numerous resources related to service, leadership and diversity.
 
The FSU Career Center provides comprehensive career services to students, alumni, employers, faculty/staff and other members of the FSU community.
 
SGA provides FSU students with representation, service, and advocacy within the university structure. SGA also provides quality leadership for, and accountability to, its constituency by recognizing that strength arises from diversity, engagement, and dialogue.
 
The UHS provides a variety of medical and support services available for students, faculty and staff.
 
The University Counseling Center is a welcoming and confidential place that offers a variety of counseling services to students, faculty, staff, and parents.
 
FSU Campus Rececreation offers programs and services to move people toward wellness including fitness, recreation sports and outdoor adventure opportunities.
 
The Oglesby Student Union offers programs and services to the university community including entertainment, events, food and retail, and other services.
 
ACE is a university learning center focused on helping students develop study skills and successful habits necessary in a large university setting and valued by future employers.
 
The Center for Global Engagement (The Globe) offers a variety of social and cultural programs that foster global understanding and awareness on campus, such as International Coffee Hour, Intercultural Program Series, Engage Your World Intercultural Dialogue Series, and Global Café. The Globe also offers the Global Citizenship Certificate, Global Partner Certificate, as well as exchange options at 40+ international universities through FSU's Global Exchanges.