Alumna Promotes the Importance of Safety in Social Work
---
Alumna Promotes the Importance of Safety in Social Work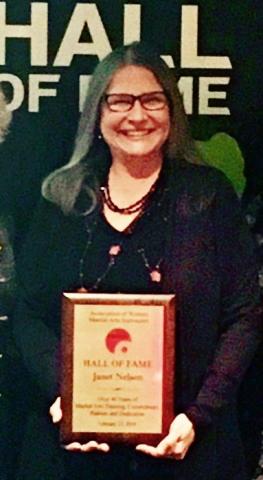 Martial arts and social work might not seem to have a lot of parallels at first, but social work alumna Janet Nelson (MSW, '94) has made it her mission to bring concepts of self-defense to the social work and helping professional fields.
During her undergraduate program at the University of Florida, Nelson looked for a way to keep her legs strong after multiple knee surgeries in high school. She joined some of the girls from her dorm for a karate class and was hooked. Working with her sensei (Japanese for "teacher"), Mary Davis, Janet assisted with women's self-defense courses on campus and in the Gainesville community.
"The idea of improving ourselves so that we can serve others in our community is part of the code of ethics of the martial arts style I joined," explained Nelson. "Being a karate teacher in my style provided a natural transition into social work."
She was able to continue teaching self-defense when she came to Florida State University to pursue her master's degree in social work, running multiple self-defense training programs for women on FSU's campus and at the Center for Participant Education. During this time, she made the connection between the female-dominant profession she was entering and the self-defense for women courses she taught.
"A light bulb went off!" she emphasized. "I decided I needed to teach personal safety skills and self-defense techniques to my colleagues who are out in the field in some difficult situations."
She continued teaching a female martial artist who had been stabbed on the job while working in social services. Moreover, she remembered the countless women she taught and empowered who survived sexual or domestic violence and were working to reclaim their lives.
Nelson was able to refine her approach to self-defense that she developed into what she calls Everyday Self Defense® training that includes personal safety awareness, conflict avoidance skills, stress reduction, and self-care. Over the years, she continues to do live presentations and training, but now also offers online classes and training manuals to make her special style of training available to a larger number of social work and human service workers nationwide.
Her unique blend of skills as a clinical social worker with specialized knowledge of workplace violence prevention also came together in 2014, in what she calls her "greatest contribution to the social work profession" when she served as an expert witness for the Occupational Safety and Health Administration (OSHA) in the Integra Health Management case.
In this case, Integra Health Management, a social service employment organization, was found accountable for failing to protect its workers from workplace violence. The ruling came about after the stabbing death of one of its employees during a home visit with a client who had a history of mental health issues and violent behavior. The social worker raised safety concerns but was still assigned to this client visit alone. Through this ruling, employers are now being held accountable for reducing health and safety hazards encountered by human service workers.
"The Integra case was my opportunity to combine everything I had studied and developed for the betterment of the social work profession, and for worker safety in general," said Nelson. "Client safety and worker safety are inextricably linked. I was able to advocate for the needs of social workers due to the safety hazards we face in our work. I was also able to stand up for a family that lost their twenty-three-year-old daughter."
She encourages other social workers to take an active interest in the general duty clause and other policies that keep them safe. One way to do this, she says, is through social work professional organizations and helping them advocate for safety policies and protocols and keeping informed on related legislative issues.
Nelson also encourages making safety a priority in social work practice as a way to protect both clients and social service workers. In particular, she recommends doing violence risk assessments to know what you are walking into while also establishing good listening skills and good boundaries with clients. She also encourages fellow social workers to properly document incidents that cause discomfort, intimidation or that make them feel unsafe.
"Advocate for your safety with the understanding of how connected it is to your clients' safety and your ability to practice good social work," she stresses. "Use your head along with your heart."
Nelson's efforts were also recognized this year with her induction into the Association of Women Martial Arts Instructors Hall of Fame for more than forty years of martial arts instruction and the development of Everyday Self Defense. Learn more about her training at https://everydayselfdefense.com.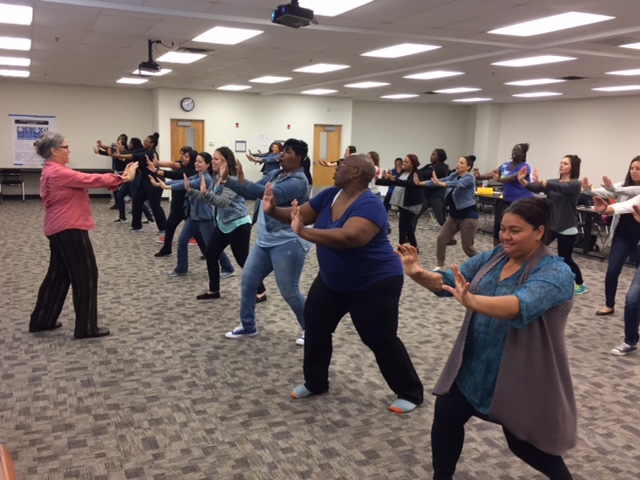 Monday, December 9, 2019 - 11:09 AM
Last updated:
Tue, 09/22/2020 - 12:39 PM