Social Work Faculty Member Honored by Transformation Through Teaching Program 
---
Social Work Faculty Member Honored by Transformation Through Teaching Program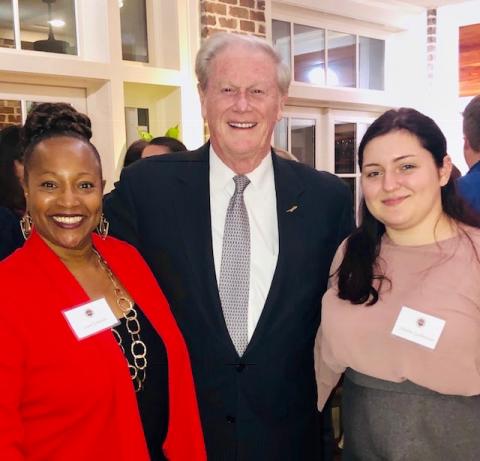 Ten Florida State University faculty members were honored by the Transformation Through Teaching program for their actions to foster meaning and purpose among their students. Students nominated faculty members and selected by FSU's Spiritual Life Project and the Center for the Advancement of Teaching based upon students' meaningful stories.  
The Spiritual Life Project's mission is to encourage students' self-understanding, search for purpose, and diverse perspectives. Their goal is to promote students' personal and intellectual development to create global citizens with a drive to make a difference in the world.  
College of Social Work Assistant Teaching Professor, Carol Campbell Edwards, was nominated for this award by a BSW student, Victoria Gudbranson. Victoria is currently a student in Edwards' Diversity and Social Justice class.
Faculty honored with the Transformation Through Teaching award have a significant impact on the lives of their students. These faculty members push their students to develop personally and academically, and encourage them to further themselves holistically to achieve their goals. 
"For me, the classroom is an environment where the student and I are partners in learning," explained Edwards. "As I introduce research, concepts, theories, and practice experiences, students are encouraged to take risks, engage in critical thinking and contribute their thoughts, ideas, and beliefs back to the group. This requires that together, the students and I, cultivate a learning atmosphere of mutual respect and support. I am thrilled to be a part of the College of Social Work where students find this reinforced at every level."
Victoria wrote in her nomination letter that Edwards helped her realize and identify in her diversity class, there are "leadership and advocacy roles in social work, and that this was the ideal path for me since I had a sincere passion for advocacy. She inspired me to start advocating early on in my social work career." 
She went on to describe Edwards' dedication and sincere passion for the topics she teaches and for connecting with her students. Victoria noted that Edwards personally accompanied her to visit the executive director of former Mayor Andrew Gillum's office this past October, to advocate for new legislation for persons with disabilities. 
Edwards has a well-deserved reputation for social work advocacy through her various roles with the National Association for Social Work - Florida Chapter (NASW-FL). She currently serves as NASW's Florida Chapter President and she has been integral in planning and coordinating NASW's Legislative Education and Advocacy Day (LEAD) efforts and the participation of the FSU College of Social Work in these activities. In this role, Edwards has emphasized making it a priority to increase engagement at NASW-FL with social work students and emerging professionals, noting that, "we want students to know that we will invest in them and provide supervision and mentorship to support them in becoming outstanding social work professionals."
"She has inspired each one of her students to pursue our unique passions and never judges our unique callings," said Victoria. "She helped me identify my purpose and strength in advocating. She has thoroughly encouraged each of her students to thrive for change and promote legislative action." 
Award recipients were recognized Thursday, Nov. 29, with a dinner at the President's house, where students and faculty met to reflect and honor their achievements. 
"Receiving this award is humbling because I truly love working with students. I feel extremely fortunate to work in a University environment that recognizes the importance of not only academics but the overall development of each student through programs like the Spiritual Life Project," said Edwards. "My dad was an extraordinary teacher and my mom was an amazing social worker. I have the opportunity to combine both passions, and honor both of them in my work."
Friday, December 7, 2018 - 04:22 PM
Last updated:
Fri, 06/14/2019 - 11:33 AM