2021-2022 Student Leaders at the College of Social Work
---
2021-2022 Student Leaders at the College of Social Work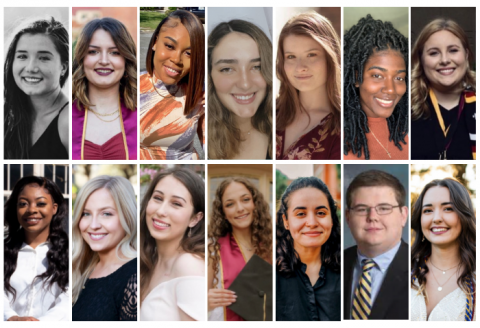 As Florida State University welcomed back students to campus in August, student organizations and their new leaders are faced with the fun challenge of reconnecting with their peers in person. The FSU College of Social Work is excited to profile the amazing students leading the FSU Student Association of Social Workers (SASW) and the FSU Macro Social Work Student Network (MSWSN) who have dedicated themselves to the busy and ambitious lineup of social, networking and education events for students in the College of Social Work and across campus.
Connect with these organizations via:
FSU STUDENT ASSOCIATION OF SOCIAL WORKERS – EXECUTIVE BOARD

Carli Lucius
SASW President and MSW Student
Carli Lucius is an MSW student in her first semester of the Advanced Standing Program on the clinical track. She has enjoyed most of her time working with SASW while at FSU, joining the executive board in 2020 as an undergraduate. She wants to work with children, particularly in the areas of grief and play therapy.  I chose social work because of the lack of people who work in the area of children's grief. Too often, we dismiss these needs of children because we don't understand how to discuss grief with a child," said Carli. "As someone who experienced the loss of a loved one at a young age, I felt pulled to social work to help fill the gap and provide services to children who are experiencing loss."
Sophia Bukowick
SASW Vice President and BSW Student
Sophia is a senior and is pursuing a certificate in child welfare. She will graduate in the spring of 2022. "I chose social work because I wanted to educate myself on social inequalities and programs in our society," said Sophia. "I also wanted to have a wide range of professional opportunities, and social work has many areas and populations." Sophia loves most to work with children as she sees them as the future for social change. She plans to apply for either her law degree or MSW degree.

Jamie Kershaw
SASW Secretary and MSW Student
Jamie is from Cocoa Beach, Florida and is in her first year of the MSW/MS Criminology joint pathway program to earn dual master's degrees in social and criminology/criminal justice. Recently, she attended her first large FSU social event, attending the Presidential Ice Cream Social on Landis Green with friends to enjoy treats and games. "I chose social work because I wanted to become involved directly with those who have faced incarceration, as well as becoming an advocate for the criminal justice reform," said Jamie.

Tamarah Francis
SASW Treasurer and BSW Student
Tamarah is a senior and will graduate in 2022."I chose social work because I want to impact individuals who may think their circumstances or socioeconomic statuses define them," explained Tamarah. "This field not only provides me with the opportunity to work in different settings, but will also allow me to empower, advocate and help make a positive change in many communities."

Brianna Paulin
SASW Social Events Chair and MSW Student
Brianna is in her master's program with a clinical concentration and will graduate in 2022. "I chose social work because one of my passions was always to help others. An important part of my life is the value of others and their relationships, and with this, we have to understand the barriers that people face," said Brianna. "As a social worker, we can fight for change and make sure those voices are heard and uplifted. I aspire to work with trans youth of color to give them representation, healing and resources they deserve."

Wayn'Nyria Johnson
Community Outreach Chair and BSW Student
Wayn'Nyria is a senior from Fort Myers, Florida. In her second year of the BSW program, she's enjoyed participating in several organizations on FSU's campus as they have led her to a variety of personal and professional opportunities. "I chose social work because I want to strive to alleviate the challenges of poverty, racial injustice, violence and so much more," she expounded. "This passion and drive is deeply rooted in my aspiration to advocate for those who cannot advocate for themselves."  Wayn'Nyria anticipates graduating next summer and plans to pursue her MSW degree. She enjoys working with juveniles and minority women and children.

Melissa Tillery
Membership Co-Chair and MSW Student
Melissa is a part-time MSW student and is also an academic advisor at FSU. She hopes to become a certified personal trainer after graduation to educate clients about the connection between physical and mental health. "I chose social work because of the wide variety of helping professions that you are able to pursue with the degree," she stated. "I have always been passionate about service, social justice, and empowerment, and have found my calling in social work." She's greatly enjoyed her time at FSU, particularly her experiences with the Marching Chiefs and Seminole Sound bands and getting to work with Dr. Shalay Jackson and community organizer Talethia Edwards on a directed individualized study.

Candace Matthews
Membership Co-Chair and BSW Student
Candace is a junior and hopes to continue at Florida State for her MSW degree. "I chose social work because I've always had a passion for helping others, especially those who often go without help or without a voice. When I was in high school, I thought about a major where I could do just that which led me to social work," reflected Candace. "After looking more into the profession, I was immediately drawn to it, whereas it sounded like the perfect job to offer help to those in need, while also offering a variety of fields where social workers are needed." She hopes to work with children and families in the clinical setting after finishing school, particularly with those that have experienced trauma.

Breanna Brooks
Public Relations Chair and BSW Student
"I chose Social Work after becoming a mentor in high school," reflected Breanna Brooks. "I instantly developed a passion for helping others, and while growing up and working with children and families that were not as fortunate as mine, I aspire to be someone to help and advocate for these people and others." A junior, Breanna wants to continue working with children and aspires to earn her licensure in social work. Participating with SASW has been one of her favorite experiences at Florida State, finding like-minded students with a passion for serving others. 
FSU MACRO SOCIAL WORK STUDENT NETWORK

Lauren Henderson
MSWSN President and MSW Student
Lauren is a master's student in the advanced-standing clinical program with a passion for policy and leadership. "I am interested in the connection between trauma and incarceration and how we can rebuild systems to focus on healing rather than imprisonment," she explained. "To me, social work is using knowledge and skills we have to confront injustices and to advocate for the implementation of fairer and more just policies."

Brandon Rowland
MSWSN Vice President/Professional Development Committee Head and MSW Student
Brandon is a master's student in the MSW/MPA pathway program, earning dual degrees in social work and public administration. "Social work is a tool through which we are able to meet the basic needs of our communities, enhance therapeutic interventions and recognize our responsibility within society," said Brandon. He enjoys working in behavioral health, substance use and criminal justice and hopes to pursue a doctoral degree in social work in the future.

Karma Kovacs
MSWSN Treasurer/Alumni Relations Committee Head and MSW Student
Karma hopes to have a career in criminal justice reform. She is a master's student in the MSW/MPA pathway program, earning dual degrees in social work (social leadership) and public administration. She also studied abroad in Sweden as a BSW student, gaining a global perspective on international social work and health care. "Social work is about empowerment, equality, empathy and justice. It is about empowering individuals or communities to create sustainable and positive social change," she expressed.

Mallory Adams
Secretary/Administrations Committee Head and MSW Student
Mallory is a master's student from Merritt Island, Florida, in the social work and public administration (MSW/MPA) dual pathway program with a concentration in social leadership. "Simply put, social work means putting empathy into action," Mallory explained. "Whether on the clinical or macro side of things, it means seeking to further justice and equity out of genuine care and compassion for others." She hopes to work in research and policy analysis related to housing rights and community development and plans to pursue a doctoral degree in urban and regional planning.

Jamie Butler
Student and Alumni Relations Director and MSW Student
Jamie is a master's student pursuing her dual degrees in social work and public administration with a concentration in social leadership. For her, social work means "understanding the value of human connection, meeting people where they are and advocating to make the world a better place one day at a time." She has a special passion for sexual and reproductive rights, health equity and mental health.

Margarita Amado-Blanco
Events and Public Relations Committee Head
Margarita is from Tampa, Florida and is interested in working on women's issues, particularly in victim advocacy, violence and human trafficking. She is a master's student working towards dual degrees in social work and public administration with a concentration in social leadership. "Social work means having the hard conversations and doing the hard work to help those in need," said Margarita. "It means listening to those we serve so we can advocate for their advancement." She has also expressed her appreciation for the sense of community at the College of Social Work among the students, staff and faculty. "Everyone is so welcome and it's like a family!"
Tuesday, January 18, 2022 - 12:33 PM
Last updated:
Wed, 01/19/2022 - 04:07 PM