2023 Color the College: Art Competition Winners
---
2023 Color the College: Art Competition Winners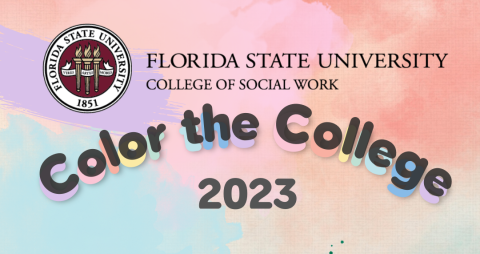 Throughout the 2022-2023 academic year, the College of Social Work held an art competition called Color the College to celebrate the values of social work. The event welcomed art entries from students, alumni, faculty, staff and friends of the college to create artwork that personally expressed one or more social work values that would be displayed in the college's administrative suite in University Center C, Suite 2500.
More than 20 pieces were submitted that represented the eight categories which included: advocacy, change, community, compassion, diversity, growth, leadership, and passion. Each submission shared an artist statement explaining which category inspired their artwork. A winner was selected for each category based on more than 300 votes collected. Scroll to see the winners!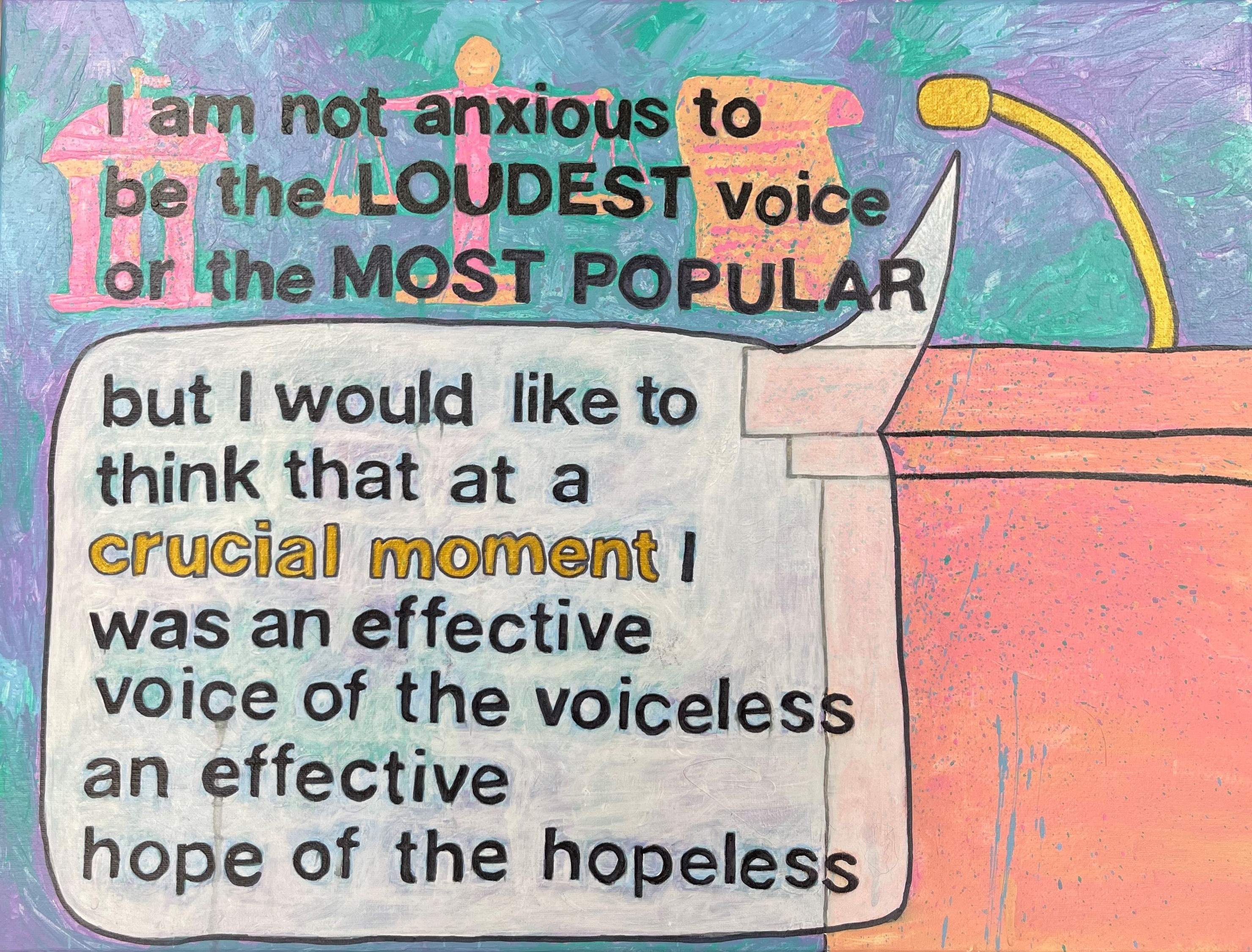 Advocacy Category Winner: "Social Workers in Office" by Lucy Lawrence
Lucy Lawrence is an undergraduate student in the BSW Program. Lucy indicated that her "Social Workers in Office" painting was inspired by, "a quote from Whitney Young, a social worker who was an essential piece to the Civil Rights movement. "
She also wrote in her artist statement about her piece that, "His use of respectful conversations with political leaders allowed space for change and understanding. Social workers are well equipped to serve as public servants, representing communities. Advocacy and Civil engagement are embedded into our code of ethics. Social workers belong in social leadership and in government offices."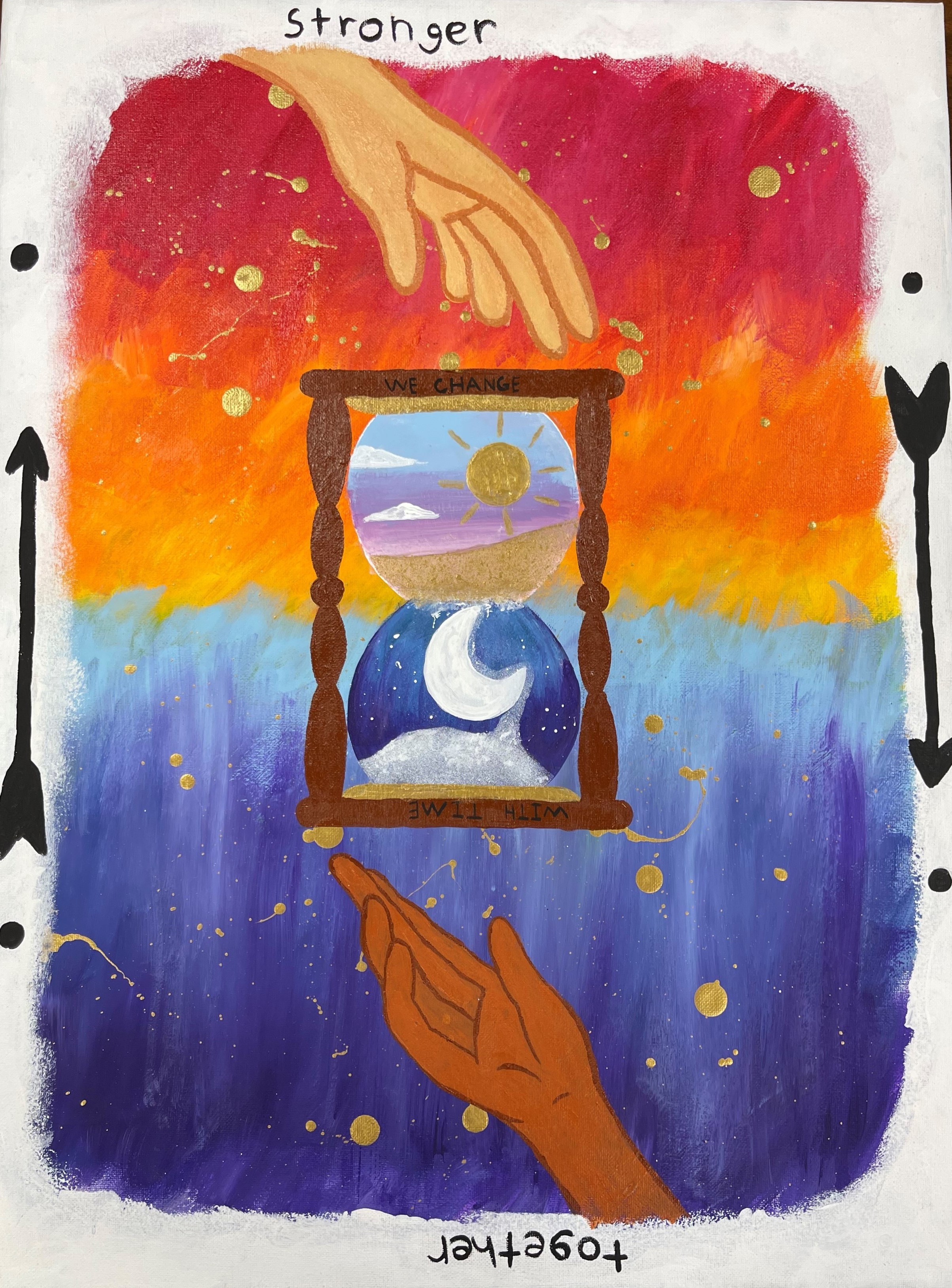 Change Category Winner: "We Change With Time/With Time We Change" by Ysabel Adams
Ysabel Adams is a middle school art student at Raa Middle School in Tallahassee, Florida. She is the daughter of Mattie Mitchell Adams, assistant director of finance and administration at the College of Social Work.
In her artist statement, she wrote about her painting "We Change With Time/With Time We Change,"
"I wanted to use change, togetherness and diversity. The hourglass is meant to represent change, the two hands are meant to represent togetherness and the colors of the background were meant for diversity. I chose this look because I wanted something colorful that had a strong meaning for my painting."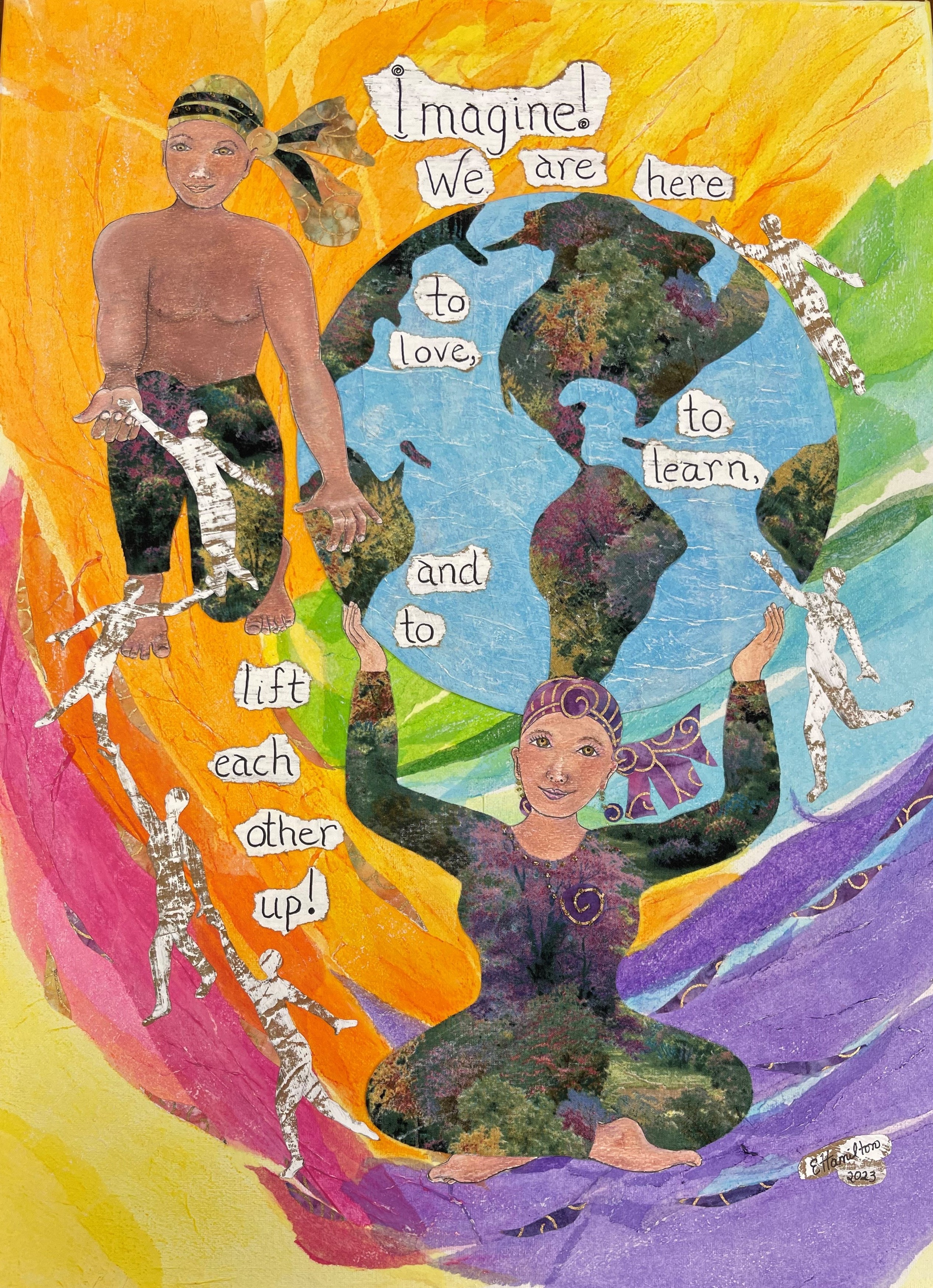 Community Category Winner: "We Are Here" by Ellen Hamilton
Ellen Hamilton is a College of Social Work graduate (MSW, 1984) and is a clinical social worker in Monticello, Florida. She titled her piece "We Are Here."
She wrote in her artist statement, "Given the global, emotional and political environment of our times, I wonder, like many others, where we humans are headed. What kind of community - local, state, national, and global - do we wish to create? I am awash with hope, fear, despair, and determination. Evolution and change - for individuals, families, institutions, governments - are rarely easy.
Upheaval often precedes and heralds growth. My work with some particularly remarkable clients gave me a world of information about the miracle of human survival, renewal, and growth. When these clients discovered within themselves an ocean of buried memories, their lives were not just upended, but torn apart. They experienced a continental shift in their own psyches, an obliteration of that which they had believed to be true. What followed was a period of frightening de-stabilization, and a necessity to discover the binding and enduring elements that would make life worth living. Globally we are experiencing a period of great unrest and upheaval.
What an opportunity we humans have to be instruments of change, healing, and harmony! We can remember that there is always a way to lift someone up. We can find language that includes and embraces the light in each of us. We can acknowledge that which may be most difficult - that we are vulnerable, often filled with fear. Fear of being alone. Fear of dying. Fear of being crushed or stripped or misunderstood. We are here. Now. Every moment of upheaval or peace represents the beginning of time and is an opening for creation.
We have every opportunity to love, to learn, and to lift each other up. Sometimes, we are simply scared children, wanting to be held. We have the power and possibility to hold each other and to see each other. When we can look into the eyes of another human being - loved one, stranger, foe - and see ourselves, we are simultaneously free and bound in a state of harmony and true community."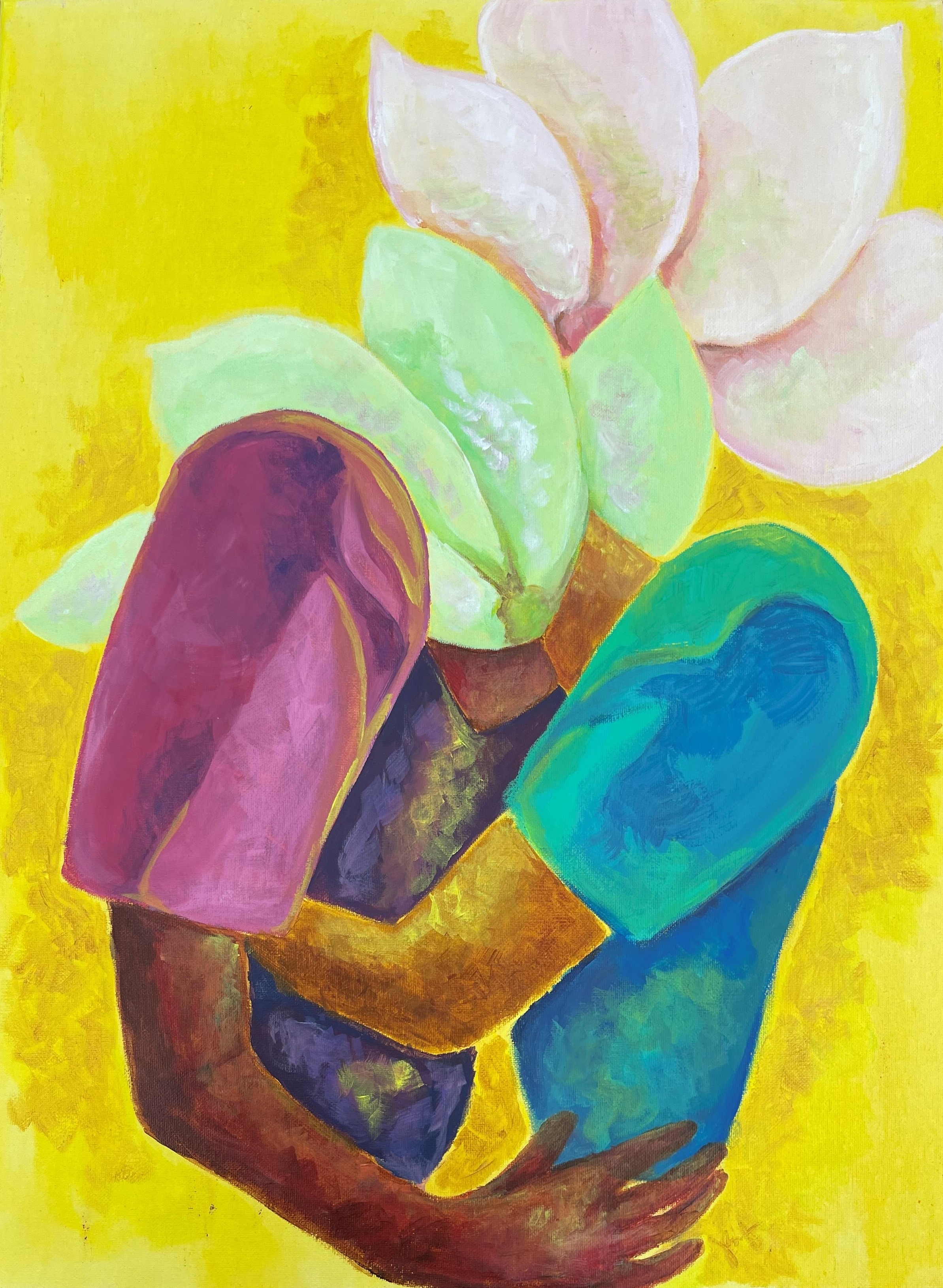 Compassion Category Winner: "Pag Amping" by Reian Beltran
Reian Beltran is an FSU student majoring in studio art at the FSU College of Fine Arts. Her painting is titled "Pag Amping." She explains in her artist statement that this is what "is said when letting someone know to be careful and take care of themselves."
She also wrote that, "This piece illustrates the importance of having people around you that are there for you whenever you need a hand to hold, a shoulder to cry on, and an ear to listen to things you need to take off your chest. These people not only help make life easier to get through, but they are also essential emotional support for an individual to continue growing into a person who feels important in all that they do and all that they accomplish."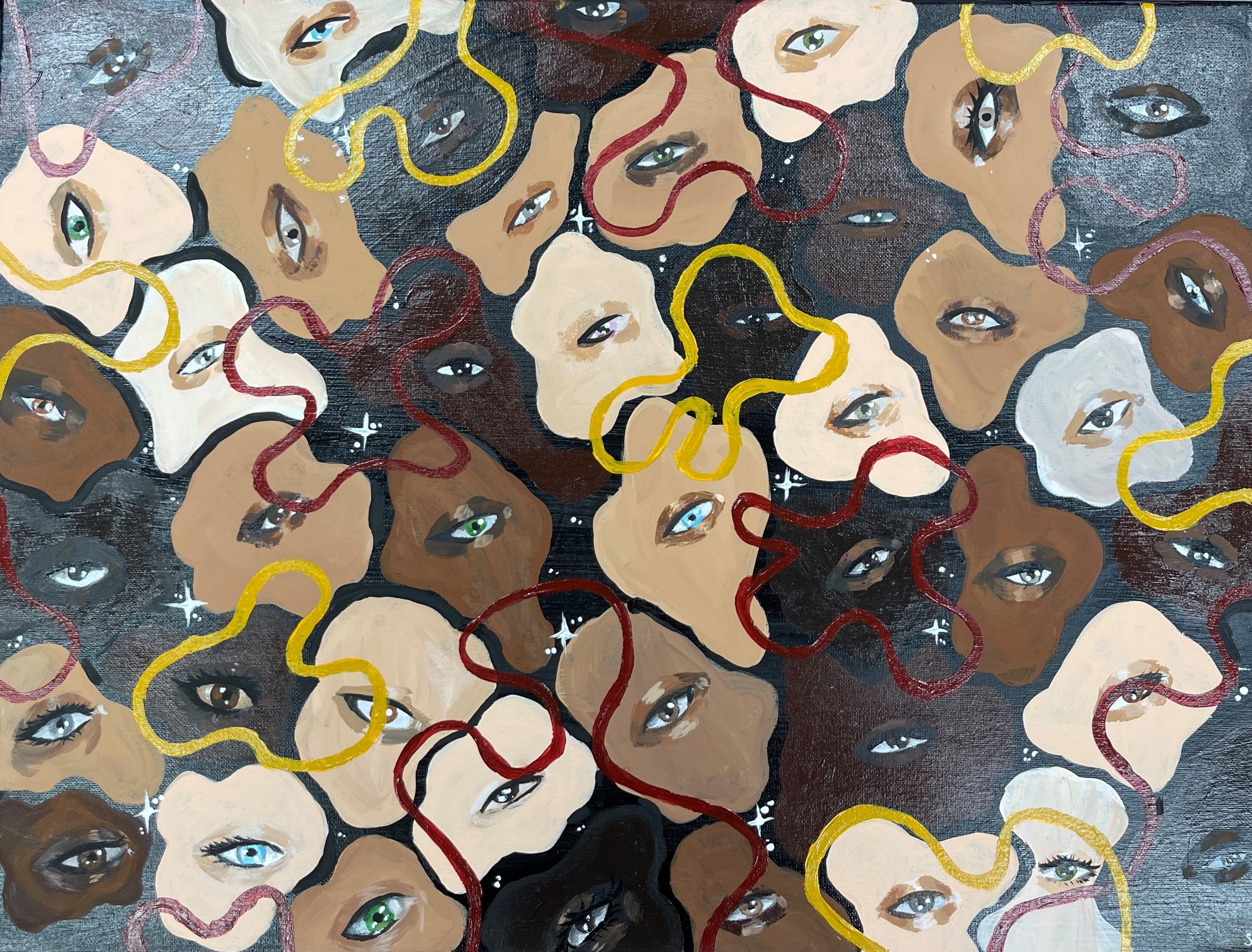 Diversity Category Winner: "Eyes of FSU" by Shekinah Montgomery
Shekinah Montgomery is a student at Florida State majoring in psychology at the FSU College of Arts and Sciences. She also works at the FSU Daycare.
In her artist statement about her painting "Eyes of FSU," she explains that, "I wanted to represent diversity and community on Florida State's campus. Everyone is different and unique similar to a paint splatter or a puzzle piece, yet we all go to class together, we drive on the road together and we create together. I wanted to show the beauty of community with everyone being interconnected tying it together with Florida States puzzle pieces overarching the underlying theme that when we come together, we create art."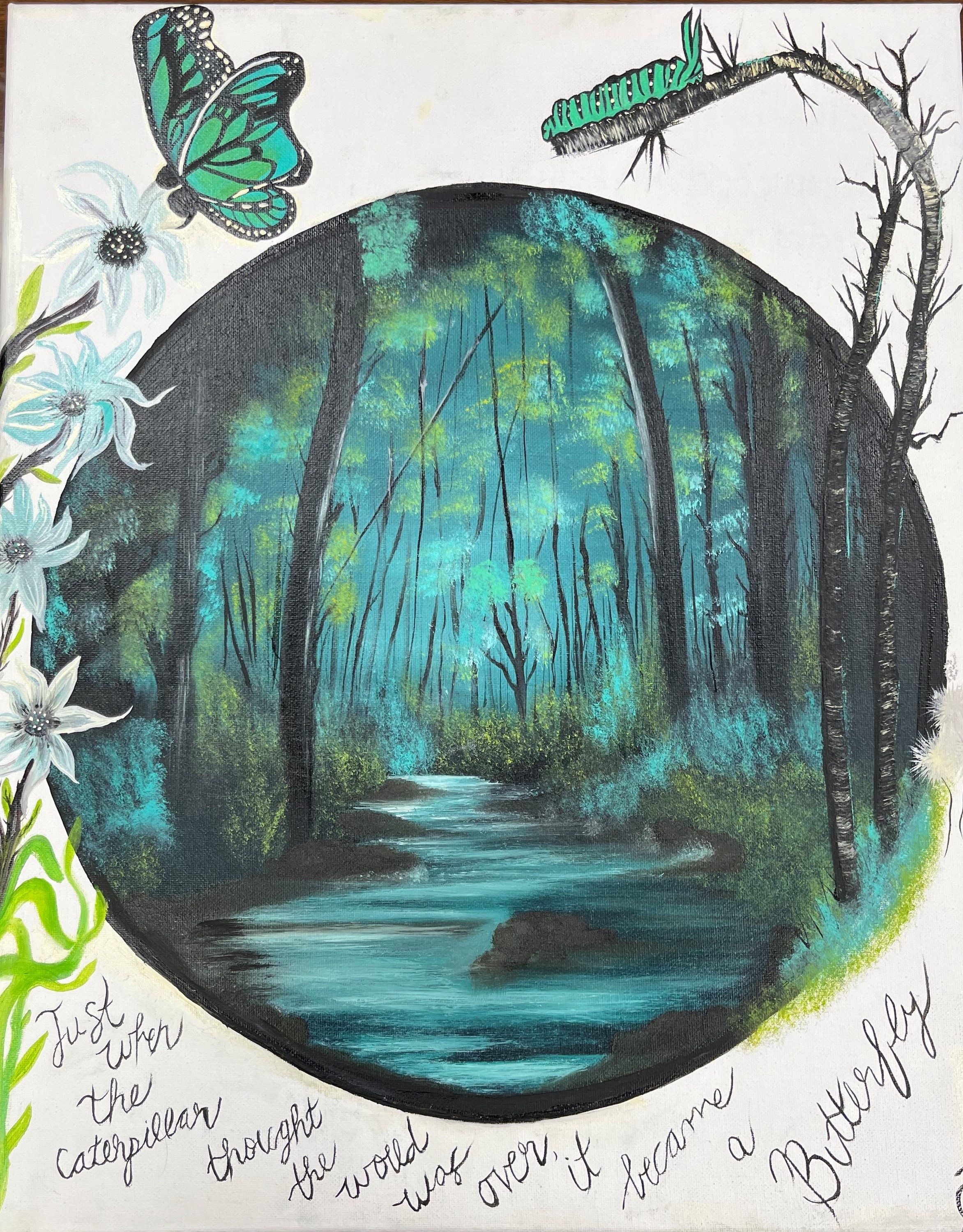 Growth Category Winner: "Fairytale Wonderland" by Cheyenne Belanger
Cheyenne Belanger is an FSU graduate student pursuing her MSW degree in the clinical track at the College of Social Work. In her artist statement for her painting "Fairytale Wonderland" she shares that, "Since childhood, I have spent a lot of time coloring and drawing as a hobby. I started to paint with acrylics in my early 20s, and I recently expanded my skill set with oil paints in August of 2021.
In early 2021, I was experiencing some challenging times and would watch Bob Ross create the most beautiful landscapes. Bob Ross helped me overcome those challenges, and I want to keep the dream alive and help others with this passion. I realized I needed a positive outlook, so I bought a Bob Ross starter kit and taught myself how to paint landscapes and seascapes with his wet-on-wet technique. My passion for art stems from my hero Bob Ross; he is why I paint today.
I realize that despite the hardship Bob Ross endured, he kept going. He intended to keep the dream alive. Bob Ross said, 'we must continue.' Therefore, despite the challenging times, I keep painting and find joy in painting for others. I have attended two Steve Ross workshops and had the opportunity to meet my hero's son. These workshops taught me to enjoy the process and live in the moment, but most importantly, art is a form of mindfulness.
My primary medium is using the wet-on-wet oil painting technique. In this medium, I do not allow the oil paint to dry between colors and layers, allowing me to apply several layers on top of the previous layers of the wet paint. This technique enables the artist to complete the paintings in a shorter time frame. This painting is inspired by growth, passion, and resiliency.
I named the painting Fairytale Wonderland. This painting was inspired by growth, change, and the ability to move forward despite difficulties in life. This painting is dedicated to suicide awareness and to one of my family members who recently passed. The butterfly reflects growth and change. I painted a semi-colon for the butterfly's body to symbolize solidarity with those overcoming mental health challenges. The colors used were titanium white, lamp black, phthalo green, cadmium light yellow, and mixing green and yellow to create the different shades of green. The quote states, 'just when the caterpillar thought the world was over, it became a butterfly.'- Chuang Tzu. I included this quote to emphasize the power of continuing to move forward and to symbolize rebirth, hope, and bravery.'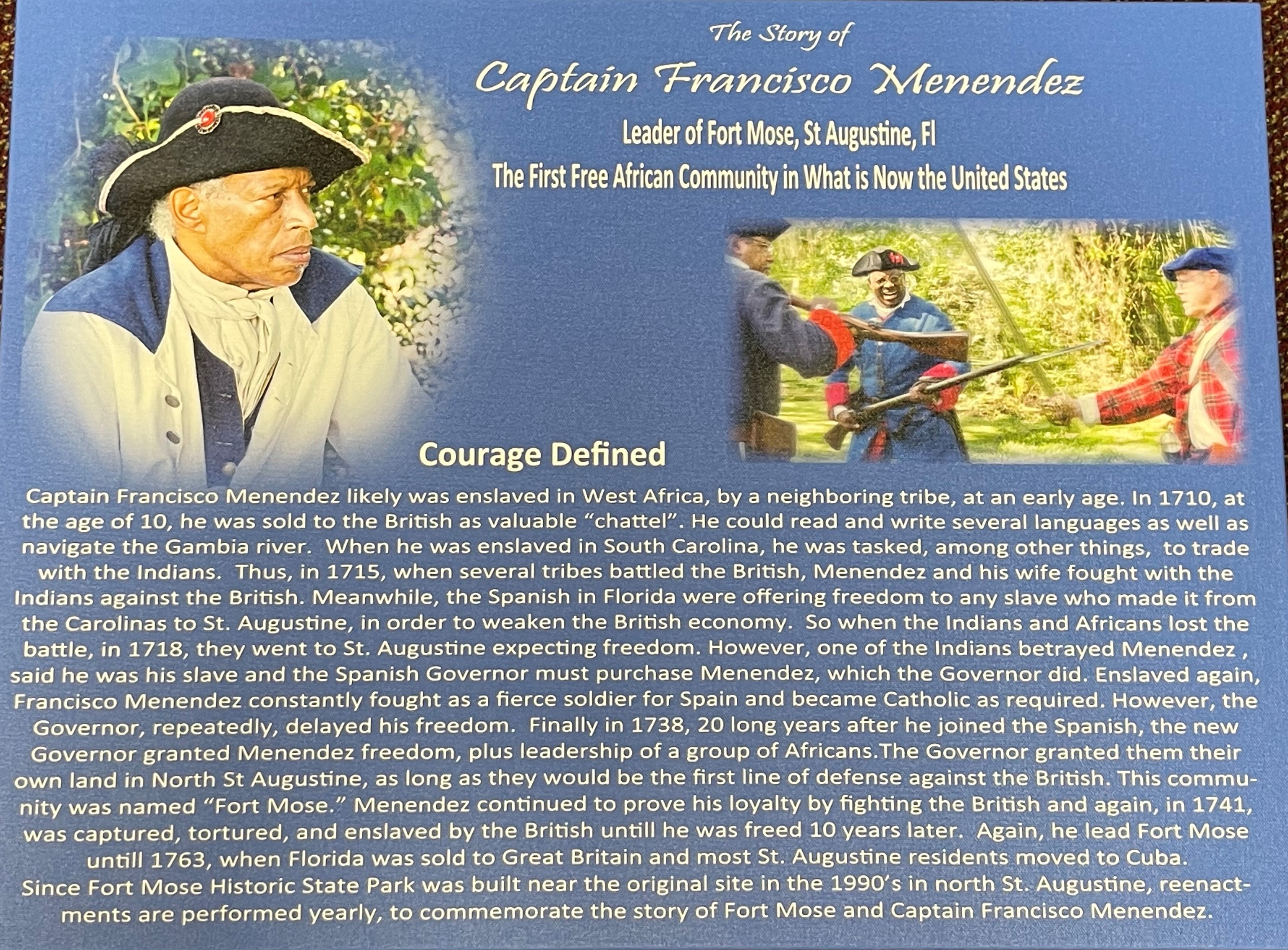 Leadership Category winner: "Captain Francisco Menendez…" by Madelyn Rubin
Madelyn Rubin is a graduate (MSW, 1975) of the College of Social Work from St. Augustine, Florida. She wrote in her artist statement that her piece titled, "Captain Francisco Menendez, Leader of the First African American, Fort Mose, in what is now the United States" was inspired by, "When I first volunteered at the Castillo de San Marcos, better known as 'The Fort' in St. Augustine" and using her photography of the reenactors at Fort Mose.
I was struck by the lack of African Americans on the staff as well as few African American visitors. When I toured the displays, I saw a specific display, the story of the African, Captain Francisco Menendez. I could not believe that one person had encountered so many trials and tribulations in one life…and yet he kept getting back up, making the best of each situation, then continuing on. In fact, he was one of the first proponents of equal rights.
While he was a major figure in winning the significant "Battle of Bloody Mose" in 1740, he was offered no compensation like his Spanish counterparts. So he set sail to talk to the king of Spain, to promote the value he had offered to the Spanish military for 20 years. Although he was captured by the British, tortured and enslaved once again, he still didn't give up. Then, he was freed again. I think he just made himself too valuable by any captors for them to kill him.
When he returned to Fort Mose, he led his community again for several years. In 1763, when the exodus of most St. Augustinians to Cuba occurred, he was finally recognized by the Spanish for his value. Not nearly enough, but he continued on for his people. I think most human beings would have given up at so many points in his life struggles. But he showed us how to persevere for his own survival and for the survival of those he cared about.
So many people do not know about the community that Captain Francisco Menendez lead, 'Fort Mose,' also known as 'Gracia Real de Santa Teresa de Mose' in North St. Augustine. Yet it is so significant. It was the first free African community in what is now the United States. It was the first destination to the first Underground Railroad. A state park now commemorates this special place, Fort Mose Historic State Park.
I am a member of Fort Mose Historical Society. Over the past year, we were able to raise enough money to recreate the original Fort Mose. The mission of our society is to spread the word about this very important, but little-known story of Fort Mose and its heroic leader, Captain Francisco Menendez."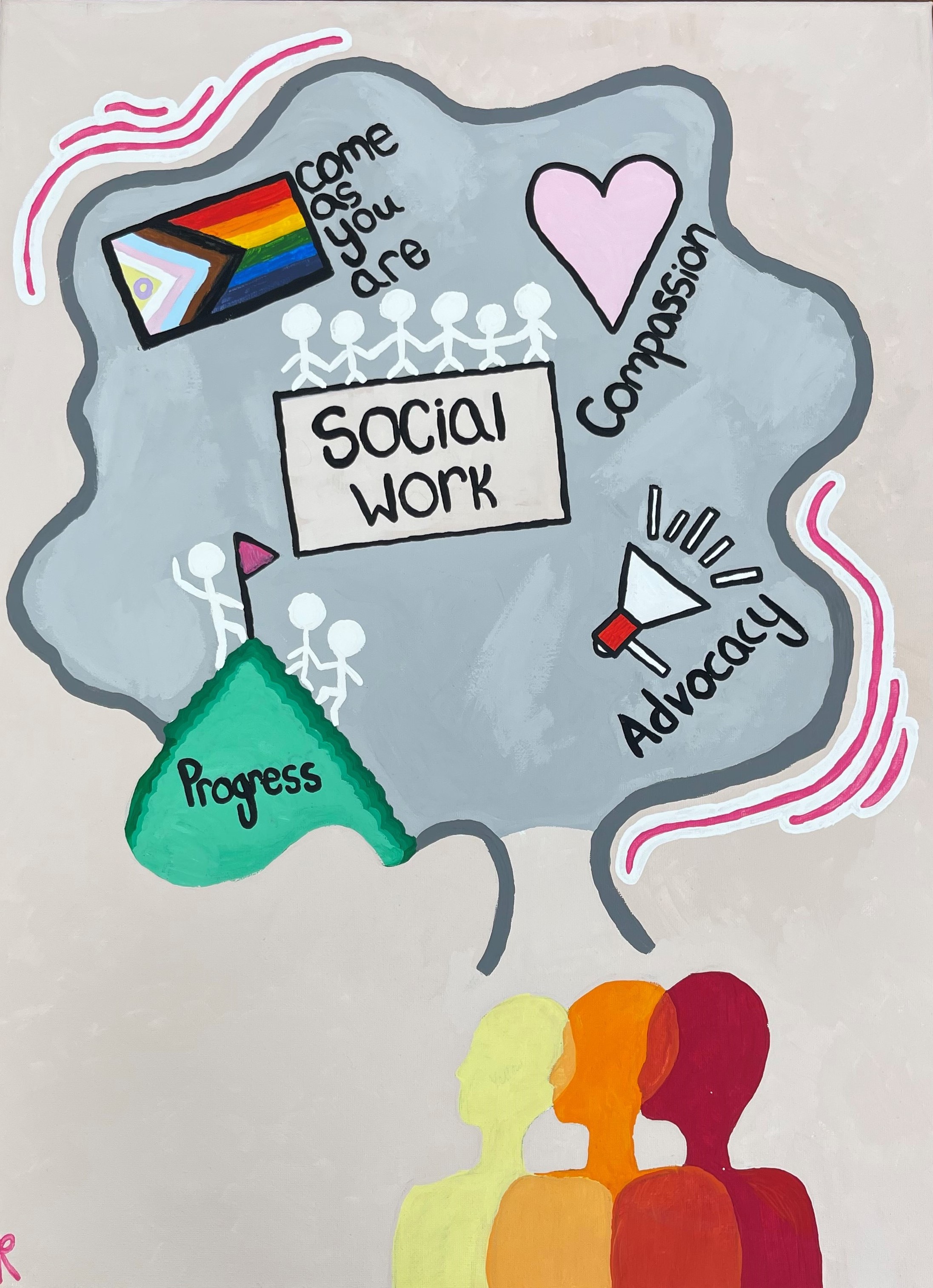 Passion Category Winner: "The World of Social Work" by Lyndsey Korst
Lyndsey Korst is an undergraduate student pursuing her bachelor's degree in social work at FSU. Her painting is titled, "The World of Social Work."
In her artist statement, she expressed, "The world of social work involves so many important people, and parts. Ultimately, our collective passion for helping others is often what drives our work. I created this piece to encompass just a few of the many core values that social workers uphold. Without passion, there is no social work."
A special thanks to all of the artists who submitted their work for Color the College 2023 including:
CSW Arts & Athletics Program (2023 Mentors and Students)
Ingrid Avendano, Business Specialist, College of Social Work
Chase Den Beste (MSW 2021)
Alina Bachmann, Graphic Artist, Florida Institute for Child Welfare
Jennifer Farinella, Assistant Dean for Academic Programs, College of Social Work
Jocelyne Fliger (MSW, 2015)
Shaina Gammell, MSW Student
Fran Gomory, MSW Program Director, College of Social Work
Lynn Grossman (MSW, 1980)
April Heringer (MSW, 2002)
Cynthia Holifield (MSW, 2013)
Alexis Leyva, MSW Student
Stephanie Kilham (BSW, 1996; MPA, 2007)
Barbara Sharpe, MSW Student
Candice Youmans (MSW 2020)
Stephen S. Zigich (BSW, 1962)
All artwork will be hung in the CSW administrative suite during the Summer 2023 semester. 
Scroll through the Flickr album below to see all the artwork submitted to Color the College 2023.
Wednesday, June 7, 2023 - 07:08 PM
Last updated:
Fri, 12/01/2023 - 03:21 PM