BSW Student Denise Baril: An Undergraduate Humanitarian of the Year
---
BSW Student Denise Baril: An Undergraduate Humanitarian of the Year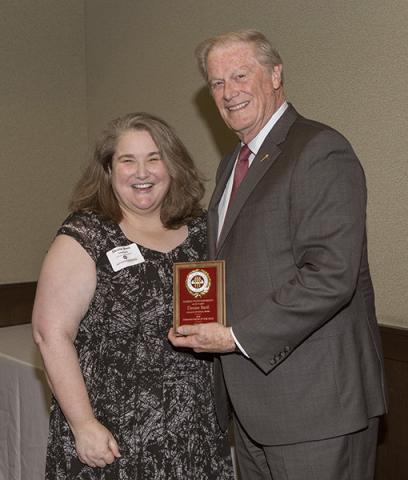 Panama City BSW Student Denise Baril and 15 other humanitarian heroes were recognized by President John Thrasher and Vice President of Student Affairs Amy Hecht during a luncheon on March 21st. The President's Undergraduate Humanitarian of the Year Award is a prestigious honor bestowed to one FSU student from each college for their exemplary commitment to service. Each student is awarded a $200 donation to the nonprofit of their choice.
"Nothing is more inspiring to me than seeing students giving back and make the world a better place," President Thrasher remarked.
FSU College of Social Work senior Denise Baril's service work focused on addressing the needs of people experiencing homelessness in the Panama City area. She worked more than 350 volunteer hours with Community Outreach of Northwest Florida and the First United Methodist Church Cold Night Shelter. 
"Working with people without homes is an interest close to my heart," Denise described. "There was a time in my life where I relied on others and their kindness to not be on the streets."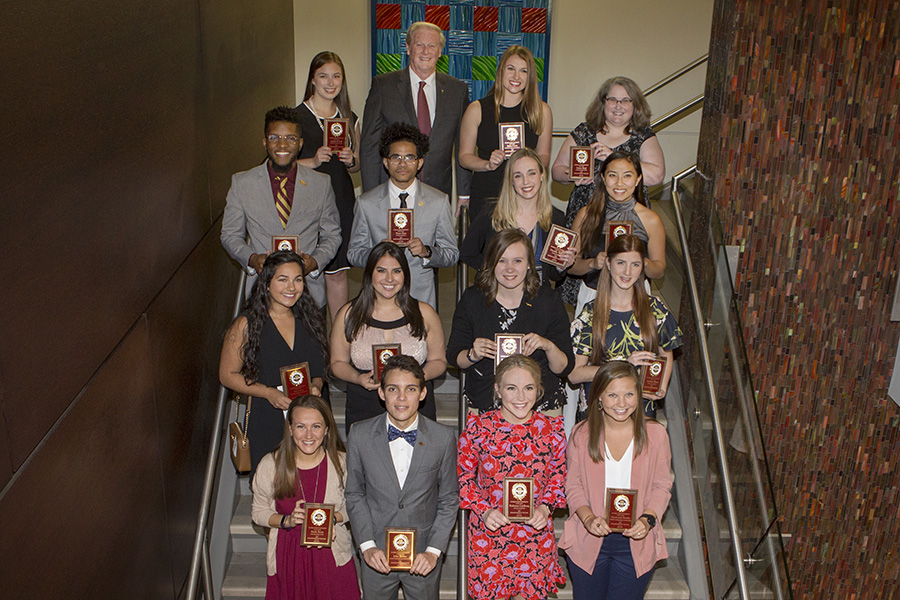 Baril helped to create the Cold Night Shelter with other members of the church, fulfilling a need for a shelter for women and children during the temporary closure of the Panama City Rescue Mission Women's Shelter, known as Bethel Village, for renovations and repairs.
"With this closure, it left a void for women and children in Bay County with nowhere to go for shelter," Denise said. "I began encouraging Missions Chair Brad Young at First United Methodist Church of Panama City to provide a shelter. It meant a safe place for these women and children."
The church established a cold weather shelter with 20 cots that were run entirely by volunteers. The population served were provided hot food and beverages, warm clothing and hygiene items. Denise played an active role at the shelter performing direct intakes for the Homeless Management Information System, and connecting women served to services and more permanent housing.
Denise explained that the National Alliance for the Homeless most recent statistics indicated that between 2009 and 2016 the national homelessness rate has risen by 32 percent, while the homelessness rate in Florida increased by 76 percent. The Cold Weather Shelter not only filled a gap in service but has been able to assist a majority of the women served at the shelter to access transitional and permanent housing.
The shelter's primary challenge is serving all of the people seeking service, as there have been times that more people have needed shelter than there were beds available. Denise plans to seek additional funding to make more cots and resources available to serve the women and children of Bay County.
After graduation this spring, Denise will continue to pursue her master's degree in the Advanced Standing MSW Program at the FSU College of Social Work. She will also continue in her current position as program supervisor for the Street Outreach and Recovery Program at the Anchorage Children's Home.
"The BSW program at the FSU Panama City campus has forced me to not only learn and implement materials learned in the classroom, but it also required me to look at myself and my core values and beliefs," she said. "I learned how important it was to create a safe, judgment-free zone for clients. The program has prepared me to perform at a high level during my internship and beyond."
This year, Denise was also named Social Work Student of the Year for the National Association Social Work Florida Chapter, Emerald Coast Unit. She served as Vice President of the Society of Student Social Workers at the FSU Panama City campus, is a member of the Phi Alpha Honor Society, and will be inducted into the Garnet and Gold Scholars program and Garnet Key Society.
Monday, April 16, 2018 - 02:19 PM
Last updated:
Wed, 03/20/2019 - 10:24 AM