Congratulations to Social Work Spring Graduates and Award Recipients
---
Congratulations to Social Work Spring Graduates and Award Recipients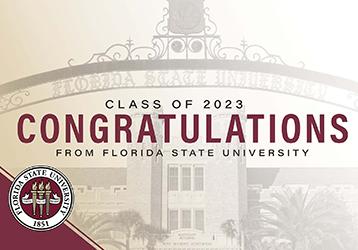 On Friday, May 5, 2023, the FSU College of Social Work celebrated spring graduates and its annual Award Recipients at a celebration in the social work lobby of University Center, Building C.
Spring graduates included 41 BSW graduates, 145 MSW graduates and two doctoral graduates, Chris Collins and Melissa Murphy.
At the event, awards were presented to exemplary students, faculty and field educators nominated internally for their efforts and dedication at the College of Social Work.
Join us in celebrating our 2023 Award Winners including:
BSW Student of the Year: Makayla Evans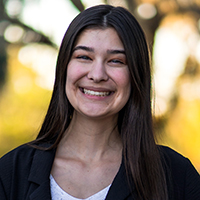 Makayla's nominator shared:
 "Makayla was an outstanding student in my Social Policies and Programs course where she came to class eager to learn, contribute, and grow among peers. After learning about the national Payment 4 Placement movement for paid social work internships in class, she took it upon herself to contact the organization. In a span of two months, she embarked on the orientation process for the FSU chapter to be officially recognized by the national chapter, joining more than 27 other universities. 
She recruited a leadership team that administered a student survey about the impact of unpaid field placements and plans to present the results to CSW administrators with the team next semester.  Her ability to lead and organize in response to an issue impacting social work students is admirable and she deserves recognition as BSW Student of the Year." 
MSW Student of the Year: Stacie Buda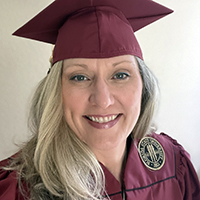 Stacie's nominators said:
"Stacie Buda is a graduating MSW student currently completing the final field placement. Stacie has maintained academic excellence enrolled full-time, while also working within the College of Social Work Administrative Suite and the Institute for Family Violence Studies. Stacie brings a positive energy and care to share her excitement for the field of social work and compassion for others. I believe Stacie is most deserving of MSW Student of the Year!"
PhD Student of the Year: Esaa Mohammad Sabti Samarah Samarsky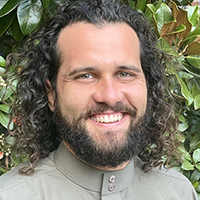 Esaa's nominator stated:
"Esaa has demonstrated leadership on the Doctoral Program Committee as the student representative, within his cohort during courses, and a universally respected student among faculty and fellow students. He has submitted more than a few papers for publication, presented at multiple conferences this year, and is a model student for what we hope to see among students in the program now and in the future."
 IFVS Director's Award: Ailen Leguizamon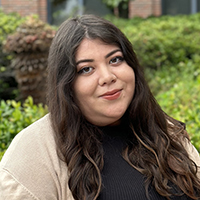 Ailen, an MSW graduate, was awarded the Institute for Family Violence Studies Director's Award, presented annually to an exemplary institute student assistant.
Institute director Karen Oehme stated, "All of our students love research. But Ailen has specialized in understanding and then summarizing important information in clear infographics for a variety of our stakeholders in the domestic violence field. She knows that communication is key, and that people want accessible information. And she's fearless with technology. That's a lot of skills wrapped up in one person; our Ailen has a lot of superpowers. That's why she won the award this year. She's talented and enthusiastic and so very smart."
Instructor of the Year: Chris Collins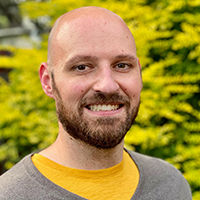 Chris's nominators expressed:
"Chris is an AMAZING professor who is passionate about his field. He keeps his class engaged and has clear course aims." 
"Chris Collins has been a TA for two of my courses. Chris is not only responsive and supportive, but he provides thoughtful and constructive feedback when grading. He makes me feel like he is actually reading through everyone's assignments with purpose and intent, rather than to just get a job done. He is kind and helpful--perfect qualities for a fantastic instructor."
Chris Collins was also presented by Jeff Binkley, founder of Maura's Voice, for his work as the first doctoral student to work with the Maura's Voice Research Fund to further its mission to better understand gun violence to mitigate its impact through research and influencing sound policy.
Professor of the Year: Shalay Jackson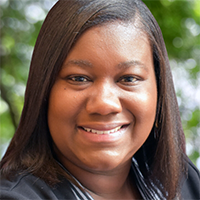 Dr. Jackson's nominators shared that:
"Dr. Shalay Jackson infuses compassion, curiosity, and deliberate pedagogical practices into her classroom to make sure that students get the full scope of what learning can be. She inspires students, TAs, and coworkers alike with her investment in her work. Dr. Jackson teaches what we can aspire to be as social workers, how to conduct ourselves by living the code of ethics, and the truth of the realities we may face. She always ensures that students have the skills and self-assuredness to overcome any barriers to meaningful progress in the world. Dr. Jackson is more than just an instructor and that is apparent in all that she does." 
"Shalay Jackson is amazing. I have never heard a negative word said about her as an instructor from any of her students, they only speak of how much they love her class and wish they could take her for everything. She considers not only the academic, but also the holistic people her students are and her students recognize, appreciate, and respect the level of passion she has in her role as an instructor." 
"Shalay Jackson is supportive of students in and out of the classroom! This is a rarity in Universities. She puts a smile on people's faces and truly cares about her fellow social workers." 
"She has been an incredible instructor and mentor to me and my fellow students. She is not only an intelligent human and well-rounded professor, but she has also demonstrated a passion and investment in her students that is not often found in professors." 
Field Educator of the Year: L. Jude Dugas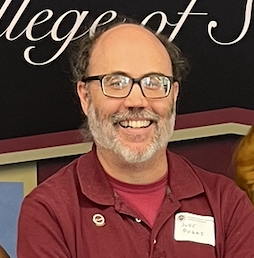 Jude Dugas is the lead case manager with the Big Bend Homeless Coalition's Supportive Services for Veteran Families and supervises College of Social Work field interns.
Jude's nominator said:
"It is thanks to social workers like Jude that students have the opportunity to learn through firsthand experience both the challenges and joys of the profession. I hope this nomination serves as a reminder to Jude that his efforts are appreciated. Thank you for making my undergraduate internship experience a great one!"
Wednesday, May 17, 2023 - 01:49 PM
Last updated:
Wed, 09/20/2023 - 03:06 PM