Doctoral student receives KASWEA Outstanding Dissertation Proposal Award
---
Doctoral student receives KASWEA Outstanding Dissertation Proposal Award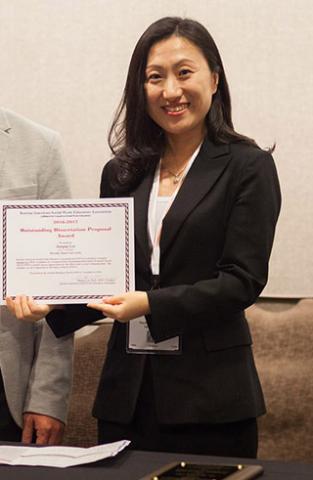 During the annual meeting of the Korean American Social Work Educators Association (KASWEA) at the Council on Social Work Education (CSWE) in Atlanta Georgia, FSU College of Social Work doctoral student Jungup Lee was awarded the 2016-2017 KASWEA Outstanding Dissertation Proposal Award.
Her dissertation "Traditional Bullying and Cyberbully in Childhood and Young Adulthood: Prevalence, Relationship, and Psychological Distress Outcomes Among Young Adults" examines bullying as a widely recognized and pervasive social problem that can result in potentially severe and long lasting consequences for children and young adults. Although empirical research on traditional bullying and cyberbully is growing in the social sciences, little is known about the dynamic relationship between childhood bullying behavior and subsequent bullying behavior and psychological conditions in young adulthood.
Jungup's study seeks to fill this gap in the literature by examining how childhood bullying and cyberbullying victimization influences later bullying and cyberbullying behavior and psychological distress in young adults. Her study utilizes a retrospective, cross-sectional, self-report online survey design of a random sample of 2,000 undergraduate students between the ages of 19 and 25 years old enrolled at two large southeastern U.S. public universities. Her study aims to provide insights into the experiences and psychological problems resulting from bullying with the intent toward developing effective services to help this population to prevention the negative outcomes that result from bullying.
"I feel extremely honored and grateful to receive this prestigious award. It gives me more opportunities to improve my dissertation research," Jungup remarked upon receiving this award. "'A journey of a thousand miles begins with a single step' has always been my life philosophy in pursuing my dreams to better myself in order to contribute to society through social work research and practice."
Wednesday, December 7, 2016 - 09:48 PM
Last updated:
Wed, 05/23/2018 - 10:45 AM