Eight Students Inducted into Garnet and Gold Scholars Society
---
Eight Students Inducted into Garnet and Gold Scholars Society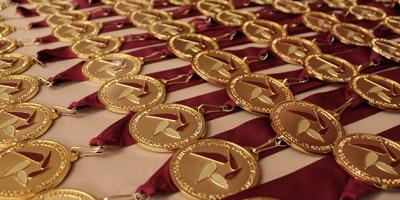 Florida State University welcomed 316 new students into the prestigious Garnet and Gold Scholars society for the spring 2020 semester, the largest class of inductees since the program's inception. Inductees were honored through a virtual reception due to COVID-19. Eight recent College of Social Work graduates were among the 316 undergraduate students inducted into the society. 
Since 2010, the Garnet and Gold Scholars Society has facilitated student involvement. To be inducted, students must meet the engagement criteria in three areas, including international experience, internship, research and service.
"We truly believe that the work you have done within your classroom and beyond --- both in the Garnet and Gold Scholars Society and during your experience at Florida State University --- will benefit you in your future career and life," said Myrna Hoover, director of the Career Center.

Rayanna Campbell
Rayanna Campbell from Jacksonville, Florida, was inducted into the society for her engagement in an international experience, internship and service experience. She is a social work undergraduate with two minors in Spanish and psychology. Rayanna traveled to Costa Rica through FSU's Spanish Immersion Program, engaged in more than 900 service hours with local non-profits and interned at the Center for Leadership and Social Change as the student outreach coordinator for the 2019 Multicultural Leadership Summit. She aspires to be a school social worker. After graduation, she will take a year to explore her interests in dance, Caribbean culture and writing before applying to graduate school.

Alana Cranwell
Alannah Cranwell from Tampa, Florida, is a double major in social work and family and child sciences. She will be attending Columbia University for her MSW degree, with a focus on advanced clinical practice in health, mental health, and disabilities to become a pediatric medical social worker. Alannah completed her Garnet and Gold engagement experiences through international, internship and leadership exp. These experiences included a study abroad program in Prague, Czech Republic, and an internship with a summer camp in Equinuck, Pennsylvania, and leadership experiences as an Honors Colloquium Leader through the FSU Honors Program and positions with Delta Nu Zeta Sorority (Nu Member Educator and President).

Samantha Ferrara
Samantha Ferrara from New Port Richey, Florida, completed her society engagement through international, leadership and internship experiences. The most impactfully for Samantha was her international experience through the College of Social work's Alternative Spring Break program to Grenada in the East Caribbean. "Here, I was able to practice social work internationally while still diving into a new culture," said Samantha.  Her leadership and internship experiences were through her work with FSUs' Flying High Circus, where she served as dance captain (fall 2018 – spring 2020) and felt that it created a second home for her on campus. For graduation, Samantha plans to celebrate graduation with her roommates having dinner and watching the FSU graduation via live streaming. After graduation, she is moving to St. Louis, Missouri, to earn her MSW degree from the Brown School at Washington University with a concentration in child behavioral health.

Karma Kovacs
Karma Kovacss from Miramar, Florida, will graduate with her BSW degree and a minor in psychology. She plans on pursuing a graduate degree in social work after graduation. She was inducted into Garnet and Gold Scholar through her international, leadership, and service experiences.  Her international experience took place through an exchange program with Jönköping University, Sweden.

Christine LoBrutto
Christine LoBrutto from Naples, Florida, will pursue her MSW degree at the FSU College of Social Work after graduation. She completed her Garnet and Gold Scholar Society experiences through service, internship and an international program.

Myeisha Lumpkin
Myeisha Lumpkin is from Miami, Florida and is graduating with her social work degree and a minor in African American studies. After graduation, she will pursue a master's degree in public administration at Clark Atlanta University in Georgia. She was inducted as a Garnet and Gold scholar through an internship, leadership and service experiences. She served on the FSU Women's History Month executive board as co-coordinator of Women's History Month. "The lessons that I have learned through my GGSS experiences as a student has helped me identify that I want to pursue a career in public service, particularly in a managerial position," said Myeisha.

Maria Perez
Maria Perez from West Palm Beach, Florida, was inducted into Garnet and Gold Scholars through her leadership, international and internship experiences. Her international experience includes participation in a study abroad program in the United Kingdom. She also interned with the Public Defender's Office during the Spring 2020 semester and was involved in PeaceJam Southeast, an international education program centered around youth working with Nobel Laureates. After graduation, Maria plans to pursue a career in social work while also working toward her MSW degree in social leadership with a career goal targeting macro social work.
"I will be celebrating my graduation with my family. We plan to order food, put up decorations, and take pictures. My parents have also set up a Zoom meeting with my extended family in which we can all enjoy this special occasion despite the current circumstances," said Maria."

Victoria Strongosky
Victoria Strongosky is from Jacksonville, Florida and will graduate with her social work degree and double minors in biology and chemistry. She was inducted into the Garnet and Gold Scholars Society for her international, internship and service experiences, ones she chose to provide her a multitude of social work perspectives. She assisted in a medical mission trip to Jamaica to deliver health services, worked with people with dementia as an Alzheimer's Project volunteer, and interned with the Georgia Pines Community Service Board for her field placement.
Wednesday, May 20, 2020 - 04:19 PM
Last updated:
Tue, 06/02/2020 - 03:02 PM