Evidence-based Trauma Programs Save Lives and Change Futures
---
Evidence-based Trauma Programs Save Lives and Change Futures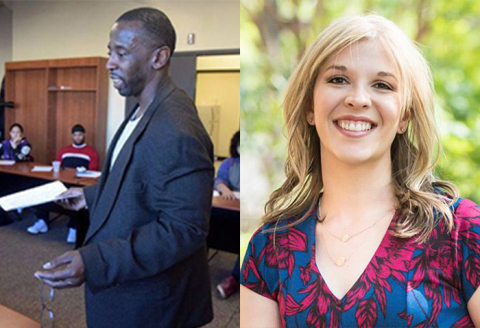 Amberly Prykhodko, director of Clinical and Professional Services at the FSU Institute for Justice Research and Development (IJRD), along with Second Chance Re-Entry Initiative Program (SCRIP) Founder Dr. Edward Andrews, trained chaplain supervisors and reentry counselors at the Connecticut Department of Corrections in late May 2021. 
The training content included what trauma looks like, ways to interact and understand people who have experienced trauma, and how to support them better, to create more successful reentries. 
Andrews initially approached IJRD to inform them that he had read their research and used its foundations to create his nonprofit. After connecting with Prykhodko, he asked to partner with her to deliver clinical training about trauma and incarceration. His lived experience adds value to the expertise Prykhodko has gained in her decade of counseling and treating both law enforcement officers and those who have been incarcerated.
"When it comes to trauma and reentry, I had to turn to the IJRD, who gave me trauma information and the formula on how to address it. This was a greater opportunity to have the professionals of IJRD speak on trauma and reentry with the hopes of saving lives and having individuals living a more meaningful life across the globe," said Andrews.
A few years ago, while working on his college degree, Andrews read "Proposing a Population-Specific Intervention Approach to Treat Trauma Among Men During and After Incarceration," a journal article written by IJRD researchers. Andrews personally identified with the subject matter as someone with incarceration experience. The research helped him better understand himself, the unaddressed symptoms of the trauma he was suffering from, and how those experiences he had throughout his life related to his prior incarceration.  
Andrews used these findings and related research to found SCRIP and developed its reentry program curriculum. His goal was to help others address the invisible barriers of past trauma and make more effective life decisions as they release from incarceration. 
"The evidence-based research and solutions outlined by IJRD provided me with a blueprint to address the pain, barriers and emotional stagnation that trauma caused," added Andrews. 
Men account for 90% of the incarcerated population in the United States. More than 600,000 men are released each year and they are most at risk to be rearrested for a new crime after they are released. Historically, the link between untreated trauma and recidivism has been overlooked by the justice system despite the evidence that untreated trauma increases the chances of rearrest. 
A year after its inception, the eight graduates from SCRIP's inaugural program are all still in the community, gainfully employed, and integrated SCRIP's curriculum into their lives. 
"Real-world research, when applied, can help individuals, and I am hopeful that we are going to continue to see it shape policy and reform institutions. It can truly spark systemic change," said Andrews. 
The training duo has also captured the interest of a large corporation to deliver cultural competency training for second chance promotion and retention to their many franchises across the US. 
Andrews works with men leaving prison at his Hartford-based nonprofit organization, the Second Chance Reentry Initiative Program (SCRIP). SCRIP is a social service initiative that evaluates the historical and systemic challenges affecting minorities and urban communities using trauma-focused counseling and education to transform the lives of participants and their families.
To request a customized training, visit the IJRD website: https://ijrd.csw.fsu.edu/customizable-trainings-and-services
Wednesday, June 9, 2021 - 09:22 AM
Last updated:
Thu, 06/10/2021 - 12:25 PM