Florida Institute for Child Welfare launches resource-rich child welfare website
---
Florida Institute for Child Welfare launches resource-rich child welfare website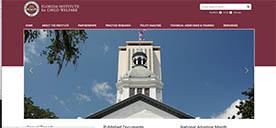 The Florida Institute for Child Welfare (FICW, Institute) was created in June 2014 to conduct research, policy analysis, and program evaluation of child protection and child welfare services. In November 2016, the FICW introduced its new website, http://ficw.fsu.edu/, to assist child welfare policymakers and stakeholders access current research.
The website is based on four foundational pillars outlined in the Institute's strategic plan which includes 1) collaborative partnerships, 2) practice research, 3) policy analysis, and 4) technical assistance and training. The website's layout follows this structure, allowing site visitors to easily access the resources the FICW and its partners have published and posted in the past two years.
Among the FICW's critical partners are the Florida Department of Children and Families(DCF, Department), and a broad network of academic affiliates among 14 universities offering a social work degree. Fifty-eight faculty affiliates with a specialization or research focus in child welfare work with the Institute to ensure that the development of child welfare policies are grounded in research. Several of these affiliates have received funding to conduct research and others offer their expertise as requested.
The Institute is legislatively mandated to serve on two advisory boards. The Critical Incident Rapid Response Team (CIRRT) Advisory Committee, made up of experts in child protection and child welfare, reviews the circumstances around all child deaths and makes recommendations to improve policy and practices that impact children in Florida based on their findings. The Results-Oriented Accountability Program was enacted in 2014 and DCF is responsible for its implementation.  To assist the Department, the Institute serves in both advisory and service provision capacities due to its role in conducting research, providing evaluation services, and supporting various initiatives intended to improve the child welfare system. The Institute sits on both the Technical Advisory Panel, defined in s. 409.997 (4), F.S, and the Governance Committee serving in an advisory capacity and participates in Steering Committee meetings to provide input and advice regarding implementation issues.
In August 2016, the Institute hired an experienced data analyst with a doctorate degree in measurement and statistics to assist the Department of Children and Families to design an evaluation plan; validate selected metrics; conduct data analysis and research reviews; and to provide training to DCF staff and stakeholders on statistics and data analytics. The Institute data analysist is housed in the Office of Child Welfare Performance and Quality Measurement to ensure close consultation.
Over the past two years, FICW has launched fifteen pilot projects based on child welfare practice research, the majority of which will conclude in 2017.  Two larger studies are also funded by the Institute. The Florida Study of Professionals for Safe Families, led by Dr. Dina Wilke, Dr. Melissa Radey and Dr. Philip Osteen of the FSU College of Social Work addresses the recruitment and retention of the child welfare workforce. The Enhancing Parental Behavioral Health Services Integration in Child Welfare project lead by FSU College of Medicine professor Dr. Heather Flynn and College of Social Work professor Dr. Shamra Boel-Studt focuses on the concerns of DCF child welfare stakeholders including: improved behavioral health integration; training child welfare professionals in evidence-based screening, referral and intervention for mental health and substance abuse; and, training community behavioral health clinicians in evidence-based, trauma-informed counseling approaches. To promote child welfare research at the student level, the FICW offers five annual fellowships for doctoral students. FICW's first  research fellow, Anna Yelick, will pursue a study based on her dissertation: Decision Making: An Experimental Study Examining Potential Child Welfare Biases of Family Structure. 
The Institute is mandated to submit an annual report to the governor. To date, two annual reports have been produced that inform the constituents of the Institute's activities and offers recommendations for  improving Florida's child welfare system.  FICW's focus on policy has generated seven technical reports with content contributed by researchers throughout the state on a variety of child welfare-related topics.
And finally, the FICW's website has technical assistance reports and training tools. One of the leading studies in this area includes a pilot test and initial validation of a quality rating scale for residential group homes led by Dr. Shamra Boel-Studt. Additional technical assistance materials and  toolkits will continue to be developed and will be posted to the website.  Check out the Effective Strategies to Recruit and Retain Foster Homes for Teens: A Readiness Toolkit. A toolkit for case managers who work with pregnant and parenting teens will be completed and posted this month.
To learn more about the Florida Institute for Child Welfare contact the Institute at childwelfare@csw.fsu.edu or visit the website: http://ficw.fsu.edu/. FICW will post newly published research reports, toolkits and technical reports on a regular basis.  Starting in January, like FICW's page on Facebook to receive notifications of newly published reports and other current research.
Monday, December 12, 2016 - 07:47 PM
Last updated:
Wed, 05/23/2018 - 10:45 AM