FSU Institute for Justice Research and Development Trains Goodwill® Reentry Counselors Nationwide
---
FSU Institute for Justice Research and Development Trains Goodwill® Reentry Counselors Nationwide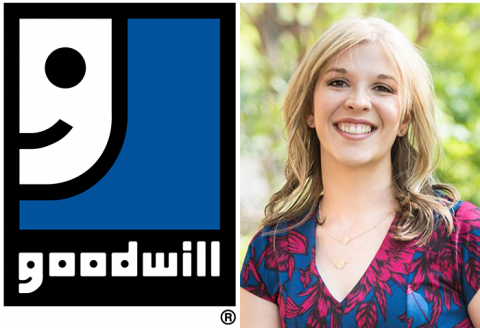 More than 150 reentry counselors from Goodwill Industries attended two keynote presentations led by Amberly Prykhodko, LCSW, Director of Clinical & Professional Services at the Florida State University Institute for Justice Research and Development as part of a multi-day, national conference.
Goodwill nonprofit organizations provide support and stabilization services to more than 80,000 justice-involved individuals and their families to address needs such as housing, legal services, mental health, substance use, healthcare, pro-social activities, financial literacy, and family reunification.
"With more than 12,000 people released from state and federal prisons each week and 71% of formerly incarcerated individuals returning to prison within five years, I am encouraged that an organization as far-reaching as Goodwill is investing in educating their teams on innovations and best practices in reentry work," said Prykhodko.  
Prykhodko delivered two interactive presentations including, "Amplifying Potential: Key Principles of the Well-Being Development Model," which is based on the conceptual framework for the 5-Key Model for Reentry,  and "Amplifying Potential: Focusing on the Solution, Not the Problem,, based on solution-focused coaching techniques.  
"Thank you for bringing awareness to this underappreciated concept in the field of corrections," said Jacob Nowack, a Goodwill re-entry counselor from Minnesota, reflecting on the wellbeing development model.  "I've been working in community corrections for 15 years and have stressed the importance of respecting program participants not only because I am an advocate for human decency, but also because this approach supports positive outcomes."
Attendees heard lessons learned during the national groundbreaking longitudinal research study of the 5-Key Model for Reentry, an innovative program developed by formerly incarcerated individuals, practitioners, and researchers being tested in states across the nation.
"The presentation on the 5-Key Model for Reentry gave us more tools in our toolbox to increase our program participants' ability to succeed and reduce reincarceration," said Chris Sullivan, Goodwill Career Navigator. "We will be discussing [with IJRD] how we can add well-being based approaches to our Jobs on the Outside Program (JOTO), that helps individuals find employment with supportive services."
The 5-Key Model is the first standardized and manualized approach to reentry based on the assumption that when the promotion of human potential is a core focus, reincarceration can be significantly reduced. This approach supports individuals leaving incarceration and rejoining their communities by aiming to increase well-being, rather than to decrease deficits.
Preliminary evidence for the 5-Key Model indicates that increasing individuals' well-being during reentry is associated with increased community stability and decreased return to incarceration after release.
IJRD team members lead live and asynchronous trainings and workshops for corrections, law enforcement, reentry professionals and nonprofit leaders working throughout the criminal justice system. To inquire about a customized, live training for your organization, please visit www.IJRDtraining.com.
Thursday, October 14, 2021 - 04:18 PM
Last updated:
Thu, 01/27/2022 - 10:48 AM