FSU Multidisciplinary Center Reaccredited by American Psychological Association
---
FSU Multidisciplinary Center Reaccredited by American Psychological Association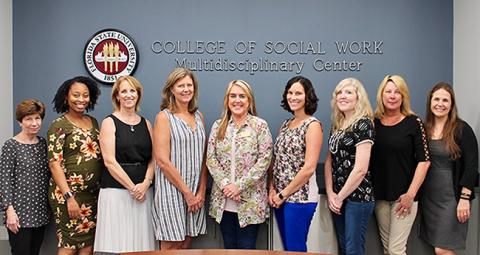 Since 1983, the FSU Multidisciplinary Evaluation and Consulting Center (FSU MDC) has offered services including diagnostic, evaluation and consultation services for children identified as having complex medical, education, emotional, and behavioral problems. Additionally, the FSU MDC offers services and consultation to parents, teachers, school and district personnel, providers and professionals.
FSU MDC began offering doctoral psychology internships through the Association of Psychology Post-Doctoral and Internship Centers (APPIC) in 1994 and were accredited in 2007 by the American Psychological Association (APA). This was quite an accomplishment at the time, for a newly accredited program.
FSU MDC was reaccredited again in 2012, further recognizing a legacy of excellence in training. Recently, the Center became reaccredited for the maximum length of accreditation offered by the APA – 10 years.
The American Psychological Association Commission on Accreditation is recognized by both the secretary of the US Department of Education and the Council for Higher Education Accreditation as the national authority for professional education and training in psychology.
"What makes an accredited internship program stand out are clearly defined and professionally appropriate goals. They obligate the program to maintain conditions under which those goals can be achieved by their trainees," said Dr. Lauren Hutto, Director of Internship Training at the FSU MDC. "Accredited programs constantly seek improvement through self-study and review, and are committed to excellence in the field."
Accreditation positively impacts the doctoral interns involved. An internship is a required component of doctoral training in order to successfully earn a Ph.D. in psychology and to be eligible for credentialing. Students graduating from an accredited program are more likely to secure jobs and obtain licensure in their field. Simply stated, Dr. Hutto remarked, accredited programs are required to meet a nationally-endorsed standard and are held accountable for what they do.  
The internship at FSU MDC is a year-long, 2000-hour training program, preparing psychologists for a variety of positions in health service psychology. Consistent with APA's Standards of Accreditation, there is an emphasis on all areas of competency including research; ethical and legal standards; individual and cultural diversity; professional values, attitudes, and behaviors; communication and interpersonal skills; assessment; intervention; supervision; and consultation and interprofessional/interdisciplinary skills. These components are interwoven into the training activities our doctoral interns' experience, explained Dr. Hutto.
 "I am incredibly proud of the training that the MDC provides and of our dedicated and talented professionals and staff," said Dr. Anne Selvey, director of FSU MDC. "Dr. Hutto did a remarkable job of authoring the self- study and coordinating the site visit.  The acknowledgment of the quality of our program by the APA is a source of pride for us all."
The process does not end with reaccreditation. The FSU MDC engages in self-reflection, review and continuous improvement as an integral and ongoing part of the program. The center provides data yearly to APA keep them updated on major changes impacting the program, along with seeking feedback from clients served by the center. 
"Truly healthy programs constantly seek to respond to the needs of its trainees and the community at large, while working within the bounds of professional competence," concluded Dr. Hutto.
To learn more about the FSU MDC, visit their website at https://mdc.fsu.edu.
Monday, October 14, 2019 - 02:08 PM
Last updated:
Tue, 06/02/2020 - 03:02 PM