FSU/FAMU Partnership Combats Teen Opioid Misuse Through 4-H Programs
---
FSU/FAMU Partnership Combats Teen Opioid Misuse Through 4-H Programs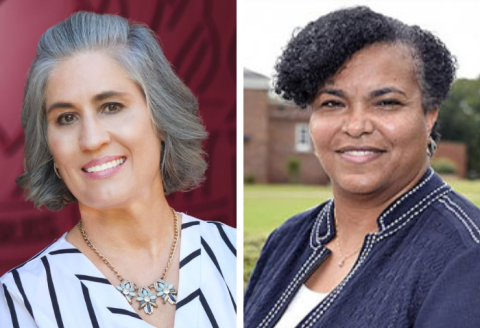 In September 2022, the Center for the Study and Promotion of Communities, Families, and Children (CFC Center) at the FSU College of Social Work was awarded a two-year U.S. Department of Health and Human Services grant funding the creation of the Southeast Rural Opioid Technical Assistance Center (ROTA-RC). The new center serving eight states in the southeast region including Florida, Georgia, Mississippi, Alabama, Tennessee, Kentucky, North Carolina, and South Carolina.
"Our partnership with the CFC Center at FSU leverages the unique strengths and resources of each institution to address the complex challenges facing our rural communities resulting from the opioid epidemic," explained Vonda Richardson, Director, FAMU Cooperative Extension program.
A key feature of ROTA-RC is the CFC Center's partnership with the Florida Agricultural and Mechanical University (FAMU) Cooperative Extension program. The partnership brings together the research expertise of the CFC Center and the outreach and educational expertise of FAMU Cooperative Extension to improve the well-being and quality of life of families and children in underserved rural communities.
One of the current collaborative educational trainings in development is a specialized teen wellness educational curriculum for 4-H Programs run by cooperative extension programs. According to the National Institute on Drug Abuse (NIDA), opioid misuse among teens is a growing problem. In 2020, nearly 10% of high school seniors reported misusing opioids in the past year. This includes both prescription opioids and heroin.
"4-H is an ideal fit for substance use disorder prevention as a youth development program that provides hands-on learning opportunities for young people to develop life skills and become active, engaged members of their communities," said Savannah Collier, Southeast Rural Opioid Technical Assistance Regional Center (ROTA-RC) Assistant Director and CFC Center, Program Manager.
"Teens may be vulnerable to opioid use for a variety of reasons including peer pressure, curiosity, easy access, emotional issues, risk-taking behaviors and most importantly lack of awareness as to the risks associated with opioid use including the potential for addiction and overdose", Ms. Collier explained.

4-H Programs represent the largest youth development organization in the United States, fostering leadership and empowerment for more than six million youths nationwide. The 4-H name represents the organization's pillars:
Head: Developing critical thinking and problem-solving skills.
Heart: Encouraging empathy, communication, and leadership skills.
Hands: Providing opportunities for young people to learn new skills through hands-on activities and projects.
Health: Promoting healthy lifestyles and habits, including physical fitness and nutrition.
With delivery of the teen wellness program through 4-H Programs, the ROTA-RC will connect teenage youths vulnerable to opioid addiction. Opioid misuse can have serious consequences for teens, leading possible addiction, overdose, and even death. In addition, teens who misuse opioids may experience negative effects on their physical and mental health, relationships, and academic and professional goals. The teen program  focuses on:
improving the health and well-being of youths and their families, preventing
reducing negative outcomes of opioid use disorder and
promoting positive outcomes including educational success and healthy development.

The teen wellness education curriculum represents just one of the many education/training and outreach initiatives the CFC Center is partnering on with the FAMU Extension. The partnership is also providing opportunities for faculty, staff, and students from both institutions to collaborate on projects, community-based initiatives, and training programs. "By combining the expertise and resources of both institutions we aim to make a significant impact on the lives of families and children in the southeast region," said Ms. Collier.
For To learn about other ROTA-RC's resources and opportunities, contact Ellen Piekalkiewicz, at epiekalkiewicz@fsu.edu , visit SEROTARCNETWORK.ORG.
Monday, February 27, 2023 - 01:12 PM
Last updated:
Wed, 09/20/2023 - 03:06 PM