Fulbright Scholar Studies Social Work at FSU
---
Fulbright Scholar Studies Social Work at FSU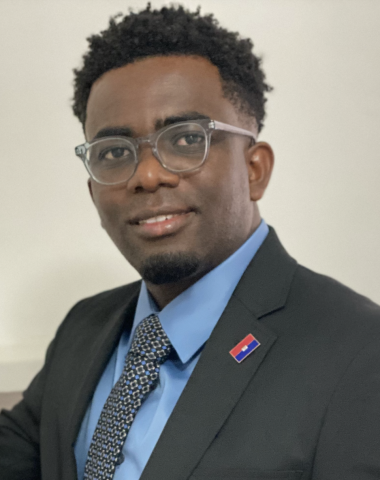 Growing up in his native Haiti, Nelson Jean Francois knew he enjoyed helping others and contributing to his community. At the State University of Haiti majoring in social work seemed a natural choice. He worked with children during his internship, but also wished to continue his education in social work. Without an option for a master's degree in social work, he began graduate studies in the area of development science working to empower people and improve engagement and participation in community-building and projects.
A friend and fellow student mentioned the Fulbright Program offering opportunities for financial support for academic and professional advancement opportunities around the world. With additional support from academic mentors and faculty, he applied and was accepted to the program. He recalled that the application process was not without its challenges, but worth it to achieve his goals.
"We had to translate everything from French, even recommendation letters. It was a bit challenging," he recollected. "But if you want something, you fight for it. You stay consistent, you will get it. Believe in your project more than anyone else, and that will help you keep going."
With the full support of a Fulbright scholarship, Nelson had his pick of universities in the United States. His love and need for community weighed heavily on his decision and Florida appealed to him most. "I chose Florida a little bit for the weather. It is similar to Haiti. " he laughed, when remembering his choice. "Florida also has a lot of Haitian people and I knew I'd find a better community there. I was also thinking I could find a professor that does work centered around Haiti."
At Florida State University Nelson found the community and research focuses he was looking for that allowed him to both pursue his educational goals and stay connected to Haiti. He feels that the transition to living in Tallahassee has mostly been enjoyable, with a welcoming campus community and access to campus resources.
The transition has also come with its challenges, particularly transportation challenges like being without a car and relying on public transportation. He also found himself adapting to different academic approaches like note-taking and written exams that differ to what he had been used to.
"I have enjoyed the facilities at FSU, like the pools. There is a Haitian Cultural Club at FSU and church," he expressed. "I'm so thankful for the Haitian church. I play drums there and listen to music and hang out with friends."
He has also been able to connect with FSU faculty member,  Dr. Vincent Joos, in the Department of Modern Languages and Logistics who specializes in Haitian studies and social justice. Dr. Joos is currently helping him review a critical study about "Haiti and the U.S cooperation relationship, which Nelson describes as a matter of occultation of the other."   
In the College of Social Work and through his time in the MSW Social Leadership pathway he has appreciated the solidarity, friendliness and helpfulness of faculty, staff and his fellow students.
This semester Nelson is wrapping up his master's program with a field placement with the Emergency Care Help Organization (ECHO) working with vulnerable populations living in Tallahassee in need of emergency aid including food, clothes and housing assistance. Although his time at FSU is almost over, Nelson sees his future in both academia and social work. Not only does he have plans to pursue his doctoral degree in social work, but he would like to be a professor focusing on equity, community empowerment and social justice.
Tuesday, June 7, 2022 - 01:21 PM
Last updated:
Thu, 10/06/2022 - 01:40 PM