Hurricane Michael: How to Help
---
Hurricane Michael: How to Help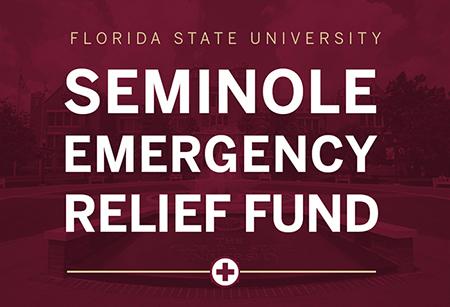 DONATE FUNDS TO DIRECTLY BENEFIT FSU STUDENTS, FACULTY & STAFF IN NEED
Seminole Emergency Relief Fund 
Florida State University has a general relief fund to benefit faculty, staff and students in times of crisis. The current goal is to assist victims of Hurricane Michael meet their essential needs.
https://give.fsu.edu/relief
OTHER WAYS TO HELP
Donate Funds:  
Donate to the Florida Disaster Fund www.volunteerflorida.org
Volunteer Florida, the state's agency for mobilizing volunteers and coordinating donations before, during and after disasters, is promoting donations to the Florida Disaster Fund to support the thousands of Floridians affected by Hurricane Michael. The Fund is established to assist statewide communities as they recover during times of emergency. In partnership with the public sector, private sector and other non-governmental organizations, Volunteer Florida distributes the Florida Disaster Fund to voluntary organizations actively engaged in food delivery and repairing and rebuilding homes, while offering financial assistance and other recovery-related services.
Donate to Second Harvest of the Big Bend
Second Harvest of the Big Bend is the food bank that distributes millions of pounds of food every year to hungry families in the 11-county region of the Big Bend. In the aftermath of Hurricane Michael, Second Harvest of the Big Bend is coordinating with the state and local emergency operations centers with a comprehensive disaster relief plan that includes several truckloads of water, thousands of emergency ready-to-eat meals, distribution capabilities and statewide partners.
Donate to the American Red Cross
The Red Cross responses to nearly 64,000 disasters a year nationwide, providing shelter, food, emotional support and other necessities to those affected. By making a charitable donation to the Red Cross, you are there for millions of people who face emergencies every year and help as they rebuild their lives.
Donate Blood:  
Active Tallahassee and Leon County Donation Sites: OneBlood Donation Sites
DONATE YOUR TIME and TALENT
Volunteer Florida:
Acts of service are critical to recovery, however our efforts are best coordinated by organizations with expert understanding of community needs.  Non-cash donations of clothing or food are often detrimental to the recovery process.  Please have patience and await the most effective ways to help.  Volunteer Florida specifically advises to not self-deploy, sign-up here to learn how you can effectively assist in statewide recovery: Volunteer Florida Sign Up
OTHER RESOURCES AT FSU:
Student Resilience Project (strong.fsu.edu) is an online evidence-based toolkit developed by the Institute for Family Violence Studies, which encourages wellness by helping students learn to manage stress in healthy ways and increase their sense of belonging.
Food for Thought Pantry is a food pantry for students who are in need of food (available on Tallahassee and Panama City campuses).
FSU Alert is the University's emergency information and instructions site.
Friday, October 19, 2018 - 04:14 PM
Last updated:
Fri, 06/14/2019 - 11:33 AM