Online Graduate Student Works to Improve the Lives of People Experiencing Homelessness
---
Online Graduate Student Works to Improve the Lives of People Experiencing Homelessness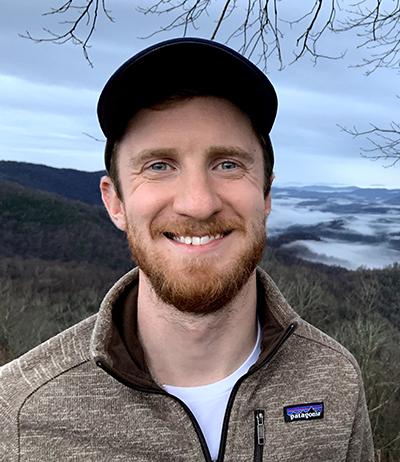 Online MSW Student, Harley Atkins, has worked in the field for more than six years with a particular interest in supporting individuals experiencing homelessness. As Lead Permanent Supportive Housing Programs Coordinator for Hospitality House of Northwest North Carolina for the past four years, he has helped disabled individuals and families to find permanent housing in his local region.
Realizing there was a significant need for social workers in the clinical setting, he decided to pursue his Master of Social Work at the FSU College of Social Work to continue his work in the field. "One thing I learned from the COVID-19 pandemic is that virtual learning is very productive and accessible," he noted.
A course with FSU faculty member Dr. Lisa Johnson gave Harley insights into macro social work. The class gave him an interest in the impact of public policy on the social work profession, the vulnerable populations being served, and how to be more involved.
"During my Social Welfare Policy and Services course, I was struck by how important it is for social workers to be involved in policy decisions," Harley stressed. "As social workers, we can advocate for oppressed populations and give them a voice in the political arena."
After a conversation with a neighbor regarding homelessness, they referred him to the organization Down Home North Carolina (Down Home), which focused on community organizing within the state's rural populations to improve community-building projects and engagement. "I was able to share my experiences, which lined up well with their efforts to improve housing in Watauga County," he stated. "Down Home is a very inclusive group and encourages anyone to attend in the area. They welcomed me with open arms."
Through his involvement in Down Home, Harley connected with a town council member, Dalton George and found mutual interest in addressing housing issues in their area of North Carolina. "We grabbed coffee at a local coffee shop, and I was able to share what some of my clients are facing in our area when trying to obtain housing," he expanded. Harley brought up the everyday challenges of his clients finding handicap-accessible housing in the Appalachian Mountains.
For Harley, understanding the need for accommodations comes from first-hand experience. With nerve damage to his arms and hands and foot challenges, he was in a wheelchair throughout his childhood and faced many surgeries.
 "There are many ways that I can reflect on in my own life and how the Americans with Disabilities Act has impacted me," Harley stressed. "If not for the ADA, many accommodations or resources may not have been available to me."
For him, the most impactful moment that the Americans with Disabilities Act affected was in first grade. His mother advocated for a handicap-accessible playground at his elementary school so he could play and be with his peers.
Harley's new friend and colleague, Dalton George, told him about the Human Relations Commission in Boone, North Carolina and recommended that he apply for the eighth seat on the commission because of his passion and experience. Taking his friend's advice, Harley applied and was voted in and appointed to Boone's Human Relations Commission by the town council.
"Being on this commission is unique because I can work with community partners and agencies to create a more inclusive and equitable environment for our residents, students, and visitors," said Harley.
Although starting out his social work educational journey with his sights set on a clinical role in micro social work, Harley has also embraced opportunities at the macro level in his community to better the lives of the individuals he serves and his community at large.
"Working on my MSW online at a part-time pace allows me to balance work, school and personal life. The biggest highlight while pursuing my degree has been the ability to apply course concepts to my current career," he stated. After graduation, he also intends to pursue his licensure to provide individual and group therapy for individuals with adverse childhood experiences.
Thursday, July 6, 2023 - 10:08 AM
Last updated:
Wed, 09/20/2023 - 03:06 PM