Recent Graduate finds a Blend of Micro and Macro Social Work working in Libraries
---
Recent Graduate finds a Blend of Micro and Macro Social Work working in Libraries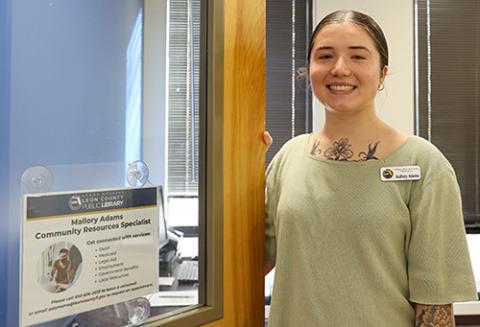 Mallory Adams was interested in politics and policy even as an undergraduate at Southeastern University. She was set to take her LSATs and apply to law school when her thesis advisor, both a social worker and attorney, pointed out how congruent her interests were with the field of social work.
"She was, of course, totally right. I am so thankful for her advice," she recollected. "I was drawn to social work due to the wide variety of practice areas and diverse roles through which social workers advocate in their communities."
In 2022, Mallory completed double master's degree programs in social work and public administration, enjoying a broad range of classes aligned with her interests, like her favorite course, Legislative Advocacy. She was also an active member of the Macro Social Work Student Network, a student organization at FSU bringing together those interested in macro social work topics like policy, advocacy and community organizing.
She gained experience with casework for non-profit agencies in North and Central Florida and completed several legislative internships that let her explore micro and macro social work. But Mallory recalls feeling still deciding where to focus her career interests. "I always felt torn between direct practice and more macro roles in public policy," she expanded.
Mallory's final field placement with the Leon County Office of Human Services and Community Partnerships opened her eyes to the potential of finding a career that touched on both areas of social work. Her internship focused on grants and contracts and allowed her to work with various human service agencies and one-on-one with community members.
Her enjoyment in the mix of micro and macro social work led her to her current position as a community resources specialist with the LeRoy Collins Leon County Public Library. Public libraries represent a relatively new area for social work practice but are quickly becoming an essential resource for connecting with community members.
"Public libraries are, in a sense, neutral environments open to the whole community and seen as trusted information resources for many. Social work practice in such an open setting can mitigate many barriers individuals face when seeking assistance or services, such as lengthy waitlists, complex application processes and technology requirements," Mallory explained. "I think libraries are the perfect place to meet with the community in a comfortable, familiar space and provide many helpful resources."
Her ability to work with various community resources and connect with individuals brings Mallory so much enjoyment in her new role. She notes that she spends at least half her time connecting community members to services and resources. She also works with local providers to plan to program, participates in community meetings, and collaborates with other social work library workers.
Mallory enjoys her role where her micro and macro social work interests meet and emphasize the importance of seeking opportunities and organizations aligning with her values and interests. "So many of our skills are transferable to other fields. A lot of organizations are doing work related to social work and appreciate the unique perspectives and experiences social workers bring to the table," she emphasized.
Even though social work in public library settings is a bit of an uncharted territory regarding formal guidance from the National Association of Social Workers, it is social workers like herself in these settings that are leading the way to establish procedural standards and best practices.
Thursday, February 23, 2023 - 10:18 AM
Last updated:
Fri, 12/01/2023 - 03:21 PM