Social Work Celebrates Spring 2021 Graduates with Virtual and In-Person Events
---
Social Work Celebrates Spring 2021 Graduates with Virtual and In-Person Events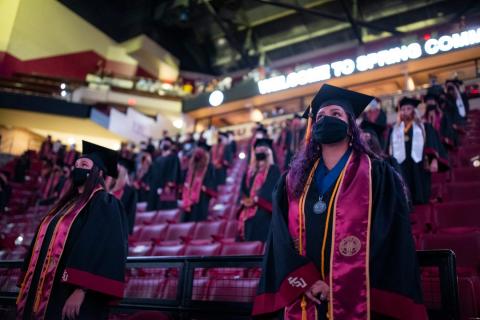 The FSU College of Social Work celebrated its spring 2021 graduates with both an in-person and virtual event.  As the nation becomes more vaccinated and FSU's campus opens up, the college wished to celebrate students in safe and accessible ways.
On Thursday, April 22nd, the college hosted a Virtual Graduation Celebration at 10 am, which acknowledged 2021 award winners and spring graduates individually. The virtual event was followed by a Drive-By Lapel Pin Pick-up Event at the college's location at University Center C, where spring graduates in Tallahassee could pick up their special alumni lapel pin.
During the Virtual Graduation Celebration, Dean Jim Clark and faculty celebrated the 2021 College of Social Work award winners including:
Elizabeth J. Piccard BSW Student of the Year: Margarita Amado-Blanco
Patricia V. Vance MSW Student of the Year: Robin Dunn Bryant
Instructor of the Year: Dr. Stephanie Kennedy
Professor of the Year: Dr. Shalay Jackson
Doctoral Student of the Year: Shelby Pederson
Dianne F. Harrison Doctoral Scholarship: Aidan Ferguson
Institute for Family Violence Studies Director's Award: Veronica Falcon Borbolla
Field Educator of the Year: Kescia Pride
Graduate student Oluremi (Remi) Abiodun, graduating from FSU with dual degrees in social work and law, served as the student speaker for the event. She reflected on their experiences while pursuing their education with a purpose and how to keep going after this significant step. "We have endured chaos and crisis in the physical world as we attempted to gain a degree in a virtual one. It has been a journey!" said Remi exclaimed.
Her profound concluding and inspiring words were "we keep going by prioritizing self, self-care and self-awareness. We, talking to myself too, want to sustain this meaningful work and do it for a lifetime. We love what we do! We cannot do it by not creating clear, impenetrable boundaries with our work. Let's stay grounded not just in the academic rigor that came with gaining these meaningful letters behind our names, but also in the personal work we have done to be more in tune with and kind to ourselves.  Let's be there for ourselves just as intentionally and as passionately as we are there for others."
 
After the virtual event, the College held the Lapel Pin Pick-up event in front of the University Center C courtyard, with several faculty and staff members welcoming and cheering on graduates who came to pick up their alumni lapel pins.
​
Florida State University also held live, socially distanced commencement ceremonies for spring 2021 graduates, hosting thirteen separate ceremonies over two weekends. The College of Social Work and College of Communication and Information's commencement took place on Saturday, April 24, 2021, and was live-streamed.
President John Thrasher inspired students at the spring 2021 FSU commencements with inspiration from his own journey at FSU. The 15th President of FSU, Thrasher is set to retire this year after serving seven years in the position. "These ceremonies for the Class of 2021 will always be extra special to me for another reason – they will be the last that I will preside over as President of Florida State University," he said.
Thrasher reminded graduates of the importance of giving back as well as believing in something bigger than themselves. He also stressed the importance of balancing the passion of their convictions with civility towards others.
"Although this ceremony comes as I wind down my term as president – and it signifies the end of your journey towards earning a bachelor's, master's, specialist's or doctoral degree – I am reminded of the true definition of commencement. It isn't the end – it's a beginning. The start of something new," Thrasher emphasized.
https://news.fsu.edu/news/university-news/2021/04/24/thrasher-sends-spring-2021-graduates-off-with-inspiration-from-his-fsu-journey/
Monday, May 3, 2021 - 02:13 PM
Last updated:
Thu, 05/25/2023 - 04:53 PM