Social Work Dean and attorney partner to Tell the Client's Story
---
Social Work Dean and attorney partner to Tell the Client's Story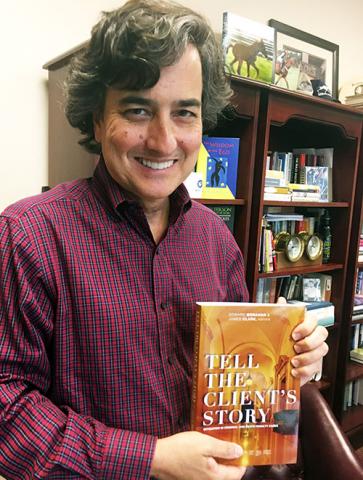 Social work and the legal profession have many unique and sometimes unexpected intersections. The same can be said for partnerships between social workers and lawyers. The recent publication of the book Tell the Client's Story: Mitigation in Criminal and Death Penalty Cases resulted from one such partnership between FSU College of Social Work Dean Jim Clark and attorney and public advocate for the Kentucky Department of Public Advocacy Edward Monahan.
Their introduction began in 1985 with Dr. Clark's presentation on "Client Interviewing, The Helping Relationship" to defense attorneys with the Kentucky Department of Public Advocacy. "Attorneys have special skills. But social workers have many special skills that attorneys do not have which are increasingly necessary for successfully representing clients in the clinical justice system," Mr. Monahan reflected. "In today's world, the most dangerous form of human life is a person that does not access multiple perspectives. Social workers help attorneys see." With Monahan's encouragement, Clark began using his clinical social work skills to train attorneys to engage clients, and later to assist on death penalty cases.
"I found the work intellectually challenging, and I began to set aside my fear of the forensic field. I was, in fact, drawn in more deeply with each case," Dr. Clark related about his draw to forensic social work. "This field afforded me the opportunity to work in many domains in the criminal and civil justice systems. It also generated a myriad of clinical, policy and research questions I have been exploring for the past 25 years." His interest remained through his doctoral degree at the University of Chicago School of Social Service Administration, as evidenced by his dissertation, "A study of subjective experiences of schizophrenic persons incarcerated for violent crimes."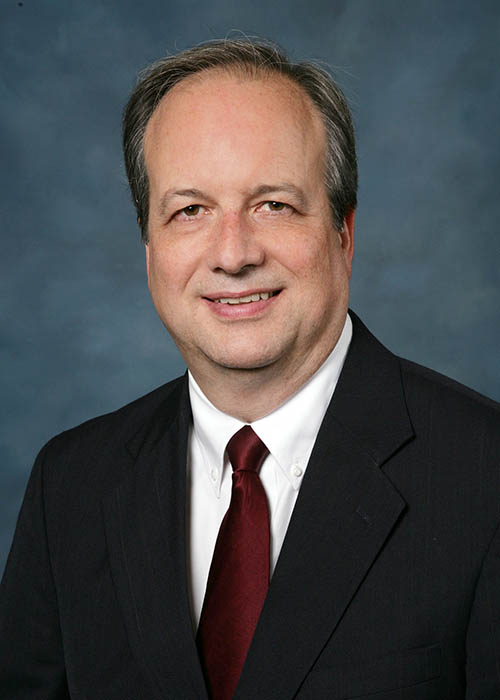 Monahan and Clark continued working together on cases and collaborations on papers and book chapters on criminal justice issues. In 2013, Monahan was approached by the American Bar Association's Commission on Disability Rights with an idea about a book on capital case management. Both thought they did not have time or expertise to write this book on their own. Therefore, they decided to make it an interdisciplinary collaborative project with both of them serving as chapter authors and editors. "We knew that just as successful mitigation teams must be Interprofessional, the book must also demonstrate a high degree of multidisciplinarity," Clark explained. "We had to present the theoretical dimensions of the work in the first half of the book that could help frame up the operational and strategic approaches comprising the second half."
"This is a book about mitigating [reducing] sentences. In most criminal cases, the issue is sentencing. The courts are deciding that more mitigation is relevant in more cases. This book is about what is possible for our clients through more proportionate sentences," Monahan explained. "This book is for the lawyers, investigators, and mental health professionals who are part of the team working to represent the client, presenting a theory and practice of success."
With their "dream team" of 18 colleagues in the areas of law, sociology, social work, psychology, neuroscience, and philosophy Tell the Client's Story: Mitigation in Criminal and Death Penalty Cases became a reality. Both reported that the collaborative outcome of the book far surpassed anything either of them would have done alone, noting the deep commitment and expertise of all parties involved.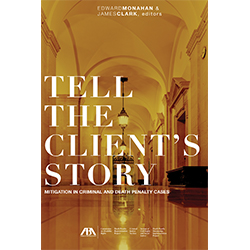 Feedback for the book has been positive from behavioral health professionals, the legal community, and scholars. The first printing of Tell the Client's Story published by the ABA has already sold out and they are on to the second printing. To get your copy, visit the American Bar Association's Shop ABA page.
Wednesday, July 26, 2017 - 01:11 PM
Last updated:
Wed, 06/13/2018 - 02:38 PM