Social Work Student Inducted into FSU Garnet & Gold Scholars Society
---
Social Work Student Inducted into FSU Garnet & Gold Scholars Society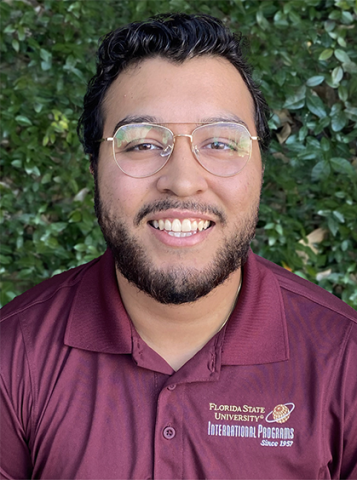 Daniel De Santiago was inducted into the Garnet & Gold Scholars Society at Florida State University during the summer 2024 semester before graduating with his Bachelor of Social Work. The society inducted 12 undergraduates this semester who display excellence within and beyond the classroom in three of five areas, including international, internship, leadership, research and service. For Daniel, he excelled in international, internship, and leadership.
He came to Florida State University with his sights on service through medical school and a career helping people as a physician. As a chemistry major, he spent his first semester participating in the FSU International Programs First Semester Abroad Pathway in London in the United Kingdom.
"My first semester abroad allowed me to see the world in a new light and gain knowledge and experiences that changed my perspective on learning and my view of my life," he explained. "Studying abroad allowed me to use the city as my classroom and explore different cultures. The experience also allowed me to grow in my independence."
By his junior year, Daniel knew he needed more volunteer, experiential hours before applying to medical school and started looking for opportunities. This search proved challenging as many volunteer programs were on hold during the COVID-19 pandemic before finding an opportunity at Big Bend Hospice.
"This was when my mind started to shift from helping people as a doctor to helping people as a social worker," he recalls when he started volunteering with hospice.
Daniel worked one-on-one with patients and the many social workers whose jobs focused on offering support and services to patients with terminal illnesses and their families. "I realized my skills and qualities were better suited for the work of a social worker," he said.
He added, "Helping people in hard situations and providing support has always been a quality of mine and a goal of mine for my future career. I thought being a doctor was the only way to do that in a clinical setting until I learned about the role of social workers."
From this experience, Daniel switched his major to social work. He also maintained an interest and involvement with FSU International Programs working in several positions during his undergraduate career starting as a student ambassador acting as a face and supporter for study abroad.
In 2022, he and fellow student ambassador, Kate Fillenwarth, were promoted to co-directors of International Programs' Student Ambassadors. Daniel and Kate took on leadership roles, supporting and training other student ambassadors.
In his final position with International Programs, Daniel came full circle by becoming the coordinator of the First Year and First Semester Abroad programs. In this role, he educates families and students about these opportunities and is an admissions officer and advisor to those applying for the program. "Through International Programs, I was able to gain skills in public speaking, critical thinking and organization," he shared.
Wrapping up his BSW degree, Daniel completed his field internship at Elder Care Services, a non-profit in the Big Bend region of Florida, focusing on the quality of life for seniors and their caregivers. "I have been able to see the workings of a non-profit organization, dive into my Tallahassee community and impact the lives of older adults," he enthused about his internship experience.
He appreciates and hopes to continue working with older adults and college students. After graduation, he is excited to marry his fiancé, Faith Cuillo, a fellow FSU graduate in dietetics who serves as the Community Engagement Manager with Second Harvest of the Big Bend. He also will start his Master of Social Work degree this fall in the Social Leadership pathway.
"I want to do more on a macro level and have a greater impact on more people," Daniel expressed. "The world is moving fast, and I want to learn from it and make it better for those around me."
Friday, August 18, 2023 - 12:53 PM
Last updated:
Wed, 09/20/2023 - 03:06 PM