Student Profile: Doctoral Student Productivity in the Summer Months
---
Student Profile: Doctoral Student Productivity in the Summer Months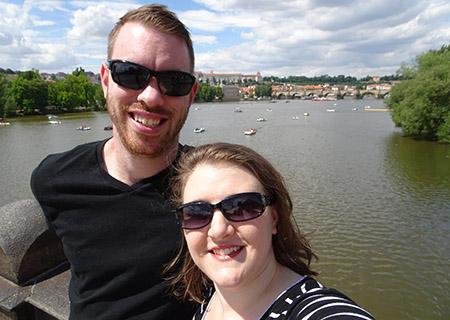 This past July, I attended and presented at the 35th International Congress on Law and Mental Health. Leading experts from around the world in psychiatry, nursing, social work, psychology, law and other helping professions, convened from July 9-14th at Charles University in Prague, Czech Republic to share their ideas about today's most pressing issues at the intersection of mental health and law.
At the conference, I presented as part of a panel on the use of coercion in mental health treatment settings. The panel included Drs. Tomi Gomory (Florida State University), David Cohen (University of California, Los Angeles), and Shannon Hughes (Colorado State University). My presentation "Addiction and Coercion: In Search of a Valid 'Impairment Criterion'" discussed the three main legal justifications used for involuntarily hospitalizing drug users in the U.S. I argued that current justifications are often inadequate and sometimes lead to inappropriate and unnecessary care. As an alternative, I suggested another, the "impairment criterion." The impairment criterion is a measure of the extent to which a person can make rational decisions.
Decision-making impairment is seen in situations like late-stage Alzheimer's disease, or in drug treatment when an alcohol user is experiencing delirium tremens (a chemically induced state of confusion, sometimes accompanied by hallucinations). I believe the impairment criterion can serve as a more appropriate benchmark for determining when involuntary hospitalization and treatment is ethically justified, and when it is not.
The conference was a great opportunity for me to receive feedback on how to further develop these ideas and offered a chance to engage with a variety of perspectives on the issue. Additionally, the conference provided me the opportunity to hear from other scholars and researchers, working on the issue of involuntary treatment and treatment ethics in Europe and Australia.
Additionally, during my time in Prague, my wife Sandy and I were also able to travel, enjoying many wonderful sights. Prague has many beautiful and striking landmarks, including the Charles Bridge, Prague Castle, St. Vitus Cathedral, and the Old Jewish Cemetery. While each of these sites was awe-inspiring, the most stunning aspect of the trip was the beautiful medieval architecture found throughout the city's buildings.
Prague was an absolute joy. It allowed me to engage and network with other scholars and students from around the world, become exposed to new ideas, and allowed me to experience various cultures much different than my own. I'm thankful for Dr. Gomory's invitation to present along with him on the panel, as well as to the College of Social Work which generously offered funding to help make traveling to the conference possible.
Friday, September 1, 2017 - 10:57 AM
Last updated:
Fri, 07/13/2018 - 11:24 AM