Three Sisters Share the Goal of Helping Others
---
Three Sisters Share the Goal of Helping Others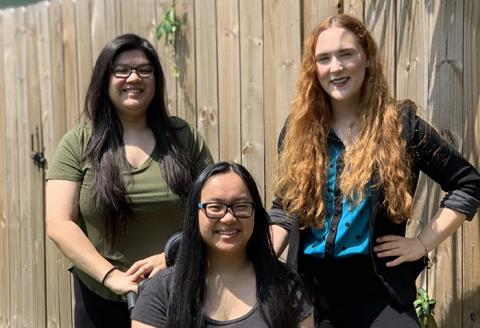 Growing up with a parent working in the social services can often instill an interest in helping others, but the Beecher family have a special familial dedication to the service of others. With a mother serving on the civilian side for the US military with Family Advocacy and Sexual Assault Prevention and Response (SAPR), the family grew up in Okinawa, Japan with exceptional interest and understanding of social issues. While all six Beecher sisters are studying in helping professions, three of them pursued their undergraduate degree through the Bachelor of Social Work Program on FSU's Panama City campus together.
Although the three of them have different plans and goals for the future, Meagan, Madison, and Morgan, all shared an admiration of their mother and a desire to better the world around them. The journey has been an uphill battle for all of them as their cohort began the program right as Hurricane Michael battered the Florida Panhandle.
"We started this program with a hurricane and ended it with a pandemic," said Meagan Beecher-Best about the uniqueness of their experiences. "We've been through a lot as a cohort, and we have always provided each other with love and support. When Hurricane Michael hit, it was so hard to carry on. There was so much devastation everywhere we went. I look back and I am proud of us as a cohort."
It was the small cohort and teacher to student ratio that appealed to them, Morgan noted, that allowed them to make their learning experiences more personal and really get to know everyone in the BSW Program. Morgan, with her sights on a profession in medicine, originally pursued a degree in biology, but decide that social work would make her a better doctor. "FSU taught me the value of community," she expounded. "The [FSU] Panama City Campus consistently showed that they care deeply about our safety and success by ensuring we have the tools to continue our education in times of hardship."
All three of them emphasized how lucky they are to have each other's extra support through the experience. "Like attending college with my best friends," Madison expressed. And each of them has found themselves learning more about themselves as they also learn about the social work profession.
"The program and field of social work require self-reflection and the ability to challenge your own beliefs and stereotypes," Morgan concluded.  Each of them encountered these new challenges in their own way, but each found moments that increased their self-confidence and their abilities as young social workers.
"I would doubt my abilities," Madison confessed. "Some areas I had to work harder to get where I am today. But learning to self-advocate and allowing myself to experience new things have allowed me to gain the necessary skills to advocate for others."
Meagan explored improving her self-confidence as a social worker by practicing with her supervisor and performing mock interviews. Through her internship with Life Management Center Mobile Response Team, she was able to assist with clients in crisis under supervision and realize how much impact and aid she could provide through her role as a social worker.
Madison also found great satisfaction through her internship with Gulf Coast Children Advocacy Center, learning to pursue knowledge through continuous training and webinars and understanding the need for self-care so that she could continue to be there for her clients.
"Social workers are known to advocate on behalf of others," Morgan expressed, "but it was something new to stand up for myself and ask for more from the agency in order to meet my educational goals."
As the Beecher sisters graduate in spring 2020, each is focused on her own goals and aspirations while continuing to stand by her sisters as they navigate this new phase in their lives. Morgan remains focused on taking the MCAT exam and applying to medical school, Madison is intent on pursuing her MSW while continuing to volunteer with Gulf Coast Children Advocacy Center and the Red Cross, and Megan is eager to enter the workforce to help those in need.
Regardless of the future for each, none of them regrets their chosen path with the social work profession. "Going through this program was an emotional and mentally demanding journey," Morgan concluded. "but I am truly thankful to have had my sisters by my side."
Tuesday, May 5, 2020 - 11:40 AM
Last updated:
Tue, 06/02/2020 - 03:02 PM