Alumni Highlight: Josie Fliger, An Advocate for Seniors and Community Engagement
---
Alumni Highlight: Josie Fliger, An Advocate for Seniors and Community Engagement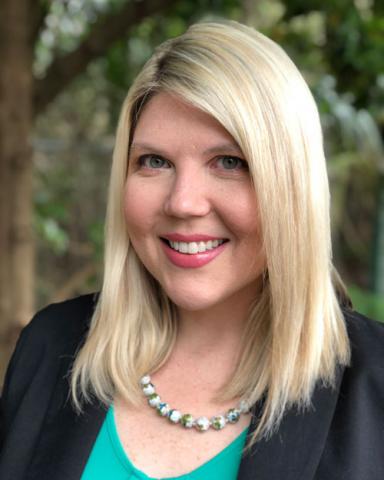 In 2013, Alumna Jocelyne (Josie) Fliger (MSW, 2015) did her first internship during her MSW program at FSU College of Social Work with the Tallahassee Senior Center, which offers activities and opportunities for senior citizens living in Tallahassee, Florida. Here she has introduced the idea of active living for seniors, a concept contrasting a societal focus on abnormal aging.
"There is a huge segment of the senior population who are living active, fulfilling lives," illuminated Josie. Her interest in this population continued throughout her MSW program as she fulfilled two more internships with Tallahassee Memorial Hospital's Memory Disorder Clinic and Elder Day Stay, an adult day center run by Elder Care Services, Inc. To top it off, Josie completed her Certificate in Gerontology/Aging Studies as a part of her program.
Since 2014, Josie began working for Elder Care Services, Inc. as the Director of Volunteers and Engagement. She manages their volunteer department, overseeing more than 1,200 volunteers a year, and coordinates the outreach to the Big Bend region about the organization's services and issues facing seniors. Before that, she worked for more than eight years with 2-1-1 Big Bend, a local resource providing human service information and crisis counseling, with her focus being on suicide prevention.
As Director of Volunteers and Engagement, Josie oversees three Senior Corps programs including Foster Grandparent, Senior Companions, and Retired and Senior Volunteer Program (RSVP). Josie is especially proud of the community garden she helped establish at their headquarters with the help of the Damayan Gardens Project and Leon County. The Community Garden provides free produce utilized by their Meals on Wheels participants and food pantry clients.
"One of the greatest joys in working with seniors is being able to help those who are facing barriers preserve their dignity and independence," explained Josie about the many roles she plays. "The challenges are really just opportunities to advocate for seniors to the larger community. There is a misconception that seniors no longer have value or worth. And society really wants to fear aging. I want to disprove those myths and communicate that each person, regardless of age, has intrinsic value.  Seniors are everywhere and involved in many things and are the fastest-growing population in Tallahassee."
Josie has also been integral in establishing an employee newsletter and family fun day to get the various departments at Elder Care Services interacting. She takes a supportive role in her organization and with the staff and volunteers she interacts with every day. Josie became involved in the Uptown Toastmasters Club to support a fellow employee with anxiety about making presentations. She enjoyed Toastmasters and the interpersonal communication skills she cultivated so much that she now mentors with the Voice of Freedom Gavel Club, which brings Toastmaster clubs into prisons so inmates can cultivate communication and leadership skills. Her interests and engagement in her community are multifaceted, and she advises others to do the same.
"If you don't like one thing, try something else," emphasized Josie. "I am passionate about promoting diversity and social justice, so I also sit on the Tallahassee Human Relations Council, a city advisory committee to promote these issues."
She even uses her background in women's studies and sociology to sit on a steering committee for a women's economic forum. All her efforts for the Tallahassee community have not gone unnoticed. In 2019, Josie was recognized as one of the "Top 25 Women You Need to Know" in Tallahassee, and now is an officer in Club 25, the philanthropic group of women who share this honor.
Josie's desire to positively impact her community encompasses not only seniors but translates into a desire to instill equal passion and commitment in others, which makes her make her all the more suited for her role with Elder Care Services.
"I am always looking for volunteers, but I like to talk to people to determine their interests, to see what opportunity is a good fit for them. A well-placed volunteer is a happy volunteer," she said. "There are just so many ways to give back to your community. You need to find something that is a good fit for you. If you believe in something or passionate about a cause, give a few hours to that cause. You will be helping others, but you will also get so much out of it personally in return."
Wednesday, September 11, 2019 - 10:47 AM
Last updated:
Tue, 06/02/2020 - 03:02 PM