Child Welfare Advocate Joins Social Work Faculty
---
Child Welfare Advocate Joins Social Work Faculty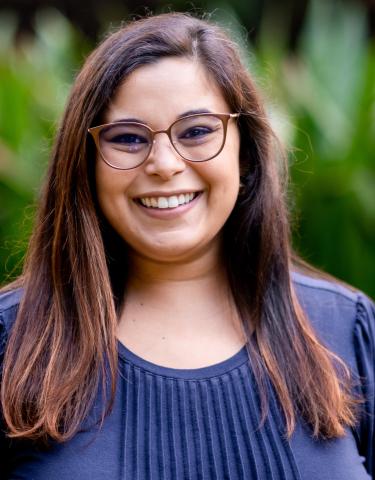 As a first-generation American, Erika Cuffy calls Florida home after her parents immigrated to the United States from Cuba in the 1970s. She discovered at an early age how much she loved people and finding ways to connect and help them.
It wasn't until her undergraduate years at Southeastern University that she discovered the social work profession and its wealth of opportunities to better the lives of those most vulnerable. "I dove into the profession head-first during my undergraduate career," she recalled fondly. She served as president of the school's Phi Alpha Social Work Honor Society and as a teaching assistant for the social work program's Human Trafficking course.
"I would participate in volunteer opportunities to help vulnerable populations, which just furthered my love for the field." She spent a summer in 2014 in Puerto Rico as a service coordinator for Youthworks, Inc., served as a group facilitator and mentor at The Dream Center of Lakeland for girls aged 13-18 and completed an internship at Florida Baptist Children's Home. Her efforts earned her the Most Outstanding Student award for Southeastern's social work program in 2015.
With the same level of enthusiasm, Erika continued her social work education farther north at Florida State University. She continued working with children and families as a family health advocate with the Center for Health Equity in Quincy, Florida and as a family resource coordinator for Tampa General Hospital's Success 4 Kids & Families program.
Her work confirmed that she was on the right path to specialize in child welfare. "During this time, I was honored to stand alongside survivors of human trafficking during some of the most difficult times of their lives. I also saw an immense amount of resilience in these individuals. It was a time in my career I'll never forget," she affirmed. "I have enjoyed working closely with child welfare agencies. Individuals that work in these agencies put their all into advocating for children on a daily basis."
Working with youths also brought Erika back into an educational setting, first with Polk County Schools as a regional school social worker followed by a return to her undergraduate alma mater, Southeastern University as a faculty member and BSW Field Director. She also joined Southeastern University's Campus Counseling Center as a clinical social work intern to earn her licensure.
She has enjoyed sharing her passion for child welfare and field placements with students and is eager to continue this focus in her teaching.
"I enjoy bringing the content to life in the classroom with guest speakers that currently do the work that is being taught. I believe that brings another layer to what the students are learning," she shared. "I also stay current with best practices in the field so that my teaching materials are effective."
Erika return to Florida State University this fall as an assistant teaching professor, teaching courses on social justice and diversity, social work practice and field practicum. "Being an alumni of the College of Social Work at Florida State made it an easy decision to come back and teach for the institution that shaped me as a social worker. I remember all of the incredible faculty members that poured into me their knowledge when I was a student. I hope to do the same during my time as an FSU faculty member," she enthused.
Friday, June 2, 2023 - 04:24 PM
Last updated:
Fri, 12/01/2023 - 03:21 PM