Faculty Member Receives Innovation Award from International Society for Traumatic Stress Studies
---
Faculty Member Receives Innovation Award from International Society for Traumatic Stress Studies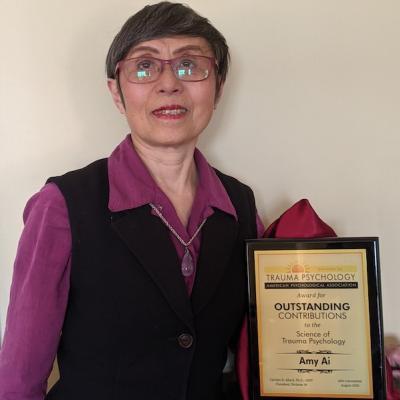 The International Society for Traumatic Stress Studies (ISTSS) has honored Amy L. Ai, a professor with the FSU College of Social Work and a faculty affiliate of the Institute for Successful Longevity, with its Innovation Award.
Dr. Ai is only the second person to receive the society's Innovation Award. The honor is given to an individual or group who has used innovative methods to advance the field of traumatic stress in the areas of prevention, research, treatment, teaching, policy and advocacy.
ISTSS President T.H. Eric Bui, a French psychiatrist and scholar, noted that Dr. Ai's interdisciplinary research focuses on trauma/resilience, existential crises, and positive psychology, using mixed-methods, and covers diverse populations and events. He also highlighted her "seminal tool book, Assessing Spirituality in a Diversified World."
"I am immensely grateful for this award," said Dr. Ai about receiving the award "It is a great honor and pleasant surprise." 
Ai noted that her area of research used to be dominated by a medical model concerning individuals' posttraumatic pathology. She also emphasized that since 9/11 an emphasis has been placed on studying collective trauma due to the increasing impacts of deadly disasters. "For example, major hurricanes and Covid-19 have disproportionally hit hard nursing-home and poor-minority communities," she emphasized. "I am glad that my studies on both individual and collective trauma with an emphasis on posttraumatic growths and character/cultural strengths, especially our 2021 book, may have important implications for a new direction."
The ISTSS is dedicated to sharing information about the effects of trauma and the discovery and dissemination of knowledge about policy, program and service initiatives that seek to reduce traumatic stressors and their immediate and long-term consequences.
"This Innovation Award only makes me think that there is so much work to be done," said Dr. Ai. "I am hoping to collaborate with ISTSS' members and other interdisciplinary scholars for its future."
Dr. Ai's current interests involve gerontology and aging studies, health disparities, and existential issues following major disasters. A recent study by Dr. Ai and Dr. Arthur Raney, the College of Communication and Information explored resilience outcomes within communities affected by deadly hurricanes, with a particular interest in the protective role of faith and positive personality traits.
Wednesday, December 15, 2021 - 04:26 PM
Last updated:
Thu, 01/27/2022 - 10:48 AM