Amy L. Ai
Distinguished Research Professor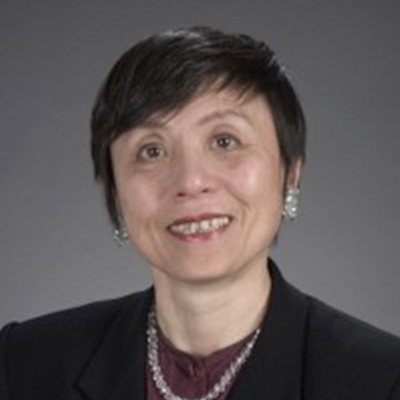 Contact Information
Office Location
University Center C2313
Amy L. Ai is a distinguished research professor and is a faculty affiliate with both the FSU Institute for Successful Longevity and the Pepper Institute for Aging and Public Policy. Her research interests include gerontology, health disparities, cultural diversity, behavioral intervention, mindfulness, mental health, spirituality, stress and coping. She is a fellow of the American Psychological Association and the American Academy of Social Work and Social Welfare, as well as a Fulbright scholar.
AREAS OF FOCUS
Cultural Diversity 
Gerontology
Health Disparities
Healthcare
Medical Social Work
Mental Health
Mindfulness 
Research Methods
Stress & Coping
EDUCATION
PhD, 1996, University of Michigan; Psychology and Social Work
MS, 1994, University of Michigan; Psychology
MSW, 1993, University of Michigan; Interpersonal Practice and Research
MA, 1990, University of Michigan; Child Development and Educational Psychology
BA, 1987, Institute of Psychology, Chinese Academy of Sciences; Medical Psychology/Developmental Psychology
SELECTED PEER REVIEW ARTICLES AND PUBLICATIONS
Ai, A. L., Wink, P., & Shearer, M. (2011). Secular reverence predicts shorter hospital length of stay among middle-aged and older patients following open-heart surgery. Journal of Behavioral Medicine.
Ai, A. L., Plummer, C., Kanno, H., Hoe, G., Appel., H. B., Simon, C. E., & Spigner, C. (2011). Positive traits versus previous trauma: Racially different correlates with PTSD symptoms among Hurricanes Katrina & Rita volunteers. Journal of Community Psychology.
Ai, A. L., Tice, T. N., Lemieux, C., & Huang, B. (2011). Modeling the post-9/11 paradox in an existential domain: From deep connection and struggle to posttraumatic stress and growth. Archive for Psychology of Religion, 33(2).
Ai, A. L., Seymour, E. M., Kronfol, Z., & Bolling, S. (2011). Moot states, coping factors, and interleukin-6 are related to psychiatric symptoms following cardiac surgery. Biological Psychiatry and Psychopharmacology, 13(1), 2-9.
Ai, A. L., Ladd, K. L., Peterson, C., Cook, C., Shearer, M., & Koenig, H. G. (2010). Long-term adjustment after surviving open-heart surgery: The effect of using prayer for coping replicated in a prospective design. The Gerontologists, 50(6), 798-809.
BOOKS PUBLISHED
A.L. Ai, P. Wink, R.F. Paloutzian, K.A. Harris (Eds.) (2021) Assessing Spirituality in a Diverse World  - ISBN 978-3-030-52140-0
Ai, A. L., & Ardelt, M. (Eds.) (2009). Faith and well-being in late life: Linking theories with evidence in an interdisciplinary inquiry. Hauppau, NY: Nova Science Publishers.
SELECTED GRANTS
Ai, A. L. (Principal Investigator). Improving the Well-Being of Hypertensive African Americans: A Pilot Trial On An Integrative Intervention. The Lois and Samuel Silberman Fund; The Pitt Center on Race and Social Problems; & The Pitt Ultrasound Research Laboratory ($100,000, stopped due to the transition to the FSU). 2010-2011.
Ai, A. L. (Principal Investigator). The Long-Term Effect and Biophysiological Mechanism of Faith Effects on Cardiac Rehabilitation. The John Templeton Foundation (ID#1851) & The John Hartford Geriatric Social Work Faculty Scholar Program, Gerontology Society of America ($434,142). 2002-2009.
Ai, A. L. (Principal Investigator/Co-Principal Investigator). Complementary Approach to Rehabilitation of Older and Middle Aged Patients Following Cardiac Surgery: A Randomized Controlled Trial. The NIH National Center for Complementary and Alternative Medicine, Project 3 (R01, $818,309), & The NCCAM Center Grant (P50 AT00011, $9,200,000). 1998-2003.
Ai, A. L. (Principal Investigator). Spirituality, Coping, and Psychosocial Adjustment of Kosovar Refugee in Michigan and Washington States: A Cross-cultural and Interfaith Project. The NHI National Institute on Mental Health Seed Grant (NIMH R24; The Office for Undergraduate Research, UW; & The Office of the Vice President of Research, UM ($2,770 to Co-PI, Christopher Peterson, Ph.D.) ($42,993). 1999-2001.
Ai, A. L. (Principal Investigator). Effects of Spirituality and Religiousness on Short-term Psychosocial Adjustment of Older and Midlife Patients Following Cardiac Surgery. The NIH National Institute on Aging (R03; $76,250). 1998-1999.