FSU College of Social Work holds annual Spring Convocation and Pinning Ceremony
---
FSU College of Social Work holds annual Spring Convocation and Pinning Ceremony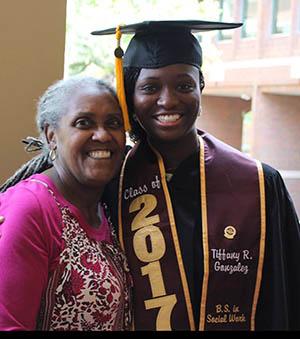 May 5, 2017, the College of Social Work celebrated its most recent class of social work graduates in the Oglesby Union Ballrooms. More than 700 people attended the annual event to witness the graduation of 38 BSWs, 54 MSWs, and one doctoral student, Stephanie Grace Prost.
Student speaker, Kotrish Wright, represented her fellow spring 2017 graduates. She spoke on the importance of risk-taking and remaining curious as means by which to learn, face your fears, and make the most of the opportunities that present themselves. She referenced her experiences during the Alternative Spring Break trip to Grenada in the East Caribbean, emphasizing that "the client is always the expert of his or her life" and that social workers are "there to be the navigator of the journey." (View Kotrish's speech on YouTube).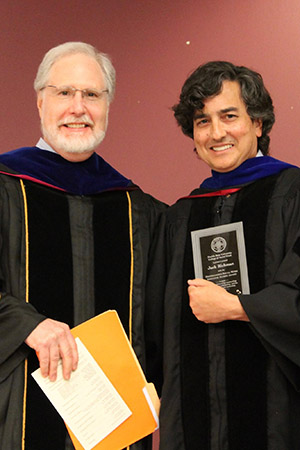 "Keynote speaker, Dr. Jack Richman, also spotlighted in his address that social workers need to "reach out, listen, hear, understand people's perspectives and motivations, and assume that people are doing the best they can. And then respond, talk, and engage in respectful dialogue."
"I believe that is what our profession is based on, what humanity is based on," Dr. Richman stressed in his speech. "These changing-producing skills and values are what our profession offers our communities as we work for the betterment of vulnerable populations…Work as you have been trained to right these wrong doings, support vulnerable populations, reduce community violence, reduce poverty, and increase opportunities. As Dr. King said 'The arc of the moral universe is long, but it bends towards justice'" (Enjoy Dr. Richman's speech on YouTube).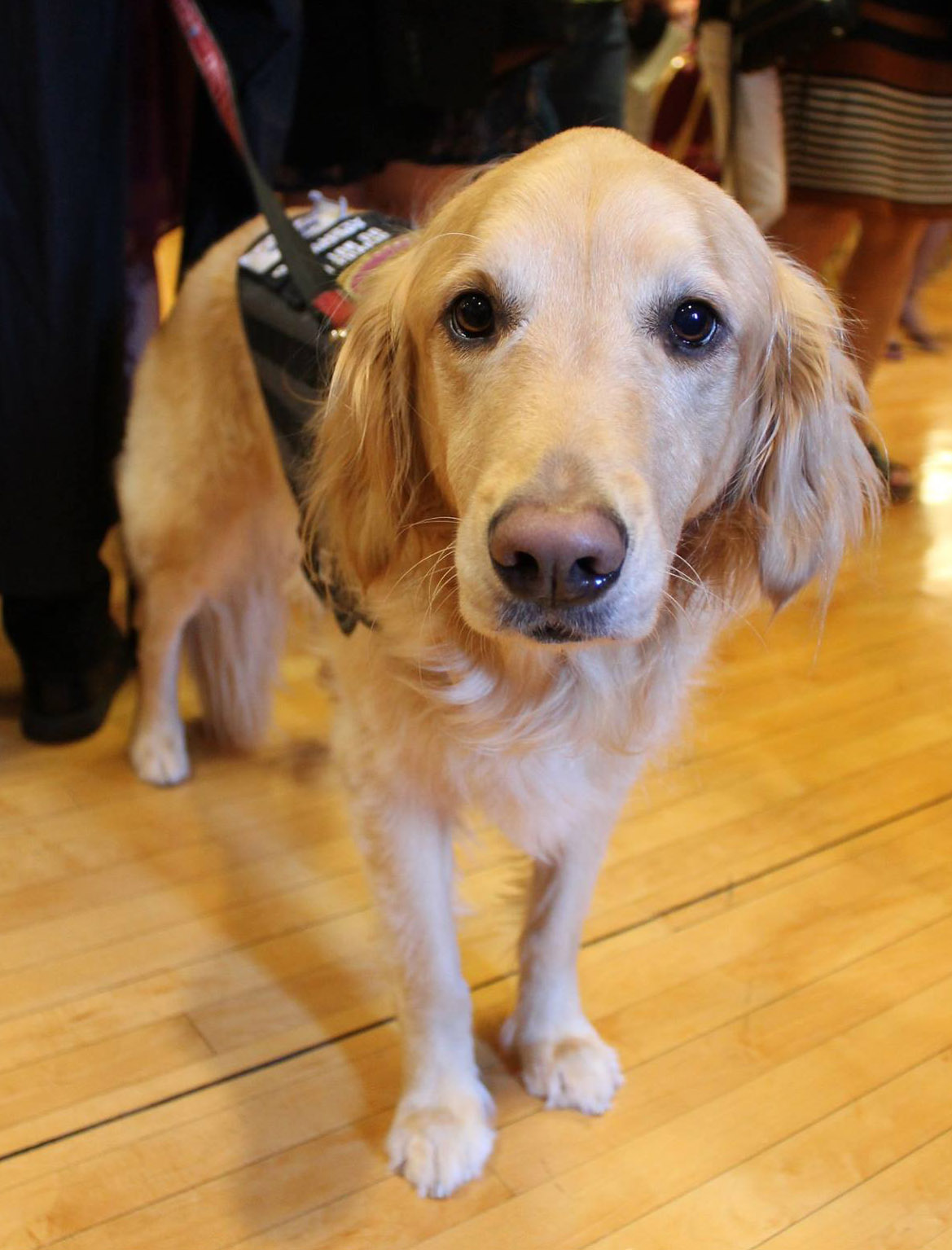 A special award was presented to MSW graduate and Navy veteran, Bryan Wimberly's service dog, Bella, by the Director of the FSU Student Veteran Center, Billy Francis. "For devotion that is worthy of honor," Billy said. Bella is the first non-human to receive the FSU Student Veterans' patch and is the recipient of the first FSU Student Veterans' leash.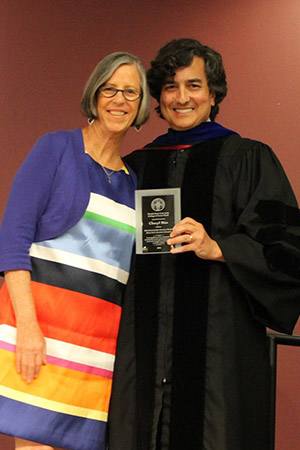 Dean Jim Clark also presented two special awards to the keynote speaker, Dr. Jack Richman, and alumna Cheryl Berry Bias. Both received awards in 2016 at the College's Distinguished Alumni and Student Scholarship Dinner but were unable to attend. Dr. Richman received the Distinguished Social Work Educator Award, and Mrs. Bias received the Distinguished Alumni in Social Work Practice Award.
Graduates were also acknowledged for an impressive list of honors, awards, certificates, and leadership roles. The annual awards for the College of Social Work were also presented at the ceremony including:
ELIZABETH J. PICCARD BSW STUDENT OF THE YEAR: SAMANTHA RUST
Sam Rust was the president of the FSU Association of Student Social Workers and was a front runner advocating for social work student involvement with the College's Leadership in Education and Administrative Development certificate program. She also serves the greater Tallahassee community through her position as a hotline operator for 211 Big Bend.
PATRICIA V. VANCE MSW STUDENT OF THE YEAR: MEGAN ARMISION
Megan Armison has demonstrated leadership and service to the College of Social Work as the delegate for the 2017 Dance Marathon event. She led the College's efforts by attending meetings, rallies, and fundraising events. In its first year, the College's first team of seven raised $7,236. FSU raised $1.8 overall.
DOCTORAL STUDENT OF THE YEAR: STEPHANIE GRACE PROST:
Stephanie Prost tirelessly pursues excellence in her own work, but she also inspires and mentors her doctoral colleagues in reaching their goals. In the past year, she successfully defended her dissertation, published three peer-reviewed journal articles and one book chapter, presented four papers at a national conference, and secured a tenure-track assistant professor position at the University of Louisville School of Social Work. Additionally, she won an FSU Graduate Research & Creativity Award, the Group for the Advancement of Doctoral Education Student Award for Social Work Research, and the Academic and Health Policy Conference on Correlational Health Scholarship.
DIANNE F. HARRISON SCHOLARSHIP: JUNGUP LEE
Jungup Lee received this scholarship for authoring the best doctoral dissertation prospectus this year at the FSU College of Social Work. Her proposal is titled, "Traditional Bullying and Cyberbullying in Childhood and Young Adulthood: Prevalence, Relationship, and Psychological Distress Outcomes Among Young Adults."
INSTRUCTOR OF THE YEAR: MAKENNA WOODS
Makenna Woods is known by her students to be a determined, organized, and flexible instructor that works to help them succeed and understand the content. She relates lectures to her experience in the field and gives her students an overall understanding and competency in the courses she teaches.
PROFESSOR OF THE YEAR: CAROL EDWARDS & FRAN GOMORY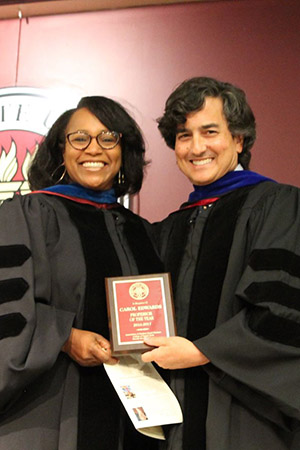 Carol Edwards is a hardworking and caring professor described by her students as a valuable instructor in the area of child welfare. Carol is also active within the College by cheerleading students to participate in events like the NASW Florida's Legislative, Education and Advocacy Day at the Florida Capitol. She is a mentor and support of her students, utilizing her vast experience in the field to help her students succeed.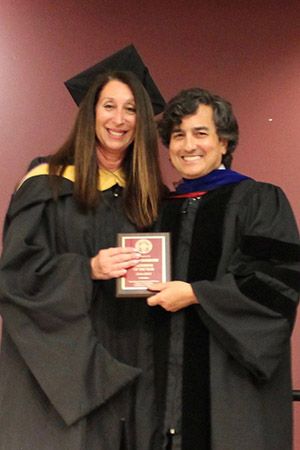 Fran Gomory is described by her students to be an exceptional professor whose teaching style and care for her students effectively engages them in the learning process. She excels as both an instructor and as the director of the College's MSW Program, dedicating her time and energies to training future social work clinicians and advocates.
FIELD EDUCATOR OF THE YEAR: VICTOR WILLIAMS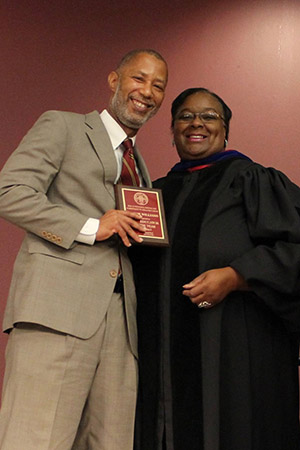 Victor Williams is an FSU College of Social Work alumnus and leader who impacts the lives of the interns he supervises as a disposition specialist with the 2nd Circuit Office of the Public Defender. He serves as a liaison between the Judicial System and community partners to ensure effective integration of the criminal justice system and service provider networks. He demonstrates his passion for the work he does, shows his interns how to get results for the clients they serve, and inspires interns to work as a team. His approach is one of respect for everyone including coworkers, interns, and clients to make everyone feel welcome and comfortable with the goal of building strong relationships and providing the best services possible.
IFVS DIRECTOR'S AWARD: ELENA SIMONSEN
Elena Simonsen worked on several research projects for the Institute for Family Violence Studies (IFVS). This work including leading an LGBTQ Family Life Project that involved a large team from the FSU College of Social Work, College of Medicine, and College of Law; investigating the attitudes of Generation Z (young people 13-20 years of age); creating a large dataset of thousands of recent high school newspaper articles about student views on LGBT issues; and, will be publishing her first research article on this latest project.
Thursday, May 18, 2017 - 02:10 PM
Last updated:
Wed, 05/23/2018 - 10:45 AM