FSU Social Work Alumna Shalay Jackson Joins Faculty
---
FSU Social Work Alumna Shalay Jackson Joins Faculty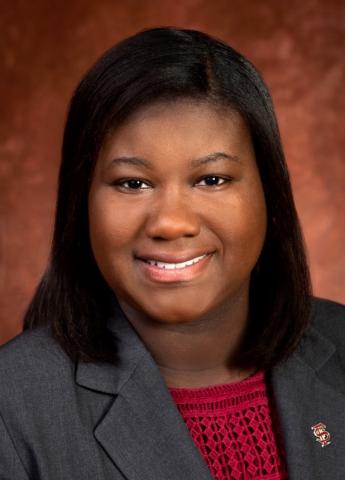 "My passion for social work began here," Dr. Shalay Jackson (MSW, 2006) said emphatically about her experiences as a social work student at FSU. "I was challenged, supported, and inspired by a compassionate community of faculty, staff, students, and alumni." Dr. Jackson received her BSW and MSW degrees, and later her Doctor of Public Health degree from the University of South Florida. 
This fall, she will be returning to the FSU College of Social Work as an assistant teaching professor with a strong dedication for creating the same experience for the students she will be teaching, perpetuating a college culture, she describes as "student-centered, innovative, and inclusive."
Most recently, Dr. Jackson taught for four years at Saint Leo University in the social work and human services programs. Along with her interests in teaching, Jackson has been an active researcher to bridge the gap between research and practice in school social work. As a scholar with the Institute for Translational Research in Adolescent Behavioral Health, she collaborated with the Mendez Foundation to conduct formative research through a project to gather data on the barriers and facilitators to adopting universal prevention programs. The project, entitled "Too Good for Drugs and Too Good for Violence" sought to implement prevention programs to accommodate the multi-tiered systems of support (MTSS) framework using in schools.
She also comes to her role as an educator and researcher with ten years of experience as a school social worker serving populations of particular interest to her, youth along with their families and communities. "I provided crisis management services, counseling, resource referrals, program development, and professional development training," Jackson added.
Another recent research project of hers allowed her to utilize a Professional Learning Community to bridge that gap between research and practice to enhance the understanding of the evolving role of school social workers. Participants learned about the National School Social Work Practice Model through professional development sessions and interactive book study sessions.
As an educator, Dr. Jackson views it as crucial to the education of future social workers to incorporate multimodal and engaging learning experiences in the classroom. Her teaching interest and background will focus on courses in social work administration, community practice, policy, and school social work.
"I engage students through storytelling, establishing personal and professional relevance, sharing intriguing data, and action-oriented class activities," Jackson described. She places a strong emphasis on incorporating research and service into the classroom and curriculum as these, "experiences leave a lasting impression upon students." Jackson looks forward to the upcoming academic year and upholding the importance of the "unconquered spirit" at FSU and the individuals it impacts.
Monday, August 27, 2018 - 05:25 PM
Last updated:
Wed, 03/20/2019 - 10:24 AM