International Social Work Researcher Joins FSU College of Social Work Faculty
---
International Social Work Researcher Joins FSU College of Social Work Faculty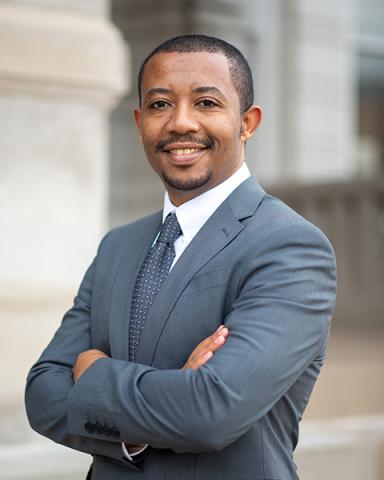 With educational, research and social work practice experience across three continents, including Africa, Europe and North America, Gashaye (Gash) Melaku Tefera considers himself an international social work researcher with a mission to improve the lives and representation of underserved populations. His research addresses concerns of immigrant, refugee and indigenous populations, focusing on underserved women and older adults.
The experiences of these communities are also relatable to Dr. Tefera, as he was born and raised in the small town of Gimbo within the Kaffa region of Ethiopia, known as the birthplace of coffee.
"Growing up, I always had a passion for understanding and engaging in social justice and human rights issues," he recalled of his education journey, which included an undergraduate degree in sociology from the University of Gondar before his interests turned to social work.
His Master of Social Work from Addis Ababa University and Global Master of Arts in advanced development in social work allowed him to study social work within the context of several countries and universities across Europe, including Denmark, France, Poland, Portugal and the United Kingdom, furthering his interest in improving global health and social care equity worldwide.
"Social justice is central to my research agenda," Tefera expounded. "My research is informed by intersectionality, decolonization and indigenization frameworks to bring marginalized and Global South perspectives to the forefront and to contribute to sustainable change." Perspectives from the Global South refer to research, evidence, and practice from less economically developed and marginalized countries, mainly African, Asian, and Latin American countries. 
While a researcher at two Ethiopian universities, Dr. Tefera focused on developing culturally relevant practices in addressing gender-based violence among refugees in Ethiopia. Some of his international research also examined the challenges social workers faced when assisting homeless Greenlanders in Denmark and the need for indigenizing interventions.
Since pursuing his doctoral degree in the United States (US), he worked with an interdisciplinary team to develop sensor technology supporting healthy, independent living for older adults and co-led a study on studying the mental health impacts of the COVID-19 pandemic on older adults. Relatedly, he has studied the mental, academic and financial implications of the pandemic on international students studying in the US and how immigrants access health and human services in the US.
This year, Tefera completed his doctoral education at the University of Missouri, with his dissertation focusing on the experiences and challenges of Ethiopian immigrant women accessing health services in the US. He will join the FSU College of Social Work as an assistant professor this fall.
Along with working with FSU faculty and staff, Tefera is eager to teach courses related to international social work, social work theory and research, along with policy and social justice. "I follow a student-centered, inquiry-based learning style where students become leaders in generating and sharing knowledge," he stressed. "Using cases from different corners of the globe, I expose students to diverse social work perspectives and methodologies, so they feel a part of a global social work family and know that their efforts matter and count."
"FSU CSW impressed me with its strong research work and highly experienced faculty engaged in diverse areas of research," he said. "It gave me the belief that I can contribute to the production and teaching of social work knowledge and social change-oriented research in collaboration with the wonderful researchers at the college."
Friday, April 7, 2023 - 02:51 PM
Last updated:
Wed, 09/20/2023 - 03:06 PM