MSW Student Gains Clinical Experience Through Research
---
MSW Student Gains Clinical Experience Through Research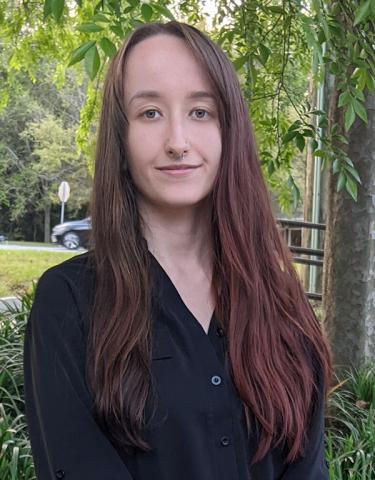 From a small town in Pennsylvania, Xyla Payne was drawn to research while an undergraduate student at Penn State University, working towards a human development and family studies degree. As a young researcher, she participated in a study (SIESTA) examining children's bedtime routines and how co-parenting, maternal depression and household organization/chaos can impact children's transition into kindergarten.
With such a broad interest in psychology, sociology, and biobehavioral health, Xyla admits to stumbling onto the field of social work while looking towards the future and job searching. "I found that the job descriptions I was most drawn to require an MSW degree, which led to my decision to further my education and come to Florida State University," she recalled.
Since coming to FSU to earn her MSW degree with a clinical concentration, she has found herself drawn again to research opportunities after her first internship at Tallahassee Memorial, working in case management and as a part of an interdisciplinary team providing holistic patient care.
As a research assistant with the FSU Institute for Family Violence Studies, housed at the College of Social Work, Xyla leads the institute's new training on neurodiversity, for which she is being nominated for a Student Employee of the Year award in the critical thinking category. She has also assisted with updating the institute's college student wellbeing, trauma, and resilience materials and has written several domestic violence research papers for the institute's domestic violence certificate.
Xyla also took a keen interest in serving individuals in the criminal justice system after taking a related course with Dr. Stephen Tripodi, associate professor in social work and director of the Doctoral Program.  Through Dr. Tripodi, she was able to apply for an internship position with the Institute for Justice Research and Development on the Seminole County Project in Seminole County, Florida, implementing the Skills Training in Affective and Interpersonal Regulation, or STAIR, intervention. Xyla is helping facilitate the STAIR program for individuals released from jail and she participates in research interviews.
"To start my internship, I became certified in STAIR and trained on how to implement the intervention," she explained. The intervention focuses on psychoeducation and teaching clients how trauma has impacted them, without focusing on the trauma itself, and addresses interpersonal relationships, schemas, emotional regulation/awareness, and coping mechanisms.
Through twelve sessions, the project implementation seeks to reduce the negative impact of trauma and incarceration on participants.
Xyla works with Dr. Tripodi, Dr. Tanya Renn, another social work faculty member, and the rest of their research team to evaluate the project's progress and solve any obstacles.
"Since I am involved with research and clinical tasks, I'm able to assist with the study's progress and to support participants," she added. "I've enjoyed the integration of research and clinical work. It's been refreshing to see an intervention being implemented that's backed up with research and monitored throughout the study to identify the impacts on our participants."
The project implements the STAIR intervention with individuals currently incarcerated in county jail and those that were recently released. The research element examines the intervention's impact on participants and compares the differences between those who received all the sessions in jail with those who received half of the sessions in prison and the other half upon release. The hope is to see improvements in mental health symptoms such as PTSD, depression, anxiety, aggression, awareness of triggers, knowledge of trauma, and appraisal of danger.
Xyla's also learned the importance of context for social work practitioners and clients and the need to consider "person in environment" when interacting with clients. "We all get stereotyped a lot, even as social workers," she stressed. "But as a profession, our goal is to serve our clients and provide services to help them meet their goals."
With graduation coming up, she looks forward to finding employment opportunities to help her earn her social work licensure and a career path toward either working with families and children with a focus on attachment or continuing working within the criminal justice field.
"Research is so important to me as a clinical MSW student and a future social worker because it guides our practice and provides us with evidence that our intervention is making a difference. Research allows us to see how our role may impact our clients' progress and provides us with the tools to monitor their progress."
Tuesday, March 28, 2023 - 09:24 AM
Last updated:
Wed, 09/20/2023 - 03:06 PM