Three-Time FSU Alumnus Selected as New College of Social Work Dean
---
Three-Time FSU Alumnus Selected as New College of Social Work Dean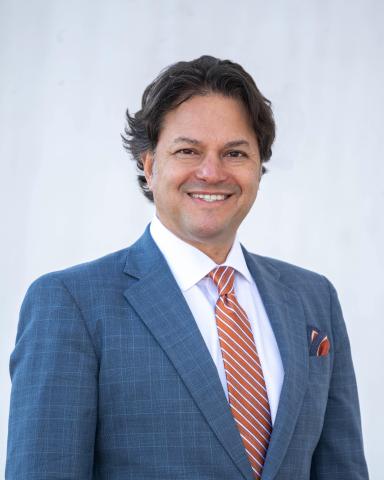 Following a national search, Florida State University has named three-time alumnus David W. Springer as dean of the College of Social Work. Springer will begin his new role on August 1, 2023.
Springer has served as director of the RGK Center for Philanthropy and Community Service and a university distinguished teaching professor at the University of Texas at Austin's LBJ School of Public Affairs since 2014 with faculty affiliations in social work and psychology.
A native of Rockledge, Florida, Springer arrived at Florida State as a first-generation college student and went on to earn a bachelor's degree in psychology and a master's degree in social work, before starting a career as a clinical social worker. After completing his doctorate in social work at FSU, Springer joined the UT faculty in 1997.
"We're thrilled to welcome David Springer back to his alma mater as the dean of the College of Social Work," said Provost and Executive Vice President for Academic Affairs Jim Clark. "Dr. Springer is a distinguished alumnus with an excellent track record of leadership, research and teaching, and his wealth of experience and enthusiasm for FSU will be an asset to the college and the university."
As one of the nation's leading institutions for social work education, FSU's College of Social Work is dedicated to preparing the next generation of social work professionals, policymakers and scholars. The college offers a variety of programs available on campus, online, and at satellite locations, tailored to meet students' specific needs.
"I am honored to have this incredible opportunity to serve my alma mater, the place that shaped me, as the university continues to build upon its tradition of excellence," Springer said. "The FSU College of Social Work is one of the elite social work programs in the country because of the people and their commitment to our values and mission. I care deeply about this community, and I am energized to support and champion our world-class faculty, dedicated staff, inspiring students and strong alumni network. Together, we will continue to advance and expand our impact as social workers to improve lives and to make the world a better place."
Clark also announced that Springer will be appointed as the inaugural Guy and Delores Spearman Professor of Social Work.
"I'm very grateful that Guy and Delores have once again supported academic excellence at the college and FSU," Clark said. "Their gift will create a warm welcome for Dean Springer by recognizing his academic and leadership accomplishments that have led him back to FSU. Their professorship will prove an important legacy in the decades to come."
During his 26-year tenure at UT Austin, Springer served in numerous leadership roles, including interim dean of the LBJ School of Public Affairs (2021) and associate dean for academic affairs and graduate advisor of the Steve Hicks School of Social Work (2001–2011), where he co-founded and directed the Inter-American Institute for Youth Justice.  
Bridging public policy, community building and direct practice, Springer's research and teaching coalesce around collaborative leadership to promote mental well-being and resilient communities. He also serves as the faculty mentor for LBJ School students pursuing careers in nonprofit management, philanthropy and community engagement and has won several UT university-wide teaching awards, including the Outstanding Graduate Teaching Award, Outstanding Graduate Advisor Award, and selection into the Academy of Distinguished Teachers.
Springer is a fellow of the American Academy of Social Work and Social Welfare and a fellow of the Society for Social Work and Research. He has been named to the Nonprofit Times Power & Influence Top 50 and selected as Social Worker of the Year by the Texas Chapter/Austin of the National Association of Social Workers (NASW). The British Journal of Social Work named him one of the 100 most influential social work journal authors, and the FSU College of Social Work recognized him as a distinguished alumnus in social policy and administration.
Craig Stanley, associate dean for academic affairs for the College of Social Work, has served as interim dean since January 2022. Stanley succeeded Jim Clark, who was selected as the university's provost and executive vice president for Academic Affairs after six years as dean of the college.
SP&A conducted the national search, and Don Farr, dean of the Dedman College of Hospitality, chaired the 11-member search committee.
Thursday, June 1, 2023 - 11:16 AM
Last updated:
Fri, 12/01/2023 - 03:21 PM