Alumna Dedicated to International Refugee and Human Rights
---
Alumna Dedicated to International Refugee and Human Rights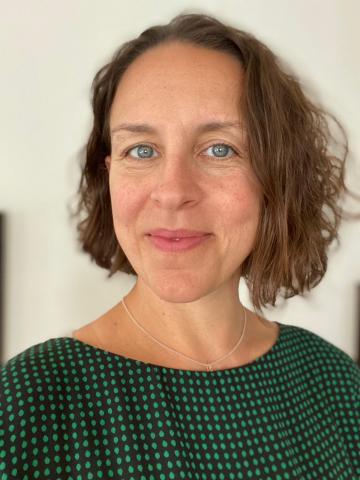 Kathryn (Katie) Gerber (MSW, 2008; MPA 2008) has always had a passion for social justice. This natural interest in providing equal access to rights and opportunities drew her to social work early on. She completed her undergraduate degree at the University of Florida. Further interest in international work drew her to an opportunity to study abroad as an undergraduate to Valencia, Spain through Florida State University to gain a greater understanding of the Spanish language.
It wasn't until a volunteer experience to a refugee camp in Ghana, a country in West Africa in 2006 that she saw a potential career path combining her interest in working abroad and social justice. "I had a clear idea of what my next step in life would be," Katie recalled. "I returned home to Tallahassee and applied for the MSW/MPA program at FSU, which was a great choice!"
As a student pursuing a dual master's degree in social work and public administration, Katie found complementary programs that blended coursework and helped to further her personal vision of what she wanted to accomplish in graduate school. For Katie, both programs provided the skills and knowledge she was looking for to facilitate assistance, welfare and change at all levels of micro, mezzo and macro social work. She further honed her international social work experience, through one of her field placements with the Ministry of Education in Kigali, Rwanda, a country in East Africa.
With support from the FSU Center for the Advancement of Human Rights, she was able to gain a deeper understanding of government programs and how to access their strengths and weaknesses during her internship. And in her free time she investigated further the refugee issues in Rwanda, visiting and networking with human rights organizations during her time there.
With a focus on serving refugee populations, Katie felt fortunate to land an entry-level position as a caseworker with the Church World Service Resettlement Support Center Africa (CSW RSC Africa) in Accra, Ghana within a year of graduating with her dual degrees in 2008. She interviewed individuals in refugee camps and urban settings throughout Africa to prepare their case files for adjudication by US Citizenship and Immigration officers. She would end up spending the first ten years of her career working with CSW RSC Africa in offices in Ghana, Kenya and South Africa.
For almost her entire career, she has continued working for the United States Refugee Admissions Program, which includes federal and nonprofit organizations coordinating to identify and admit refugees for resettlement to the United States. But this career path has included a wide variety of leadership positions that included duties such as overseeing staff, managing field missions throughout sub-Saharan Africa and coordinating with partnering organizations.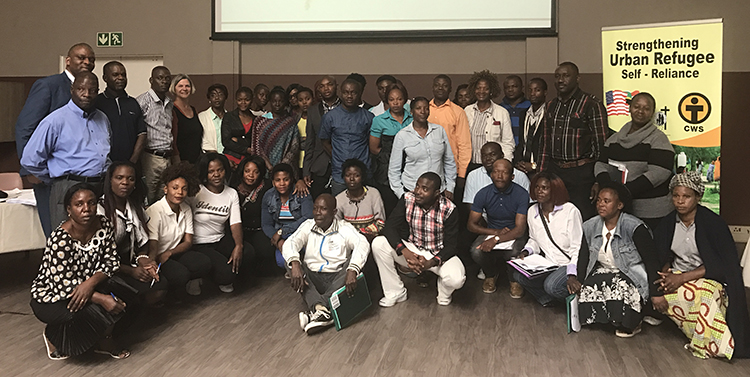 Pictured: CWS Urban Refugee Self-Reliance Workshop, Johannesburg, South Africa
Her social work background particularly came in handy when training other staff to interview refugees who frequently experienced violence and were from further vulnerable populations including unaccompanied minors, women at risk, and LGBTI individuals. She worked with the US government particularly to identify the most vulnerable refugees in need of protection in order to expedite their relocation to the US.
Social work also informed her work with fellow staff members experiencing "vicarious trauma," an emotional response she explained occurs in staff resulting from listening to traumatic stories. "Refugees tell us why they left their country and why they cannot go back. Many stories may include accounts of war, death, rape and torture," stressed Katie. "They can be extremely difficult to listen to, so it is important to also ensure the wellbeing of staff who are responsible for recording these stories on a daily basis."
Katie has even been able to develop a curriculum for cultural orientation for refugees approaching resettlement to the United States. "Resettlement is not perfect," she illuminated. "In addition to whatever challenges and trauma refugees may have experienced when leaving their home countries and seeking refugee status in a country of asylum, resettling in the US can be extremely difficult." In 2015, she established the CWS RSC Africa office in Pretoria, South Africa, managing all US resettlement activities for eight countries in Southern Africa.
The COVID-19 pandemic has proved particularly disruptive for refugee populations. "For quite some time, all in-person interviews, travel and interactions with refugees were put on an indefinite hold," she emphasized. Such delays have extended the average two-year wait for resettlement to even longer undefined lengths of time. Recent pilot testing of new ways of conducting refugee processing activities provides some hope for these vulnerable populations.
During the pandemic, Katie relocated in October 2020 to Amman, Jordan to work with the International Organization for Migration Resettlement Support Center Middle East and North Africa with Syrian, Iraqi and Afghani refugees, as well as other refugee populations. On top of learning all she can about these new regions and refugee populations, Katie also recently gave birth to her first child. Faced with all these new roles and responsibilities, she is facing them head-on with enthusiasm and dedication.
Her outlook for future refugee resettlement to the US is optimistic. "The new refugee admission numbers as established by the Biden administration are hopeful and ambitious!" she said excitedly. "The future for those of us working in refugee support is looking busy and optimistic. Ideally, we would live in a world without refugees and I would not have the job I have. But it brings me sincere gratification to know that I am helping to provide individuals with an opportunity to live in the United States, free of fear and persecution."
For students or professionals looking into working to promote refugee rights or international social justice, Katie recommends contacting a local organization, the International Rescue Committee, about employment or volunteer opportunities. She also credits the resources at Florida State University in being integral to gaining experience abroad, including the FSU Center for the Advancement of Human Rights, International Programs and the Center for Leadership and Social Change.

Pictured: Katie Gerber and colleagues visiting the Mayukwayukwa Refugee Settlement in Zambia. 
Wednesday, June 30, 2021 - 10:23 AM
Last updated:
Fri, 12/01/2023 - 03:21 PM