Alumna honored with Child Welfare Champion Award 
---
Alumna honored with Child Welfare Champion Award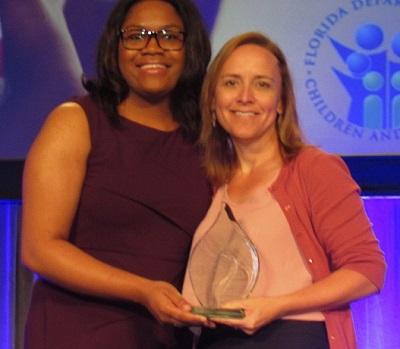 At the 2018 Child Protection Summit in September, the Florida Department of Children and Families (DCF) honored award recipients, including this year's Child Welfare Champion Award to FSU College of Social Work Alumna and Child Advocate Lisa Jackson. 
Jackson was honored for her hard work and dedication to the young people involved in the Center for Academic Retention and Enhancement (CARE) and Unconquered Scholars program. The CARE program has "provided services to traditionally underrepresented student populations at FSU" since 1968, providing equity and access to these students as they transition to college life. A part of that mission, the Unconquered Scholars program provides continuous support to particularly vulnerable students through "guidance, continuous mentorship, advocacy, security and a voice to further ensure their personal academic success and long-term independence."  
As the assistant director of CARE and the Unconquered Scholars program, Jackson works directly with the more than 100 students in the program and acts as an advocate, mentor, guide and voice for these students. Since 2015, when she began running the program while completing her MSW degree, Jackson has tirelessly worked directly with students and on their behalf to ensure that they flourish during their time at Florida State.  
The Unconquered Scholars program offers broad access to resources and comprehensive support that is constantly growing and adapting according to the scholars needs. Jackson noted that what makes this program unique is the truly active role the students have in informing and affecting the program's practices and activities.   
"We respect their experience and build the program around their input," she emphasized.    
Jackson noteed that she is quite often a life coach, confidant, and cheerleader, but she also has gone to great lengths to innovatively and creatively get them the resources and services they need, including basic items like food and clothing. Among her most recent efforts, Jackson tailored and launched financial therapy interventions for students, that aims to assist with their financial independence and management.  
"I am very proud of my efforts to advocate for youth across the state, and country, to improve educational access and outcomes for former foster youth and homeless college students," Jackson stated. But she admits she enjoys and is most proud of the one-on-one interactions and relationships she develops with her scholars.  
Jackson does not stop at the interpersonal level though when advocating for the underrepresented students she serves. She recently presented at a national conference on homeless college students, and has been working with her mentor, social work faculty member, Dr. Lisa Schelbe on a post-graduation assessment of scholars. She also continues to serve as an adjunct professor for the FSU College of Social Work teaching an undergraduate course on social work group practice. Her efforts have not only been noted by DCF, she also recently received a grant from the Helios Education Foundation for direct student support. 
It is the success and inspiring perseverance of the student scholars she serves that keeps Jackson focused on changing the outcomes for vulnerable young adults that have faced hardships like homelessness and foster care.  
"The Scholars do not let themselves be defined by statistics and have exceeded the academic performance of the general student body at Florida State University by achieving an eighty-five percent graduation rate and average grade point average of 2.90," she said proudly. "Our goal is for each Scholar to enter adulthood poised to receive the professional and personal benefits associated with educational attainment." 
To learn more about the CARE and Unconquered Scholars programs, visit https://care.fsu.edu/ or contact Lisa Jackson directly at lisa.a.jackson@fsu.edu.  
Monday, October 1, 2018 - 05:01 PM
Last updated:
Fri, 06/14/2019 - 11:33 AM