Alumna opens heart and home to seven siblings
---
Alumna opens heart and home to seven siblings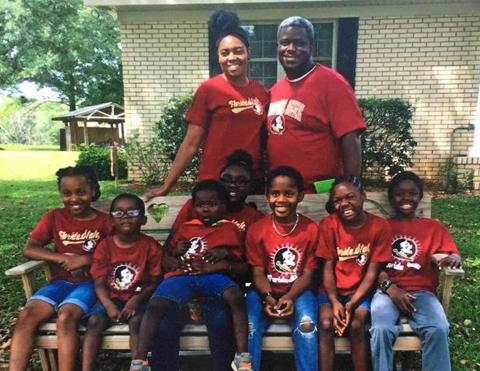 MSW alumna (2014) Sofia Olds and her husband DeShoan Olds always knew they wanted to adopt since their marriage in 2004. In 2006, they completed the Model Approach to Partnership in Parenting (MAPP) classes to prepare for adoption, but building their lives together took precedence.  DeShoan served several tours in Iraq and Sofia was active duty Army while she pursued her bachelor's and master's degrees in social work at the Florida State University College of Social Work. Both were concentrating first on their marriage, educational and eventually civilian career goals before growing their family.
DeShoan, a math teacher at Rutherford High School in Panama City, Florida, and Sofia a child protective investigator with the Florida Department of Children and Families (DCF) also couldn't quite agree on the age they wanted. Then, Sofia saw a story about seven siblings up for adoption in the Panhandle area and forwarded it to her husband; he liked the idea. "Honestly, from the first time I saw the story, it was automatic," she said. "I felt it was meant to be. It was our calling."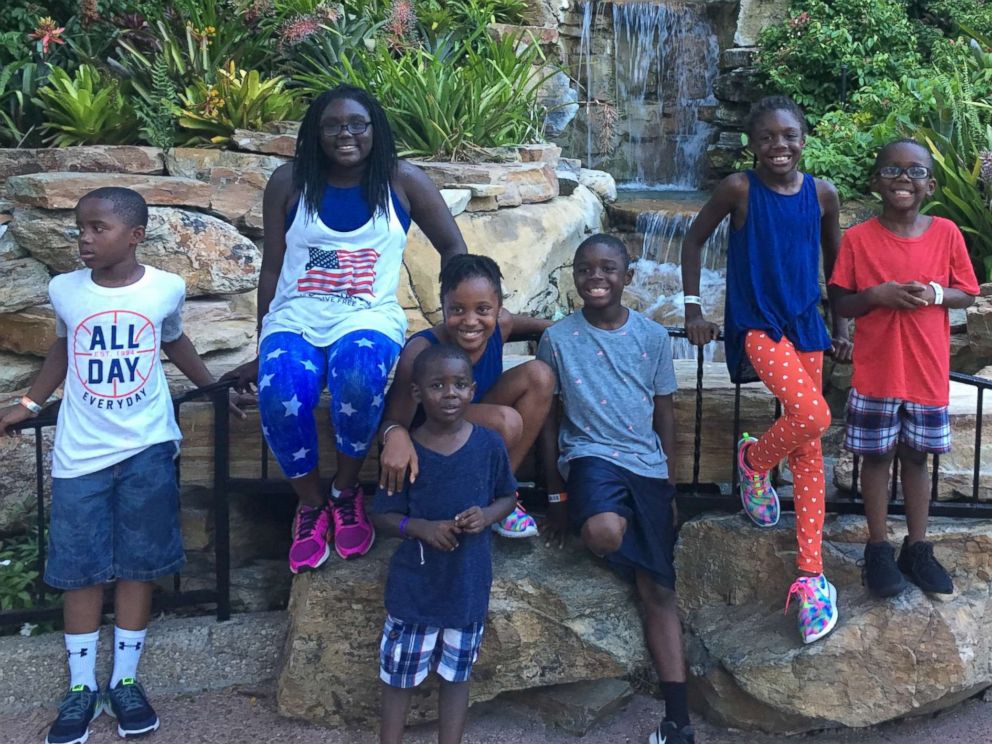 The seven siblings' profile on the Big Bend Community Based Care's Heart Gallery indicated that the bonded sibling group should be adopted together. Blair Bell, their adoption specialist, even doubted it was possible as the siblings were already split among four foster homes, and the adoption of children together was infrequent. But Necia (12), twins Eric and Erica (10), Zavian (9), Dava (8), Keyon (5) and Reggie (4) remained hopeful.
"Seeing the shortage of foster home, the shortage of adoptive parents, and the abundance of children needing forever homes, I knew it was my time to do my part," Sofia stated with conviction. The choice aligned well with her life's work in child welfare helping, encouraging, and empowering others, particularly her vulnerable clients - children. "It was an automatic connection to me. It was fun. It felt relaxed, not forced. It was not uncomfortable, not overwhelming. It was like playing with children I've known my whole life."
On June 2nd the couple brought the children home to begin the required 90-day adoption placement before the adoption is finalized in September. "It's just something you had to do," DeShoan said. "My wife and I were blessed with a house that was too big for us. It would so selfish of us to have the space [and] for us not to offer our home to them. I always felt that when you are blessed, you should be a blessing."
The transition from a family of two to a family of nine is going well. The house is full of love and energy. Sofia notes that she and DeShoan are both planners and that it "just works." "We always, honestly, were like, go big or go home," she said.
She also advises anyone trying to adopt to be both patient and persistent. "Understand that it will not be perfect or smooth sailing. You will have to work alongside several professionals, foster parents, and most importantly children," she explained. "Be understanding, but be able to communicate your thoughts." She also noted that they were responsible for the costs of visiting the children and establishing a safe home and lifestyle for them and that adopting through the state of Florida was much less expensive than a private adoption.
DCF's website indicates that there are more than 10,000 children in foster homes and more than 700 in need of adoption in Florida. To learn more about adoption in Florida, visit DCF's Explore Adoption page to learn more about adoption support.
Wednesday, July 26, 2017 - 01:14 PM
Last updated:
Fri, 07/13/2018 - 11:24 AM