Alumni Association Networking Group: Social Work Alumni Group
---
Alumni Association Networking Group: Social Work Alumni Group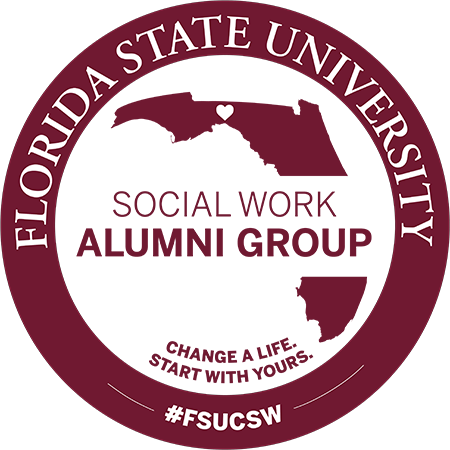 In collaboration with the FSU Alumni Association, the FSU College of Social Work established a new networking opportunity for social work alumni, known as the Social Work Alumni Group (SWAG). The vision is to connect College of Social Work alumni for networking and outreach initiatives.
Interest in the creation of an alumni networking group began in early 2018 as the College celebrated 100 years of social work at Florida State.  Seeing a need for a way to celebrate the legacy at FSU with the need to connect with graduates of all ages, the SWAG group was created.
After the selection of SWAG's inaugural alumni executive board, the process of creating a mission statement and by-laws with the help College of Social Work administrators began. The alumni executive board includes Chair David Albright and Treasurer Robyn Metcalf, along with ex-officio member Colette Podgorski, the development director for the College.
The Social Work Alumni Group was officially approved by the Board of Governors in April of 2018. The mission states:
"The College of Social Work seeks to increase involvement in College events, outreach and development initiatives. The Social Work Alumni Group (SWAG) represents BSW, MSW and Ph.D. alumni, along with practitioners, clinicians, and advocates who are committed to making a difference in the lives of others.
To provide input on this developing group and alumni needs and interests, we ask our alumni to take a brief alumni survey here: https://fsu.qualtrics.com/jfe/form/SV_elBguIOFsCdMv4N
To stay in the loop on the Social Work Alumni Group join our SWAG Faceboog group: https://www.facebook.com/groups/FSUSWAG  on the FSU College of Social Work Facebook page: https://www.facebook.com/fsu.csw/.
To connect with Colette Podgorski contact her at cpodgorski@foundation.fsu.edu.
Alumni of SWAG are encouraged to join the Florida State University Alumni Association. Please contact Torri Miller, Alumni Networks Coordinator at tnmiller@fsu.edu.
Friday, December 7, 2018 - 01:55 PM
Last updated:
Thu, 05/23/2019 - 09:20 AM