Alumnus Awarded U.S. Public Health Service Meritorious Service Medal
---
Alumnus Awarded U.S. Public Health Service Meritorious Service Medal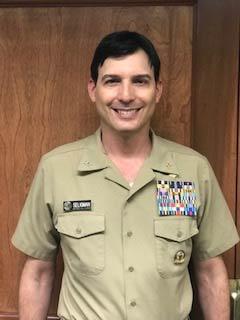 There are many ways to serve your country, and the career of Captain Jay A. Seligman (MSW, 1993; BA, 1990) reflects a lifetime of dedicated service to both his country and its citizens. After four years of service as a clinical social worker and an Officer with the United States Air Force, Captain Seligman knew he wanted to serve in a different capacity. He commissioned with the  United States Public Health Service Commissioned Corps and received an assignment with the Bureau of Prisons (BOP) in 1998. Seligman held several subsequent positions of responsibility with Immigration Health Services, U.S Marshalls, and the Center for Disease Control, until 2014 when he was named the BOP Chief Social Worker. In this role, he oversees social work services in more than 122 institutions across the nation.
With the implementation of the Affordable Care Act (ACA), Captain Seligman was faced with the challenge of implementing health care coverage and services for more than 186,000 justice-involved individuals, 43,000 of which who were released annually into the community. Seligman recognized the importance of providing seamless access to this population as incarcerated individuals have a higher rate of infectious and chronic disease, mental illness, and substance abuse disorders than the general population.
 "Health care is very fragmented and complex," Captain Seligman explained about his approach to this unique challenge. "It is crucial that inmates receive up-to-date information and resources, and social workers excel in connecting these individuals to community services."
With a background in public health, including a doctoral degree in health sciences (Nova Southeastern University, 2006) and social work, including an MSW from FSU (1993; BS, 1990), Seligman was uniquely qualified to solve this problem.
"I had the opportunity through my twenty-five-year career to take courses in leadership, be mentored by senior officers and become a mentee later in my career," he said.
Captain Seligman described how the systems perspective of social work guided his leadership approach beyond the supervision of people and programs. It provided him with the insight needed to see the big picture and create a vision for how to enhance an organization. Seligman set about improving the infrastructure that would provide healthcare access, formerly-incarcerated individuals. He wanted to ensure these individuals gain a better understanding of health care coverage, so creating a learning module for them was crucial.
His "Health Care Coverage When You Release" learning module prepared individuals for their release. All inmates received online access to materials that provide information about why health care coverage is important, available coverage options available, and how to apply for benefits. These resources were also incorporated into the Release Orientation Program lessons and materials. Seligman also partnered with federal stakeholders to provide access to healthcare navigators, which in turn would assist justice-involved individuals with navigating the health care system before and after their release. Of particular interest for him was ensuring that the elderly and disabled received proper access to their benefits and coverage.
Seligman noted that he did not go into social work with a particular interest in prisons but took on roles working with this population because the experience would be challenging as well as rewarding.
"I wanted to work with underserved populations," he reflected. "It's difficult to work and takes someone who is dedicated to the mission. You don't become rich working with this population, but I receive the immense satisfaction that my work makes the community a better place."
His efforts to improve the lives of incarcerated and formerly-incarcerated individuals were acknowledged in May 2018 with his nomination for the U.S. Public Health Service Meritorious Service Medal by Captain Judith Sutcliffe, National Health Services Administrator for the Bureau of Prisons. The medal recognizes members of the Corps in recognition of an individual whose career exhibits notable recognition in a technical or professional field and exemplary leadership. Captain Seligman will continue in his role as BOP's Chief Social Worker until he retires in March 2019.
"I always wanted to dedicate my life to the well-being of individuals and communities," he concluded. "I built a bench of exceptional social workers for someone to take the reign and keep the mission moving forward."
Seligman continues to lead by example in public service, promoting the values of social work and keeps his Alma Mater close to his heart with "garnet and gold running through his veins."
Wednesday, February 27, 2019 - 03:02 PM
Last updated:
Mon, 04/22/2019 - 12:23 PM