Celebrating Native American/Indigenous Heritage Month
---
Celebrating Native American/Indigenous Heritage Month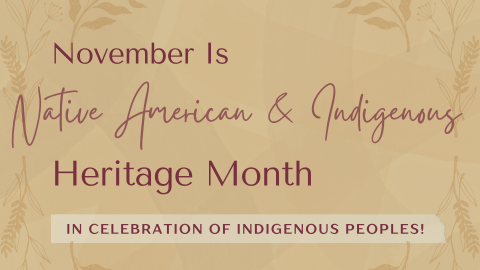 This month, the FSU College of Social Work is excited to celebrate Native American Heritage Month, which occurs during the month of November, to recognize, honor and showcase Native Americans and Indigenous peoples through insightful and informational events concerning Native Americans.
In August 1990 President George H. W. Bush approved a joint resolution designating November National American Indian Heritage Month. November is an appropriate month to celebrate because it is traditionally a time when many Native Americans hold fall harvest and other traditional events.  If you want more information about Native American Heritage Month you can find that information here.
With respect to our Native American students, staff, faculty, alumni, and community partners, the FSU College of Social Work has adopted the University Land Acknowledgement Statement, which offers a sincere acknowledgment that Florida State University campus sits on the land once occupied by proud Indigenous Nations and tribes.
The Florida State University Land Acknowledgment Statement states:
"Florida State University acknowledges that its Florida campuses are located on the ancestral and traditional homelands of the Seminole Tribe of Florida, the Miccosukee Tribe of Indians of Florida, the Apalachee, Seminole and Muscogee Nations, the ancient Calusa, Uzita and Tocobaga, and others. We pay respect to the resiliency of their tribal members, past and present, and to all Indigenous peoples.
The University honors its unique and collaborative friendship with the Seminole Tribe of Florida, together paying tribute to the Tribe's great history and rich culture. We encourage all to learn about the significance of Indigenous peoples in this region and throughout the nation. With a collective knowledge of the past, we are inspired to teach, live, and support a future that empowers all individuals."
FSU College of Social Work Events:
Links below provide information on Native American History Month events, celebrations and history along with several resources relating to Florida-related indigenous peoples.
Help us celebrate by using the hashtags #IndigenousHeritageMonth or  #NativeAmericanHeritageMonth when you share information online including social media concerning activities, events, learning resources, photos, and other information about the rich culture of Indigenous peoples.
Tuesday, November 22, 2022 - 10:43 AM
Last updated:
Fri, 12/01/2023 - 03:21 PM