Doctoral Graduate Addresses Maternal Child Health at Florida State Through Research 
---
Doctoral Graduate Addresses Maternal Child Health at Florida State Through Research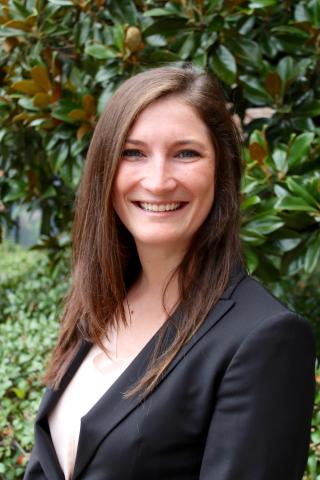 Three-time graduate Dr. Megan Deichen Hansen recently became an assistant professor with the College of Medicine (COM), a research-intensive position aligning well with her other role working alongside Dr. Heather Flynn to help run research and evaluation efforts at the COM Center for Behavioral Health Integration.
These roles match well with her dedication to maternal and child health with a focus on promoting health equity for underrepresented and underserved populations. Since her time as a doctoral student at the College of Social Work, Dr. Deichen Hansen was focused on social justice and harnessing the relationships and resources around her that would promote these values. As a doctoral student, she cofounded a Coalition for Justice-Driven Social Workers at the college and served as the Doctoral Program Committee representative (2017-2018) and was recognized with an Academic Leadership Award in 2019 for her efforts.
Her post-doctoral work led her to the FSU College of Medicine for further opportunities to research and impact maternal and child health. "My dual training in social work and medicine has positioned me to carve out innovative pathways for promoting health equity within the field of maternal-child mental health," Dr. Deichen Hansen emphasized.
Her expertise focuses on identifying mechanisms for improving health and care services among underserved patient groups, including marginalized racial and ethnic groups, low-income families and families dealing with mental health conditions. She has also trained extensively with innovative, evidence-based care models including integrated care, telehealth and care coordination models.
With these skills, Dr. Deichen Hansen's efforts have consistently worked towards best practices to enhance care for underserved groups who need it most. In the realm of maternal-child health, research indicates that marginalized populations are less likely to be able to access pre- and post-natal services and are at higher risk for mortality and other health impacts.
Through her role with the Center for Behavioral Health Integration, Dr. Deichen Hansen helps oversee vital state and federally-funded programs developed to promote health equity in pediatric and obstetric healthcare settings. "My role within these programs is to develop evidence-based processes and procedures for establishing and enhancing health providers' capacity for engaging in maternal-child mental health integration," she explained.
She also facilitates the development of training for service providers and supports the implementation of mental health screening, intervention and maintenance alongside determining study measures and research and information dissemination on best practices.
Her impact and expertise on maternal-child health has come to be recognized on a national level, with her publications directly impacting equity-facing obstetric practice guidelines and behaviors at facilities across the country. Dr. Deichen Hansen was also recruited and has served on the Editorial Review Board for Frontiers on Psychiatry Mood and Anxiety Disorders. She is currently co-chairing the Equity Incubator Group on behalf of the Lifeline for Moms, a National Network for Perinatal Psychiatry Access Programs, which brings together representatives from perinatal mental health programs across the United States.
 "Integrating mental health care into maternal-child health care remains central to my mission as a professional," Dr. Deichen Hansen maintained. "Through a holistic and equitable approach based on best practices, providers can ensure the best health outcomes possible for mothers and their families."
Wednesday, September 20, 2023 - 01:55 PM
Last updated:
Fri, 12/01/2023 - 03:21 PM