Doctoral Students Seek to Improve Social Work Practice Through Study on Outcome Rating Scale
---
Doctoral Students Seek to Improve Social Work Practice Through Study on Outcome Rating Scale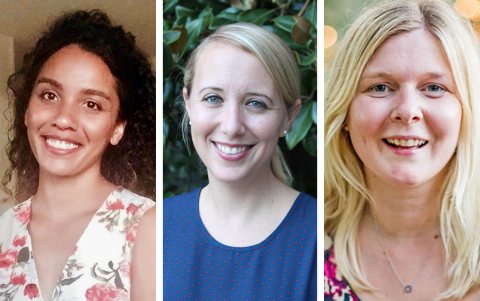 Doctoral Student Rachel Harris along with Doctoral Candidates Melissa Murphy and Sarah Rakes recently had their study entitled, "The Psychometric Properties of the Outcome Rating Scale Used in Practice: A Narrative Review" in the Journal of Evidence-Based Social Work.  
The study sought to examine a measurement tool used frequently in mental health practice settings called the Outcome Rating Scale (ORS). "The ORS is used to monitor client well-being throughout the course of therapeutic treatment," explained Melissa Murphy.
The scale aims to capture four qualities of a client's mental health including their overall sense of general well-being, personal well-being, interpersonal well-being (family, close relationships), and social well-being (work, school, friendships).
Frequent use of this scale can be implied to its brevity, allowing social work practitioners and other mental health workers to monitor client well-being quickly and easily throughout the course of treatment. "The scale reflects improvement or deterioration in an individual's overall mental health with clinically-relevant feedback," expanded Rachel Harris. "Practitioners utilize this information to strengthen clinical decision making, which can enhance the effectiveness of a client's overall treatment."
Harris and her research team were curious about the overall validity and reliability of the scale across studies. Through multiple media searches and a careful examination of twenty-four articles focusing on the ORS, their research team found a high degree of internal consistency for the scale, making it a valuable tool in clinical settings.
"It would be premature to conclude that the ORS functions as a diagnostic tool or for capturing psychopathology or behavioral symptoms," Harris concluded. "But our research concludes that the ORS is a useful tool for screening and monitoring psychological distress in clients for social work practitioners."
Harris, Murphy and Rakes's research all aims to improve social work practice. Findings from this review inform each of their individual research agendas. Harris currently studies the intersection of race, attrition, and client outcomes in maternal and infant home visiting programs. Murphy is researching clinical decision-making concerning the assessment, diagnosis and treatment of depressed clients. Rakes is interested in the mental health and well-being of older adults, and her dissertation research examines the well-being of grandparents who are raising their grandchildren. 
To learn more about this study, contact Rachel Harris (rmh08@my.fsu.edu), Melissa Murphy (mgm07f@my.fsu.edu) and Sarah Rakes (ser16@my.fsu.edu). 
To read the full article, visit: https://www.tandfonline.com/doi/full/10.1080/26408066.2019.1645071. 
Thursday, February 13, 2020 - 04:27 PM
Last updated:
Tue, 09/22/2020 - 12:39 PM