Experts Gather to Address Opioid Use Disorder and Rural Resiliency
---
Experts Gather to Address Opioid Use Disorder and Rural Resiliency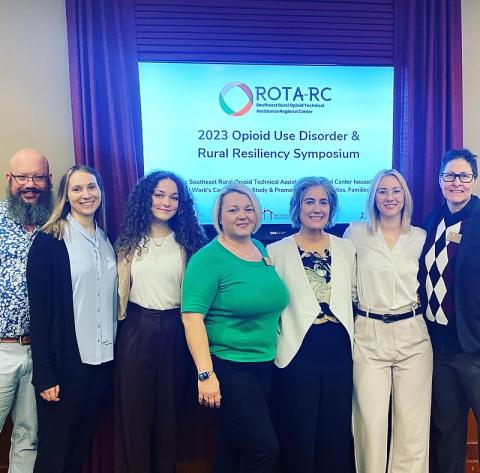 On March 30-31, 2023, the Rural Opioid Technical Assistance Regional Center (ROTA-RC) hosted a symposium on Opioid Use Disorder (OUD) and Rural Resiliency. Event sponsors included the Substance Abuse and Mental Health Service Administration (SAMHSA), Emergent BioSolutions, and the Community Coalition Alliance.
ROTA-RC, a part of the Center for the Study and Promotion for Communities and Children, housed at the FSU College of Social Work, brought together more than 120 participants for a symposium to share knowledge on opioid use disorder and its intersection with several topics and settings. Experts from across the nation gathered on the Florida State University (FSU) campus in Tallahassee, Florida, to discuss their research efforts related to opioid addiction and mitigation.
One notable presentation by Dr. Adie Wilson-Poe of the Legacy Research Institute discussed the role of cannabis in opioid use substitution and harm reduction. She discussed how cannabis and cannabinoids could be utilized for their pain-relieving and harm-reducing properties to reduce societal dependence upon opioids.
Dr. Barbara Andraka-Christou, the author of The Opioid Fix: America's Addiction Crisis and the Solution They Don't Want You to Have, also presented medication treatment options for opioid use disorders, discussing the importance of treatment options, accessing them and myths associated with them. Attendees received a free copy of her book and an opportunity to have their book signed. Dr. Andraka-Christou will be presenting on medications for opioid use disorders in an upcoming webinar on May 12, 2023, at 10:00 am EST. Participants can register at: bit.ly/3F97ICo.
Keynote speaker and FSU graduate Mike Ortoll and founder of Christine Ortoll Recovery, an organization created in memory of his daughter's struggle with addiction, discussed reducing stigma around addiction and recovery. A film based on his daughter's struggles was screened at Florida State on March 29 alongside "Safety Net: Helping College Student in Recovery Thrive," a documentary focused on college recovery programs and the success of the FSU's program Live Intentionally, Finding Togetherness (LIFT) through the Center for Health Advocacy and Wellness.
During a question-and-answer panel led by coordinator Chelsea Shore, students from the LIFT Program also shared their efforts on campus related to recovery, harm reduction, and ending the stigma surrounding substance misuse.
Other experts shared their work with programs and initiatives across the country, including:
All presentation materials from the symposium can be found on the ROTA-RC website. 
The event is the first of two symposiums for the ROTA-RC project. The next event will be held virtually April 11-12, 2024. If you are interested in learning more about ROTA-RC, including how to receive free technical assistance, resources, and training, contact Savannah Collier at ssmith24@fsu.edu or visit the ROTA-RC website using this link: https://serotarcnetwork.org/
The symposium was also made possible by the support of the FAMU Cooperative Extension, FSU College of Social Work, and the Center for the Study and Promotion of Communities, Families, and Children.
Wednesday, April 26, 2023 - 04:59 PM
Last updated:
Fri, 12/01/2023 - 03:21 PM