Five Social Work Students Inducted into Garnet and Gold Scholars Society
---
Five Social Work Students Inducted into Garnet and Gold Scholars Society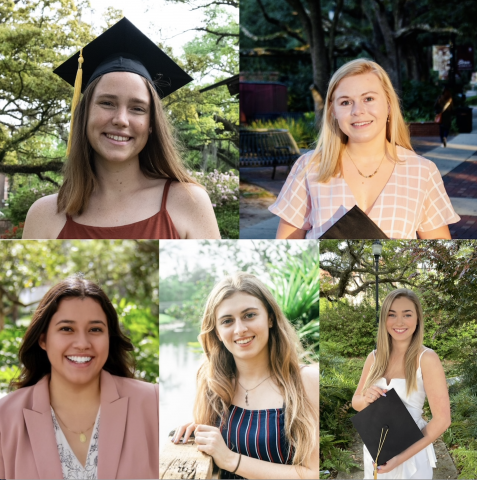 This spring, Florida State University inducted 236 undergraduate students into the Garnet and Gold Scholars Society.  Established in 2010, the society facilitates student involvement and recognizes undergraduate students who excel within and beyond the classroom in three of five areas: international experience, internship, leadership, research and service.
To be inducted, students must meet the society's engagement criteria and submit a synthesis reflection project in their final semester before graduation. Five social work undergraduate students graduating in spring 2021 were inducted.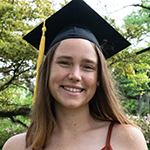 Samantha Ayers
Orlando, FL
Samantha came to Florida State unsure of her major. Still, her experience as a residential staff member for the Wesley Foundation at TCC and FSU working with the campus ministry of the United Methodist Church tuned her into her personal passion for serving others. "Social work embodies a lot of the values that I personally identify with such as the importance of relationships, the dignity and worth of all people and living a life of advocacy personally and professional," she explained. Her work with campus ministries provides both her leadership and international engagement areas for Garnet and Gold Scholars. Samantha participated in a mission experience in Chontala, Guatemala, building a house for a family in the village and spending time with resident women and children.
She also completed her internship engagement area as a case management intern with the Kearney Center, performing housing assessments and identifying housing solutions for persons experiencing homelessness. Samantha will continue at FSU for her Master of Social Work degree in the fall of 2021. She also intends to work in the field while pursuing her graduate degree, particularly continued work with homeless populations in Tallahassee.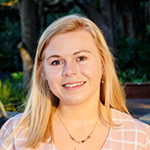 Gretchen Crutchfield
Jacksonville, FL
Barbara Gretchen Crutchfield came to Florida State University with a desire to help people. She started as a nursing major but made the switch to social work and knew she had made the right choice. "My first semester at the College of Social Work was welcoming and full of opportunities," she expressed.
Through a Grief, Loss and Bereavement class her freshman year, Gretchen was able to study abroad in London for her international experience. And her other Garnet and Gold Scholar experiences would prove influential in helping her choose her career path in social work.
Gretchen completed service hours volunteering with Kids Incorporated of the Big Bend and the Baptist Children's Home Society confirmed her desire to work with children. Ultimately these experiences also led her to a Child Welfare Certificate at the College of Social Work. She then completed her internship through the FSU Career Center's Experience Recognition Program working with children in the nursery of Faith Presbyterian Church. After graduating, Gretchen will move to Mississippi to be closer to where her boyfriend in the Air Force is stationed while completing her MSW part-time through FSU's Online MSW Program.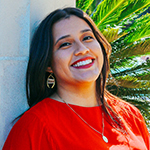 Sasha Martin
Boca Raton, FL
Sasha double majored in social work and international affairs. As an FSU undergraduate student, Sasha was very active on campus, serving with the FSU Student Government Association as a student senator representing the College of Social Work and chairing the Student Life and Academic Affairs Committee. Sasha also worked extensively with PeaceJam Southeast in various mentor and coaching positions and finally as president in 2020. And, she was a resident assistant from 2019-2021 with University Housing. She completed her final social work internship with the Capital Area Community Action Agency Head Start. "In my four years at FSU, I have learned so much in and out of the classroom. Being involved in different areas of campus taught me to be a better person, listen to people, be intentional in other spaces and be an effective leader," said Sasha.
Sasha is interested macro social work in the areas of diversity, equity, and inclusion with a special interest in addressing educational inequity and contemporary social issues. She will continue her education, earning her MSW degree from Boston College.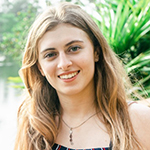 Sophia Torres
Miami, FL
Sophia Torres was drawn to social work from a young age. She learned about all the career opportunities available in the field growing up with a mother who is a career social worker with children and families. "Seeing her hard work and dedication to helping others inspired me to find my passion and eventually to become a social worker myself," she recalled. Sophia has found her passion working with immigrant and refugee populations.
She credits the experiences that led to her induction in Garnet and Gold scholars as crucial steps to develop her confidence as a student leader and as a global citizen. Sophia worked with several organizations within the FSU Center for Leadership and Social Change to develop her leadership skills, including the Florida State Alternative Breaks facilitating service immersion opportunities and the Social Justice Living Learning Community in FSU's Wildwood Hall for students wishing to engage in active discussions on societal issues, and through the completion of the Leadership Studies Certificate. She volunteered with several organizations to complete her service engagement, including Second Harvest of the Big Bend, One More Child, Florida and Tallahassee's Head Start Program. "My service experiences made Tallahassee feel more at home as I learned more about the resiliency and community spirit outside the context of the university," she explained. Sophia also was able to travel abroad to Costa Rica in the summer of 2019 as a part of a Spanish language and culture immersion program allowing her to experience different cultures and be more respectful and mindful of the experiences of others. After graduation, Sophia plans to continue at FSU to complete her MSW degree in clinical social work.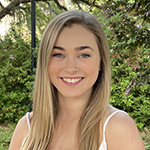 Sarah Vernon
Cape Coral, FL
Sarah Vernon was surrounded, inspired and supported by social workers her entire. This led to an appreciation of the breadth of opportunities it offered as a career path and the strong values and ethics it held as a profession. Sarah believes that Garnet and Gold Scholar's research, service, and internship experiences served as a solid preparation for a job in social work.
Working with social work professor Dr. Karen Randolph through the FSU Undergraduate Research Opportunity Program, Sarah assisted with research focusing on child welfare workers' communication and information technology use. She also completed service hours as an EngageTLH facilitator through the FSU Center for Leadership and Social Change leading other FSU student volunteers weekly trips to Hartsfield Elementary School in Tallahassee, Florida. Sarah wrapped up her undergraduate experience at FSU with her field placement internship volunteering with the Tallahassee Senior Center. After graduating, Sarah will pursue a job in social work while continuing her education in the MSW/MPA dual degree program at FSU in social work and public administration.
Friday, May 14, 2021 - 11:01 AM
Last updated:
Mon, 06/14/2021 - 02:41 PM