FSU Institute Creates New Student Resilience Toolkit
---
FSU Institute Creates New Student Resilience Toolkit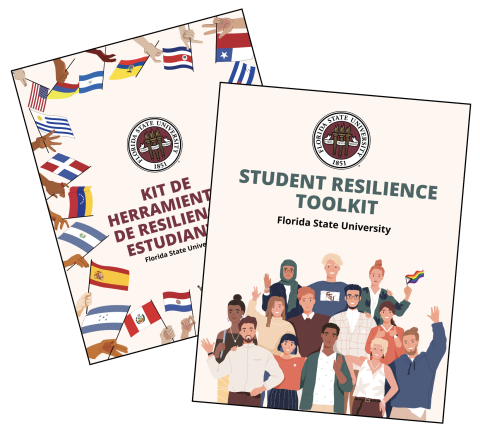 A new Student Resilience Toolkit has been created at FSU by The Clearinghouse on Trauma and Resilience in the Institute for Family Violence Studies (IFVS), College of Social Work. The new toolkit is a full-color, 64-page spiral-bound workbook containing evidence-based resilience information and engaging short exercises. It is designed to help students learn about and build personal resilience skills in an intentional, relaxing way and at their own pace.
The institute developed the toolkit from research arising from FSU's Student Resilience Project, developed by the institute in 2018. Funded by a trauma and resilience IFVS auxiliary fund, the Toolkit is available at no cost to the FSU community. Additionally, it is available both in English and in Spanish, recognizing and honoring the vibrant and diverse Hispanic/Latinx student community on campus.
"Our research and student feedback indicated that our students might benefit from Spanish-language resilience information" said Ann Perko, director of research dissemination at the institute. 
Part One of the toolkit introduces students to components of resilience and provides exercises to help them identify and affirm their strengths. Part Two provides information and practice guides for multiple relaxation techniques, including breathing, mindfulness, and journaling. Part Three provides reminders about strategies to help students care for themselves during stressful times, including getting adequate sleep, exercising, enjoying the outdoors, spending time with friends and family, and caring for others. Students have the opportunity to be creative in the Toolkit, and to write, draw, and reflect on what they have learned.
"FSU is a worldwide leader in teaching students evidence-informed resilience skills," Provost Jim Clark said. "This new Toolkit is a delightful way to further disseminate the goals and strategies of resilience to our community in a very accessible, positive way." 
IFVS has already begun to distribute this workbook widely on campus, including at the Center for Academic Retention and Enhancement, Center for Health Advocacy and Wellness, and Counseling and Psychological Services. Anyone interested in viewing a copy of the Student Resilience Toolkit may contact Lyndi Bradley at 850-644-1715. Currently, hard copies of the Toolkit are still available (a limited number), and the digital version is available online at the FSU Student Resilience Project website strong.fsu.edu.
Monday, August 8, 2022 - 12:22 PM
Last updated:
Fri, 12/01/2023 - 03:21 PM