FSU Social Work faculty member honored as Mixed Methods Scholar
---
FSU Social Work faculty member honored as Mixed Methods Scholar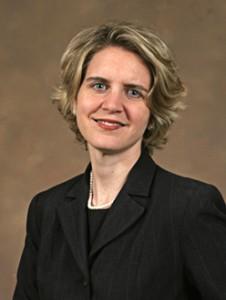 This year, FSU College of Social Work Associate Professor Dr. Melissa Radey was among a group of scholars invited to participate in a Mixed Methods Research Training Program for the Health Sciences at John Hopkins University, the only program of its kind in the United States. The program, funded by the National Institute for Health (NIH) Office of Behavioral and Social Science Research (OBSSR), addresses a national need for training in mixed methods.
Mixed methods research utilizes both quantitative and qualitative data to produce a more comprehensive understanding of a research problem. NIH's reporting of an increasing number of research proposals submitted using mixed methods is an indicator of the growing importance of this approach. Radey and the rest of this fourth cohort of scholars were able to access a multitude of learning opportunities including an in-person three-day retreat, webinars, topical mentors, and expert consultants in mixed methods.
Radey's research at Florida State University focuses on poverty and policy, including welfare policy, low-income families, and single mothers. She found the experience an important opportunity to gain knowledge and mentorship in mixed methods, including assistance with preparing an application for NIH funding.
"The retreat brought together top leaders in mixed methods," Radey recalled. "We listened to lectures, had small group discussions where we worked on our individual proposals and had scholarly discussions of mixed methods projects in the current funding environment."
She recommends the experience for any researcher or scholar interested in mixed methods. "The approach can advance knowledge on critical research questions that neither approach can do on its own," Radey explained.
Building from her current, NIH-funded project, Radey is developing a new NIH proposal applying mixed methods to public and private supports, or safety nets, of low-income mothers to consider how safety net access affects maternal and child well-being.  She explained that quantitative data could identify the importance of safety nets to wellbeing, while qualitative data can provide the context for understanding how and why these supports and relationships matter.
To connect with Dr. Melissa Radey or learn more about her research, contact her at mradey@fsu.edu. To learn more about the Mixed Methods Research Training Program for the Health Sciences, click here.
Tuesday, September 25, 2018 - 01:31 PM
Last updated:
Fri, 06/14/2019 - 11:33 AM