Graduate and Military Service Member Inducted into Garnet & Gold Scholar Society
---
Graduate and Military Service Member Inducted into Garnet & Gold Scholar Society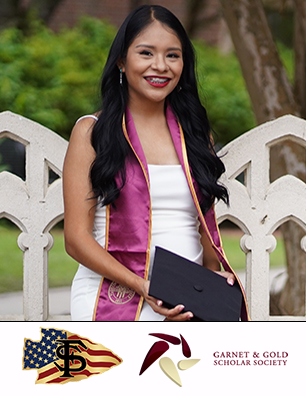 Trinidad Pascual was among nine inductees into the prestigious Garnet & Gold Scholar Society during the summer 2022 semester, honored at a virtual ceremony on Tuesday, July 26th.
Established in 2010, the Garnet & Gold Scholars Society facilitates student involvement and recognizes undergraduate students who excel within and beyond the classroom in at least three of five areas: international experience, internship, leadership, research and service. Participants are recognized during graduation and stand out among their peers.
For Trinidad, service is something that comes naturally. She learned the importance of hard work by the example of her parents who both immigrated from Mexico for a better life. She also witnessed in her community growing up in rural Georgia the inequities and struggles of many families. She knew she wanted to bring positive change to her community and others like it.
She joined the Army Reserves to both serve her country and to fund her education, serving as a 92 Fox petroleum supply specialist. Her time in the military taught Trinidad self-motivation, discipline, responsibility and diligence, and further drove her to a career path of service witnessing the struggles of service members and veterans with mental health and trauma.
At Florida State, a major in social work gave Trinidad the focus and allowed her many of the experiences that led to her becoming a Garnet & Gold Scholar.
For her internship, in 2021 she worked with the Department of Children and Families (DCF) for two semesters and her experience was recognized and completed through the Career Center Experience Recognition Program. As a part of the customer call center providing pandemic support, Trinidad assisted Floridians with applying for food and health care assistance. She was also recognized for her leadership during her time with DCF, volunteering with the COVID response team and working as a lead for the Office of Public Benefits Integrity.
For service, she completed 200 hours of community service volunteering with Leon County Schools, PeaceJam Southeast, and the Panhandle Area Educational Consortium (PAEC) Migrant Education Program. She volunteered with Leon County schools as an English as a Second Language teacher's assistant and with PeaceJam Southeast at FSU as a mentor and facilitator.
While with PAEC, she worked with migrant, immigrant, and English as a Second Language (ESL) students for her social work internship assisting with an in-home and after-school tutoring program. In addition, she worked with the families of these children and used her bilingual skills to assist.
Trinidad is especially proud of her role as a mentor and facilitator with PeaceJam Southeast. "I helped with educating youth on the importance of social issues and how they can make an impact in their communities," she explained.
She is excited to graduate at the end of the summer 2022 semester and to welcome her first child. Trinidad is eager to balance the new challenges of parenthood with her goals to earn her master's in social work and licensure to continue working with adolescent and veteran populations.
Friday, August 19, 2022 - 11:58 AM
Last updated:
Thu, 10/06/2022 - 04:42 PM