Institute for Justice Research and Development Launches New Professional Trainings and Certification Courses
---
Institute for Justice Research and Development Launches New Professional Trainings and Certification Courses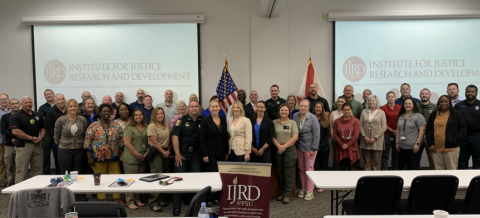 The Institute for Justice Research and Development (IJRD) is developing several new professional trainings and certifications, coming this fall.
Fidelity Monitoring and Feedback Loops in Intervention and Services Research in Criminal Justice Settings
IJRD partnered with Justice Community Opioid Innovation Network (JCOIN) to develop and create a seven-course, online, interactive, asynchronous training series on fidelity monitoring and feedback loops in intervention and services research in criminal justice. This series will provide researchers and professionals with best practices around fidelity measurement, fidelity monitoring, and refinement of interventions using fidelity assessment and research-to-practice feedback loops when warranted.  This training will help researchers and professionals develop knowledge and skill-based competency to facilitate the adoption of evidence-driven services and interventions in criminal justice settings.

The course is designed for:
a.) Researchers who are interested in conducting experimental and clinical trials of interventions and services in criminal justice settings.
b.) Criminal justice professionals and healthcare professionals who are interested in implementing evidence-driven interventions in criminal justice settings. 
c.) Healthcare professionals and para-professionals who work with individuals with histories of criminal justice involvement and who oversee programs, interventions, and/or services.

Race, Class, and Health Equity in the Criminal Justice System training series is designed for mental health professionals, reentry counselors, case managers, administrators, support staff, probation and parole officers, and anyone who wants to gain a deeper understanding of the varied experiences of individuals coming in contact with the justice system. Professionals seeking more in-depth knowledge to work more responsively with differing populations in the criminal justice system will find this series useful. Training topics include an introduction to the US criminal justice system, trauma and men, race and poverty in the criminal justice system, trauma and women, traumatic brain injury, immigrants in the criminal justice system, LGBTQIA+, and native populations. 
Forensic Social Work Certification Program is designed to prepare behavioral health professionals to practice forensic behavioral health (FBH) in a competent manner. The term forensic behavioral health includes a wide range of behavioral health practices with adults, children, and adolescents who are involved in either the criminal or civil justice systems. The program will increase provider knowledge and skills to practice competently in forensic behavioral health. This course is designed for a multidisciplinary audience, with content that can advance the knowledge and skills of professionals who are engaged with forensic behavioral health. 
Support for Healthier Law Enforcement Families will provide law enforcement spouses with the basic understanding of how overwhelming and stressful work experiences, or trauma, can impact the way law enforcement officers may react to daily stressors at home and on the job, and provide strategies for spouses to help mitigate the impact of on-the-job stressors while at home, for themselves and their families.
Recognizing and Managing Secondary Trauma for Prosecutors will provide prosecutor offices with the necessary tools to more effectively cope with the extremely overwhelming and stressful experiences in their daily work. Prosecutors' offices work in high-pressure environments every day. They work with individuals in highly stressful and traumatic situations and have the pressure of making decisions that create long-term impact to vulnerable populations and communities. Currently, adding to this stress, they are experiencing high caseloads, due to a backlog of cases created by COVID-19. During this time that puts them at higher risk for burnout, IJRD staff are working closely with a large district attorney's office to create trainings that address secondary trauma and managing stress more effectively.
To learn more about IJRD's certifications and professional training offerings, please visit https://ijrd.csw.fsu.edu/training-catalog. To inquire about customizable trainings, please visit https://ijrd.csw.fsu.edu/customizable-trainings-and-services
Monday, July 19, 2021 - 08:47 AM
Last updated:
Fri, 08/12/2022 - 04:11 PM