MSW Student Leads Social Work Dance Marathon Team to Raise Funds for Children's Miracle Network
---
MSW Student Leads Social Work Dance Marathon Team to Raise Funds for Children's Miracle Network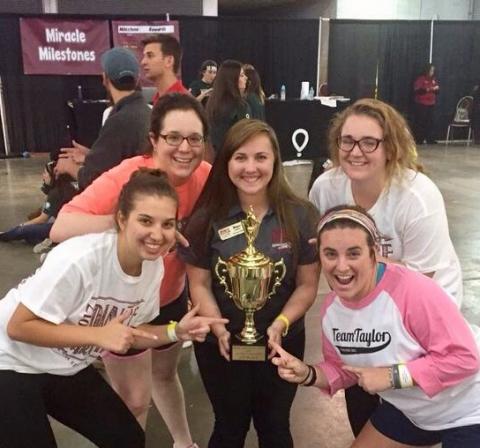 Two years ago, Darcy Maher (MSW '15) inspired student Megan Armison to become involved in FSU's Dance Marathon.  The event raises funds each year for Children's Miracle Network hospitals. Darcy's excitement and passion encouraged Megan to join in 2016 as a dancer. By the end of her first event, she began planning her involvement in next year's event. With Darcy's support, Megan was designated the College of Social Work delegate for the 2017 FSU Dance Marathon.
"It was also last summer during my BSW internship in Gainesville at the University of Florida Health/Shands Children's Hospital Pediatric Pulmonary Clinic that I was really able to see first-hand where Dance Marathon money was going, and the people it was supporting," Megan explained. Through fall 2016 and spring 2017 semester, she actively engaged social work students to form a team through social media, face-to-face recruiting and the FSU Association of Student Social Workers.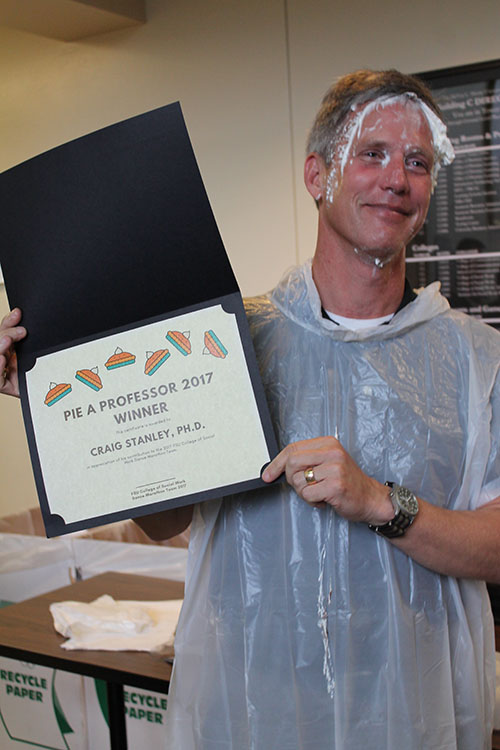 Team member and MSW student, Alex Givens, came up with a fun, creative fundraising opportunity for their team called "Pie a Professor." Students nominated faculty, and individuals donated money for which faculty member they wanted "pied." The faculty member with the most funds raised won a pie in the face. The participating faculty members were Carol Edwards, Jane Dwyer Lee, Dr. Stephen Tripodi, Dr. Craig Stanley, and Dean Jim Clark.
Dr. Craig Stanley raised the most funds and received a pie to the face in front of a cheering audience of faculty, staff and students. "This idea worked so well because of the relationship our professors have with the students at the College of Social Work," said Alex. "Our professors truly invest in us." They raised $151.79 from Pie a Professor, and the team's fundraising success continued into the Dance Marathon weekend. The social work team exceeded their original $2,500 goal by raising $7,296, with a team of only 7 dancers.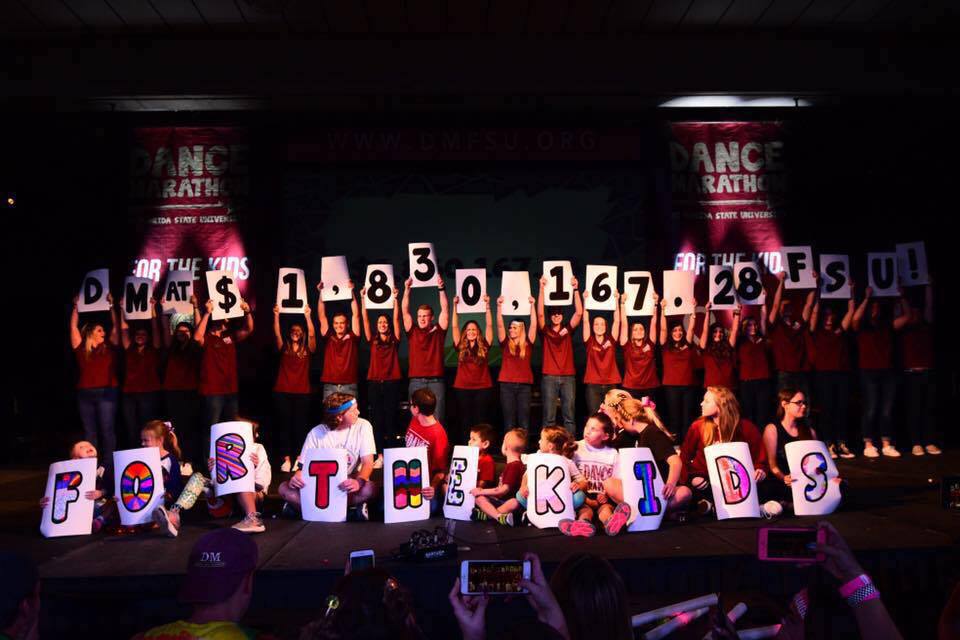 FSU's Dance Marathon raised a total of $1.83 million dollars for Children's Miracle Network during the 40-hour event.  Dancers in two 20-hour shifts danced, played games, and meet miracle children and their families who benefitted from services provided by hospitals receiving these funds. FSU Dance Marathon truly unique characteristic is that the money raised truly impacts local lives. Half the proceeds go to Shands Children's Hospital and the other half benefits local organizations like Big Bend Hospice Care, FSU Center for Prevention and Early Intervention Policy, Tallahassee Memoria Hospital Neonatal Intensive Care Unit, and pediatric outreach programs in Gadsden County.
Although Megan graduates this semester and cannot participate with the social work team, she already plans to join the FSU Dance Marathon alumni team. "Honestly, this experience has changed my life. I have enjoyed the opportunity to share it with students and faculty within the College of Social Work, and the students who joined me at Dance Marathon this year made such an impact on the lives of children and families. I would love to reach out to any social work students interested in leading future social work teams!"
To contact Megan, email her at mma13f@my.fsu.edu or visit FSU Dance Marathon's website to get involved.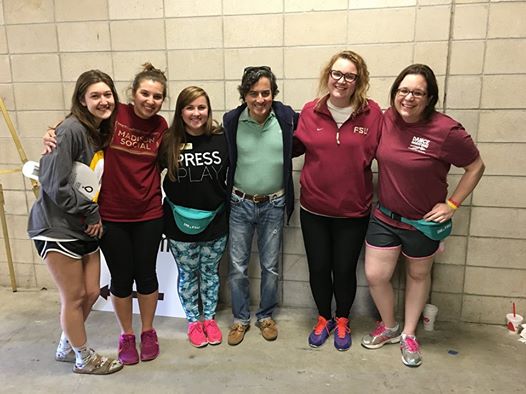 Thursday, March 16, 2017 - 09:57 AM
Last updated:
Wed, 05/23/2018 - 10:45 AM